By A Jones For Organizing In Garage organizing
Would you like your garage to be more organized? Is it a daunting pile of boxes and bins? What if you had it organized enough to be able to park your car in there?
I LOVE organizing garages. It is such a HUGE quality of life improvement, especially in the hot summers of Austin and central Texas, to be able to use our garages as "containers" for our cars.
Imagine being able to:
find your tools
fetch your ice chest
access your holiday decorations
And most importantly,
park your car inside the garage instead of on the driveway
Do you have boxes and bins piled up like this? If you're tired of not being able to see and access everything, read on.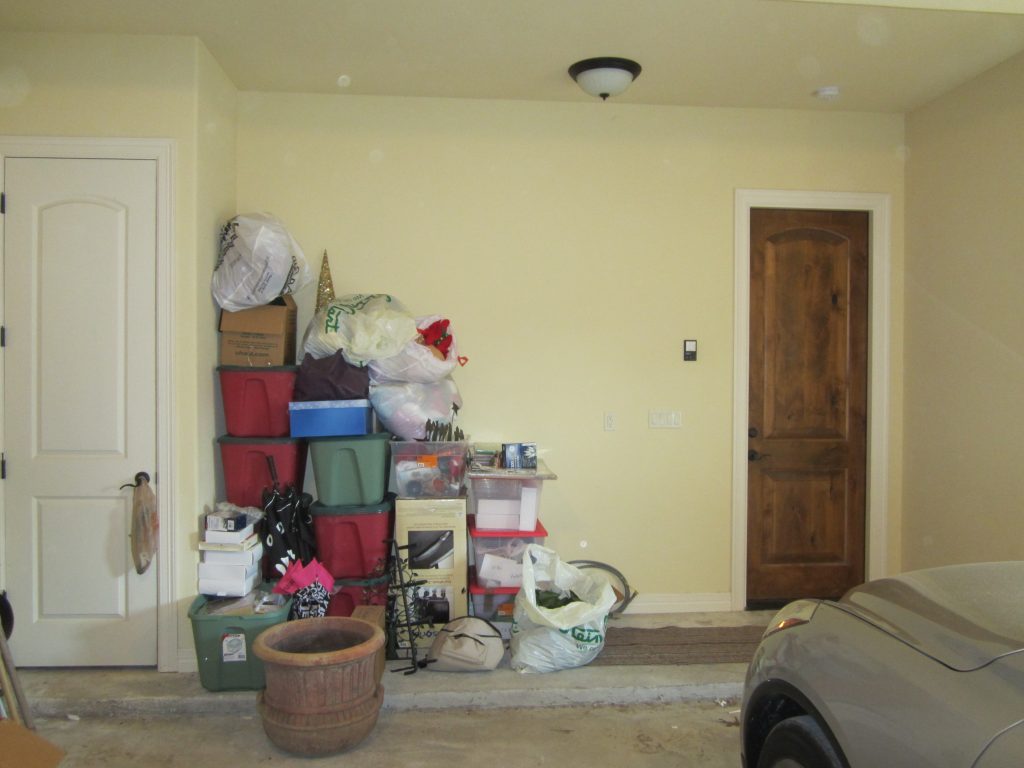 No matter how full or how disorganized your garage may be, I can set up a customized system based on your specific storage needs that will:
let you stash away the things you don't use, but still have to keep, and
let you access your often-used items such as garden tools, pet supplies, sports equipment
Garages – The Basements of Central Texas
Here in Austin, the limestone bedrock and other factors make it too costly for home builders to dig for basements. As a result, most of us don't have basements!  We don't have that hidden space to throw things in, and close the door, like the rest of the country. So, that means our garages are very important for storing the holiday items, sports equipment, tools, and building materials, as well as your car.
Having a clean, organized garage is a huge quality of life improvement in central Texas. Can I help you with yours? Contact Me for a consultation about how I can make your garage a soothing, organized place for you to drive into at the end of the day.
Here, I installed adjustable Elfa shelving on the wall. Now, everything is up off of the floor! The homeowner can access one storage bin at a time, instead of having to try to navigate an overwhelming pile of bins.
See below for another example of a garage that needed my storage redesign skills.
Hello, Big Blank Wall
There was stuff all over the floor. Some of that stuff needed to be accessed often, other stuff didn't. But when it's in a chaotic pile like this, you can't see what you have and find what you need. See that big unused blank wall, below? That empty wall gave me some prime real estate, for shelving to get all of that stuff up off of the floor.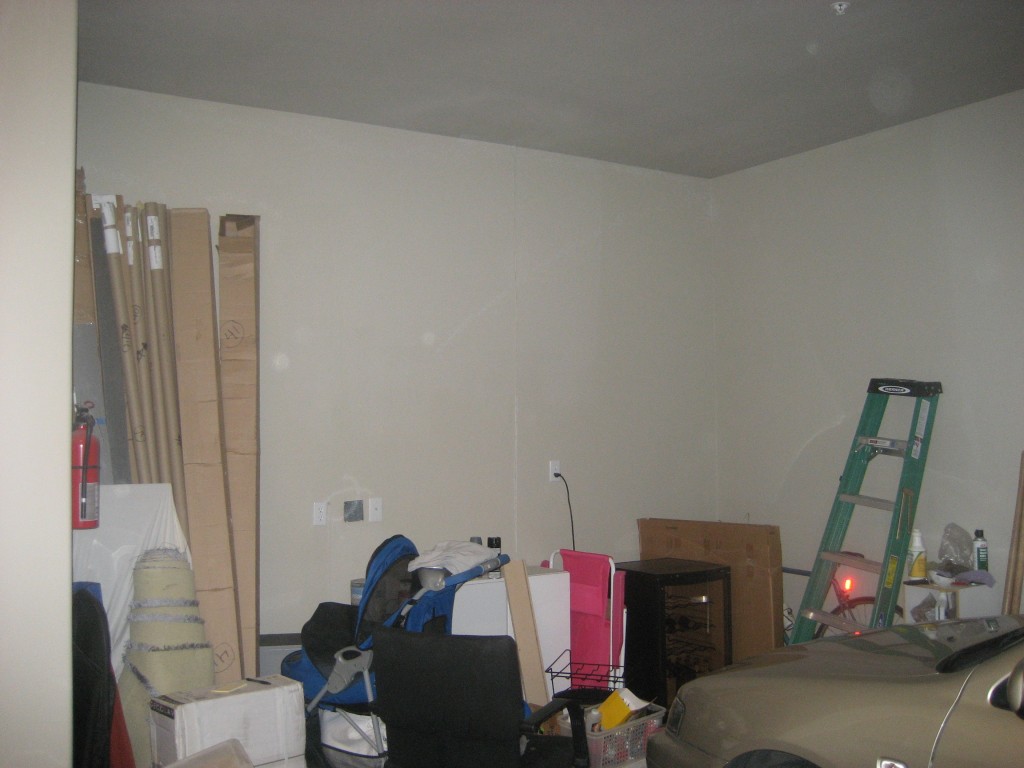 That wall would be perfect for some Elfa shelving from The Container Store.  I love using Elfa in garages.  It's very strong and can hold lots of heavy items.  It's easy to install, and best of all, it's very easy to adjust and change as your needs change.
Tall Thin Boxes
See the long tall narrow cardboard boxes below, standing up on their ends? Those were leftover trim pieces from cabinetry. Stuff like this, that doesn't need to be easily accessible, shouldn't be taking up valuable floor space. That tangle of long thin boxes is just in the way, waiting there to trip someone who might be searching for something else in the garage. They could also get wet or damaged, being stored that way. So let's put them up high on the wall, stored horizontally.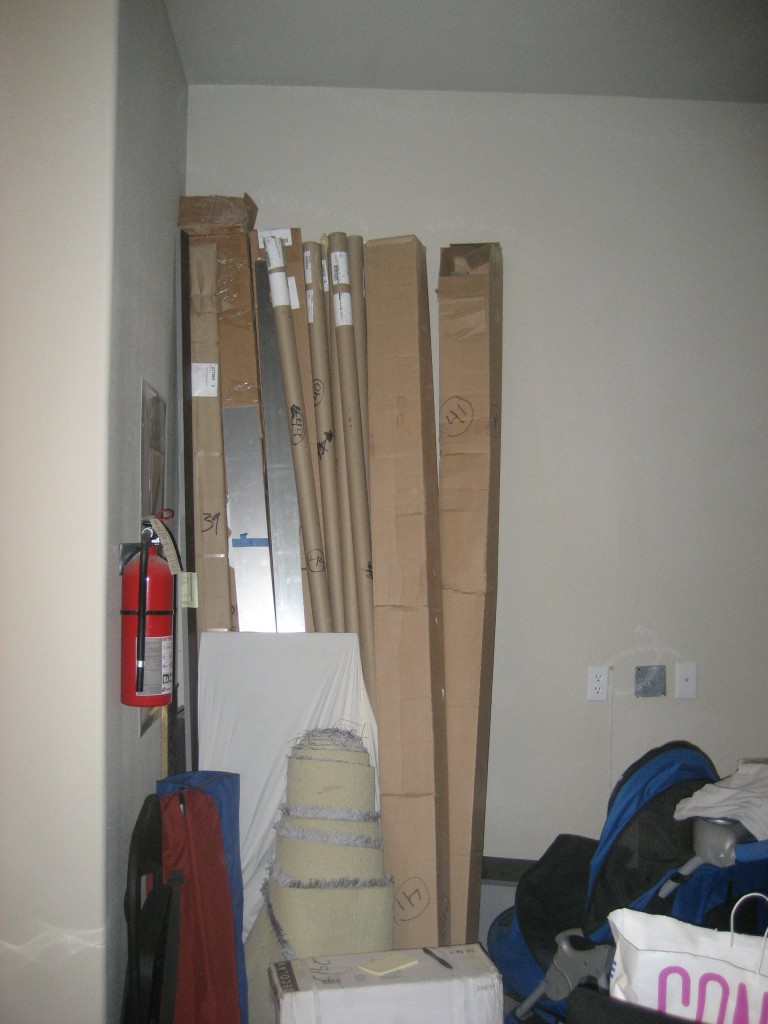 Get Those Boxes Up Off The Floor!
Storing them horizontally instead of vertically freed up space below for items needed more often.  Since the Elfa shelving is fully adjustable, I was able to set those shelves close together.

Elfa shelving comes in different depths (the front to back measurement) – 12″ deep, 16″ deep, and 20″ deep. For most garage storage, the 16″ deep size used here is the best size. Large plastic bins will fit perfectly on a 16″ deep shelf.  The shallower 12″ deep shelves are better if you are storing lots of small items, like food containers or office supplies.  The 20″ deep shelves are too deep for most typical uses, unless you are storing large pieces of art, or other really big unwieldy things.
What About Those Round Boxes Of Trim?
Some of these long cardboard containers of trim were in round cardboard tubes. Those could easily roll off the shelves. So I used Elfa bracket posts to keep the round ones in place. The bracket posts are the L-shaped pieces coming up in front of each shelf. You can see them better in the picture below.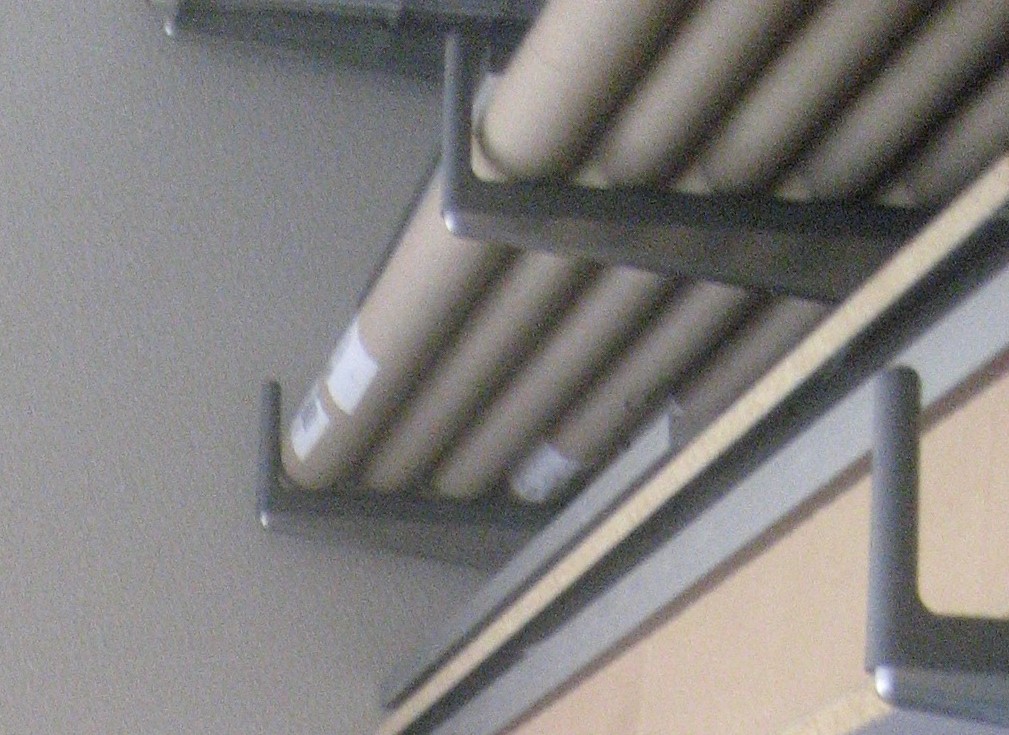 Garage Wall, Organized!
Now, the floor is clear for things like the baby stroller, which is accessed frequently. Things that aren't needed often, like cabinet trim and paint cans, are up high and out of the way. Tools like garden shovels are hung on the wall within reach, ready to use.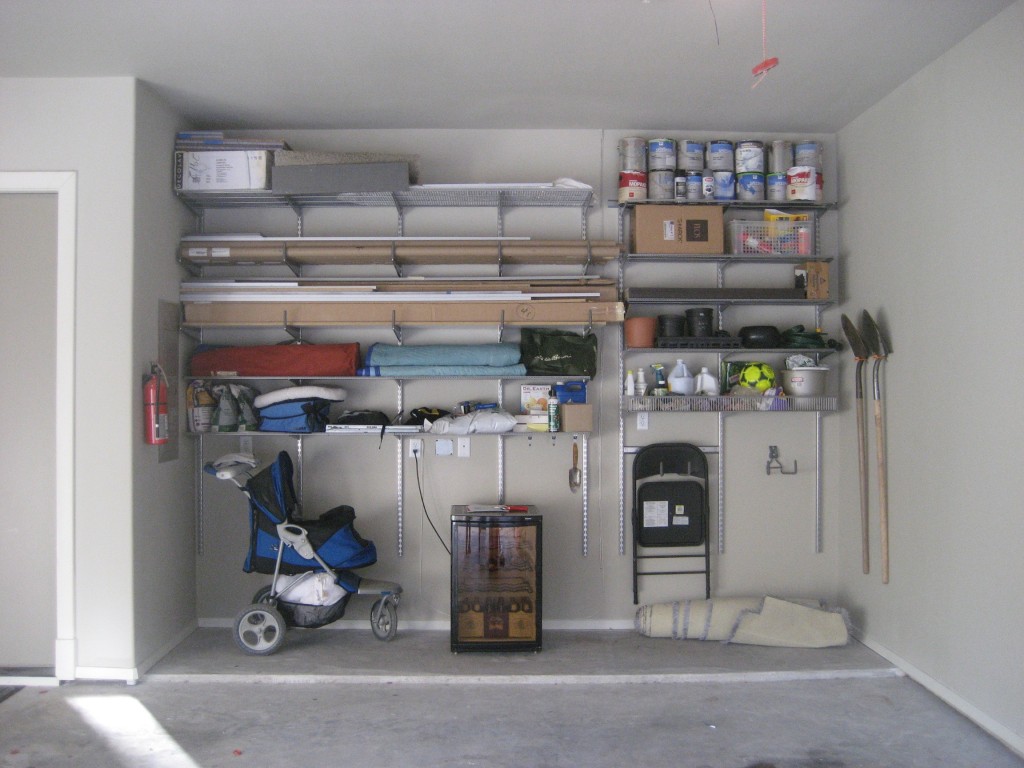 I love organizing garages and customizing them for my client's needs!  Can I make your garage functional and usable? Contact me!