By A Jones For Organizing In General organizing
I'll tell you a secret. When the holidays approach, and the new "stocking stuffer" gifts appear in the stores, I sometimes buy a few for myself. In my defense, I have been a very good girl this year.
But besides that, I also want to try out gadgets and gifts before getting them for others. The ones that I get excited about are eminently practical. My idea of an outstanding gadget, the kind that I can't wait to try for myself, is something that actually solves a real problem in my life.
Trinkets and toys may appeal to others, but I am ruthless about making gadgets earn their keep. Have you seen that "Angry Mama Microwave Cleaner" figurine that everyone has in the stores this year, that steams up your dirty microwave so you can clean it easier? Well, you can steam up your microwave and make it easy to clean, by heating up a simple bowl of water.
I know, I'm no fun. But if you're like me, and want some gift ideas that actually are brilliant in their usefulness, read on!
Grab & Go Powerbank Station
UPDATE: This Grab & Go Powerbank Station product has been recalled by the Consumer Product Safety Commission on April 5, 2018, due to several reports of it overheating and melting, posing a potential fire hazard.
If you purchased this product at the Container Store, click here for details on getting a full refund.
I am SO DISAPPOINTED about this recall. But I'm going to keep my description of the product here, below, in case some manufacturer comes up with a similar, safe version of a set of multiple chargers like this.
This phone battery set is my favorite find this year. I love it because it basically allows me to be forgetful, like we all are. It's 3 portable phone chargers on a little plugged-in stand. If I will be gone all day, I like to grab a portable battery on my way out the door, in case my phone juice gets low. But my problem is remembering every time, when I get back home, to plug those portable batteries back in to charge them up again! This set ensures that I will always have two other ones charged and ready to go, if I've forgotten to do that. And, when one is missing from the little stand, that's my visual cue to put that used battery back in. I love products that are designed for people who are not perfect!
Important detail: Note that the little short cord in the picture, that connects the portable battery with the phone, is NOT included in the Grab & Go Powerbank Station package. You can get those super short charging cords on amazon.com.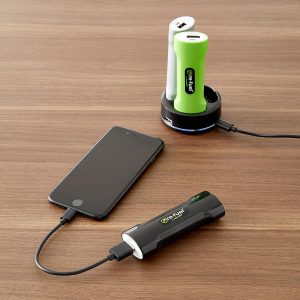 image courtesy of containerstore.com
The Wand
Have you heard of The Wand ($19.99 8-pack), for drinking wine? You stir this wand in your glass of wine for a few minutes, and it removes histamines and sulfites. One of my relatives loves wine, but hates the headaches. She now takes this with her to restaurants and is able to enjoy wine again.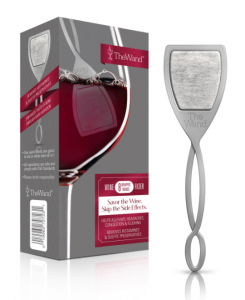 image courtesy of drinkpurewine.com
PackLite Halo Solar Light
This inflatable solar light ($14.99) looks very cool! I really, really love things that fold down flat and take up almost no space when you are not using them. At first, I thought that only my camping friends would use this. After all, I don't camp. To me, camping is when the hotel doesn't have room service. But then I realized that this little light could be useful in weather disasters like hurricanes or other power outages. Once I realized that, I think that everyone needs one.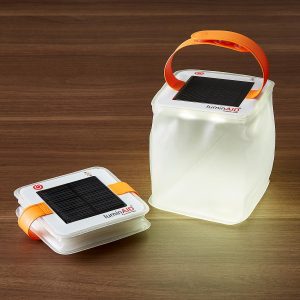 image courtesy of containerstore.com
Toasty S'more Skewers
Speaking of camping, or campfires, or firing up the gas stove burners (don't judge), these telescoping marshmallow skewers ($19.99 pack of 4) are clever. You can extend them to make them longer! So that you don't have to sit too close to the fire! Smart! And then when you're not using them, they fold down compactly. I love that feature, as a professional organizer. Just make sure you create a home for them where you can find them again easily, since you may not use them often.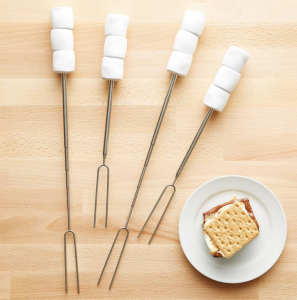 image courtesy of containerstore.com
Atomic Beam USA Flashlight
Okay, flashlights aren't usually "best gadget" worthy, but this small but powerful 6″ flashlight ($19.99) is pretty cool. Here's what makes it different. You can zoom the light in to be smaller for peering into small spaces, or zoom it out to be a floodlight. You can also set it to strobe, or to flash an SOS signal in Morse code. This is the flashlight that your inner Girl Scout wants to have.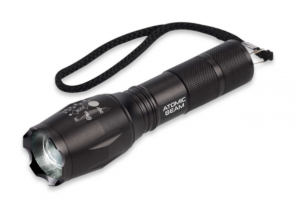 image courtesy of bedbathandbeyond.com
Head Massagers
And finally,  this head massager is something you need. You really do. You need it. Just try it. You're welcome.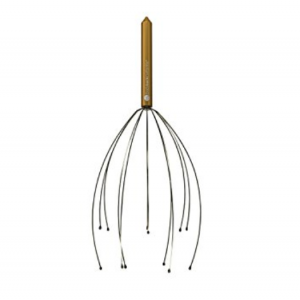 image courtesy of amazon.com
Can I help you get ready for the holidays? Contact me!