A Jones For Organizing is proud to be included in Expertise.com's list of the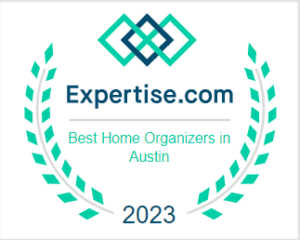 A Jones For Organizing was selected by Redfin as a top professional organizer. See the Redfin article we were featured in:
You are busy, right? And maybe a bit overwhelmed? You need a cheerful and experienced professional organizer to help you get your home in better shape. Similar to hiring a personal trainer for your health or a bookkeeper for your finances, hiring a professional organizer means that you will finally take action toward having the peaceful and well-run home that you want.
Let's work together to sort through and de-clutter your things. Then I can help you set up a system for maintaining your stuff, that works with your daily routine. (That's my favorite part of the process, where I can be creative and effective all at the same time.)
Then, with good systems in place, you can enjoy your possessions instead of struggling with them. It truly will be easier for you to maintain that level of organization. If your household is managed well and running more smoothly, you can spend your time and energy on what you really want to do!
I like the saying, "Creativity is intelligence having fun."  I have so much fun making my clients' houses more enjoyable to live in.
Not sure how this works? See my FAQ page. 
Want to see testimonials from some of my wonderful, happy clients? See my Raves page.
Looking for my tool and hardware class that I teach? See my Real Women Use Tools page!