By A Jones For Organizing In Elfa adjustable shelving, Garage organizing, General organizing, Usability Problem
Let's get your garage storage problems solved!
Here in Austin, Texas, we generally don't have basements. So, the garage is often our largest storage space. At the same time, storing our cars inside the garage (instead of out in the driveway)  is important here for 3 reasons:
(1) to avoid climbing into a hot car baking in the 100°F summer heat,
(2) to prevent damage from pounding hailstorms, and
(3) to protect from midnight thieves breaking into cars to steal valuables. (That last one has become an increasing problem in my Northwest Hills neighborhood.)
So let's use that storage space effectively!
For example, do you have bikes and ice chests on the floor of your garage? Getting them up on the walls will free up more space for parking your car. See below, how the homeowner can easily pull out one bike at a time, and one ice chest at a time, without causing an avalanche? Let's use that vertical wall space so you can see what you have, and access it!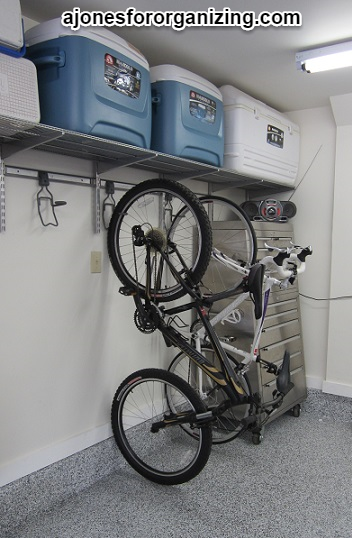 6 common garage problems and how to solve them
I LOVE cleaning out and organizing garages! It's such a huge quality-of-life improvement for my clients. I'm always thrilled when they can finally pull their car in. You can find out more about the organizing process, here on my FAQ page. But for now, let's look at some common garage organizing problems and how I solved them with good space design. That's my favorite part of my job! (I love designing closets, too.)
"Where's the [urgent thing I need right now]?"
"Are the [fill in the blank] in there somewhere?"
"How am I going to get [that thing I use a lot] out of that pile?"  
"Can we get [those things] up off of the floor so we don't trip on them?
"Should we maybe have bought taller shelves?" and
"Ow! What did I hit my head on?"
PROBLEM: "Where's the wasp spray?"
When you need wasp spray, you need it right now. See below, this large wall-mounted shelf with all the bottles and cans on it? You might think that deep shelves like this are always useful. But when small items are crowded onto a deep shelf, things will be harder to find. Who knows what might be in the back of that shelf?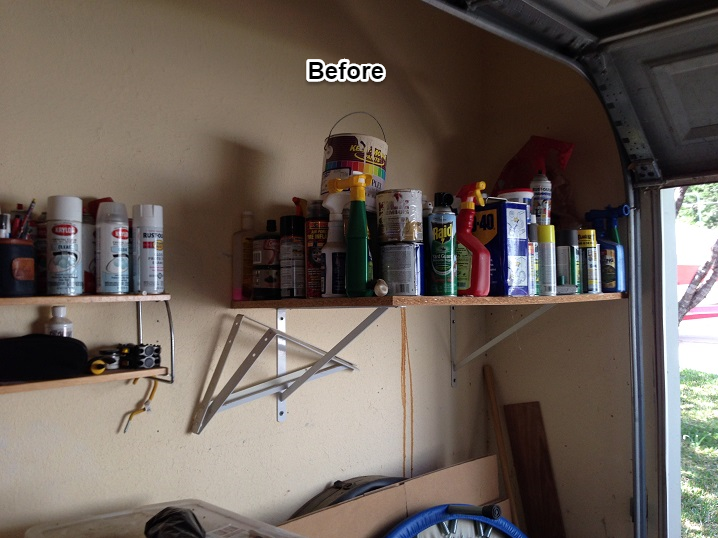 SOLUTION: Store small items on shallow shelves
See below, how these cans and bottles are stored in a row, one layer deep? Any shallow shelves will work. I like using 4″ deep Elfa utility shelves for these items because the metal shelves are easy to adjust, to use every drop of your storage space. Pro Tip: Putting small things in a single shallow row lets you see everything at a glance, and quickly find that wasp spray.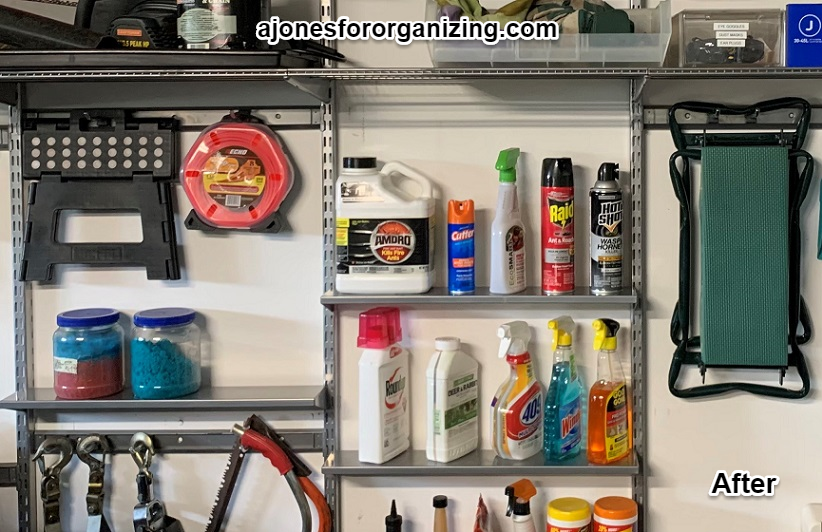 PROBLEM: "Are the Halloween decorations in there somewhere?"
See below, those boxes and bins piled up? You can't easily access the ones on the bottom. You might not even know what is buried in there! In my garage organizing adventures, my clients and I often make exciting discoveries of long-lost things. "Hey, I've been WONDERING where that was!"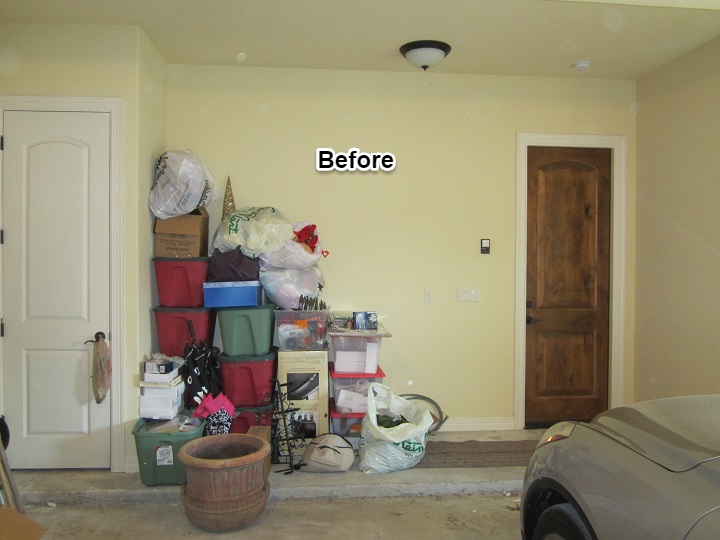 SOLUTION: Make those bins more accessible
Adjustable shelving lets you use that blank empty wall to best advantage. Now, everything is up off of the floor, and visible. Pro Tip: Have rows of bins on separate adjustable shelves for easy access. That way, you can pull out the one bin that you need, without having to unstack or shift the other ones around.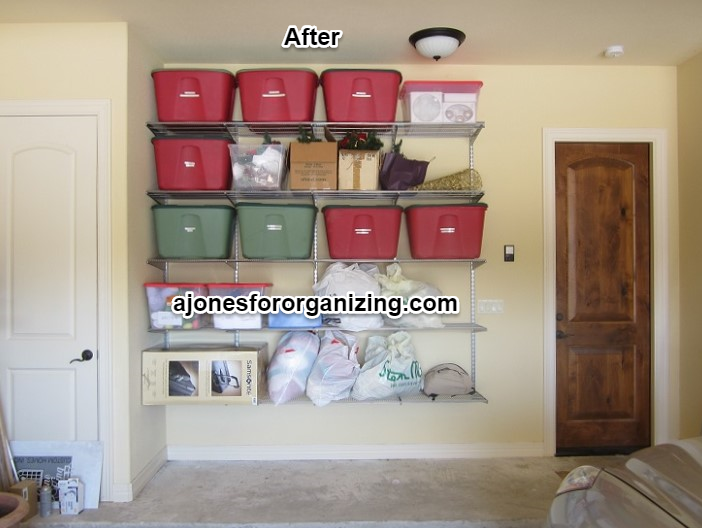 PROBLEM: "How am I going to get the baby stroller out of that pile?"
See the baby stroller, below, in the middle of other things? Also, see those tall thin boxes standing up on the left side? Those are leftover pieces of trim from remodeling. My client wants to keep them, but they are taking up valuable floor space. When important and not-so-important items are mixed up together like this on the floor, you can't quickly find what you need.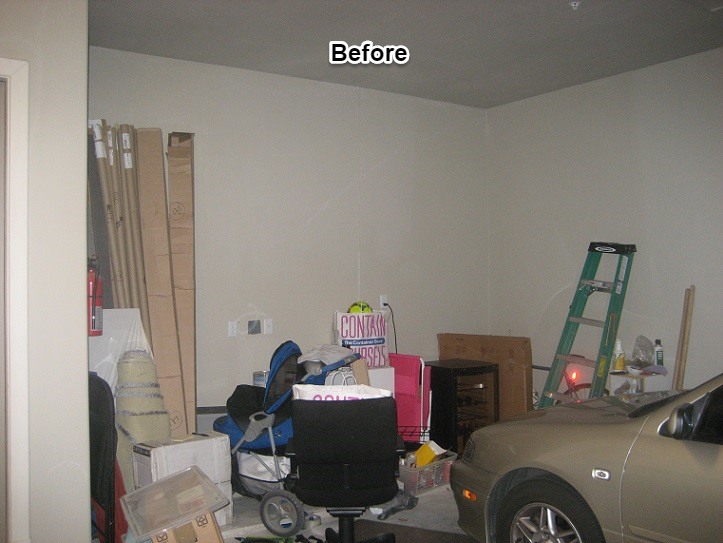 SOLUTION: Store frequently accessed items down below, archived items up high
I get excited when I see an empty wall like this. That is prime real estate for storage! Any kind of adjustable wall-mounted shelving will work, to use the vertical space. We got the tall thin boxes and paint cans stored up high out of the way. Now, the baby stroller is easily accessible. Pro Tip: Put things you need at eye level or below, and things you don't need up high. Also, when possible, store long things horizontally instead of vertically, to use the available space more effectively.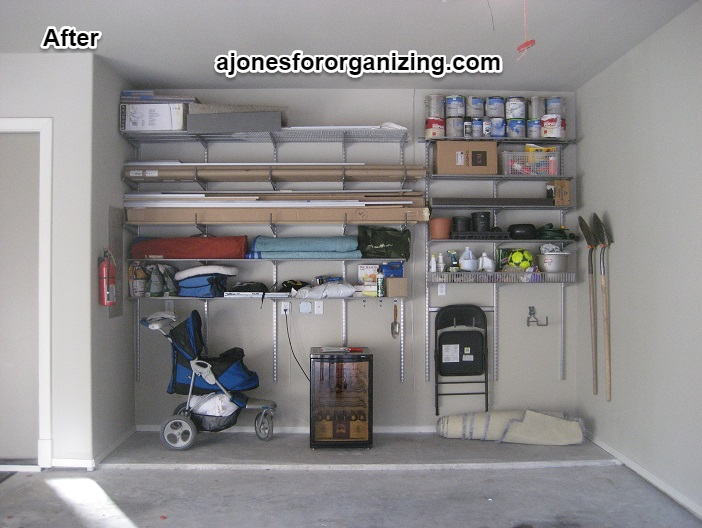 PROBLEM: "Can we get these folding chairs up off the floor so we don't trip on them?"
I have several clients who use their folding chairs to gather with their neighbors on the weekends. (Austin is a friendly town!) But when those chairs are on the ground, they can shift around and get in the way. Often, when you go in and out of your garage, you are in a hurry, right? It's very important to prevent potential tripping hazards in the garage.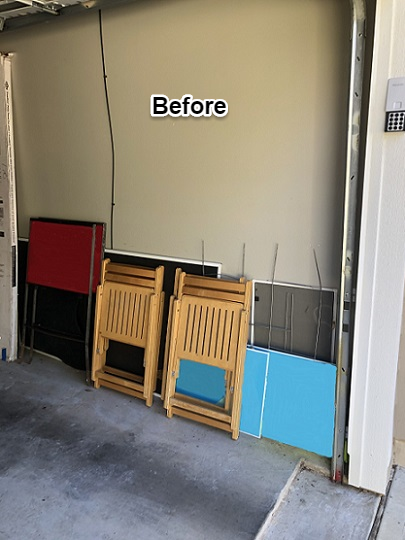 SOLUTION: Hang up folding chairs, bikes, and ladders on the wall with hooks.
Here, I installed Elfa top tracks with wide ladder hooks to hold those folding chairs up off of the floor. I put them next to the overhead door, so that she can easily fetch them when her neighbors have a party. Then she can quickly hang them back up when she is done. Pro tip: Get as many things up off of the floor as possible, with hooks, racks, or shelves. No more tripping over things!
PROBLEM: "Hmm, should we have bought taller shelves?"
This is a janitor closet at a commercial business, not a garage, but the same principle applies. These short shelves were probably less expensive, but they don't use that valuable storage potential. If you are going to buy shelves, don't waste money on short shelving units. Use that empty air, for storage!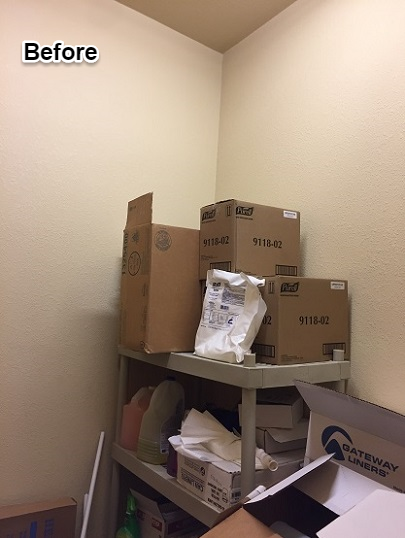 SOLUTION: Get the tallest shelves that will fit your space
You can find shelving units with adjustable shelves up to six feet tall. Here, I brought in 6′ tall adjustable Intermetro shelves to use that vertical space. Also, I installed a rack and hooks for hanging a ladder next to it.  Pro tip: For the tall shelves that you buy, plan a spot nearby for storing a stepladder.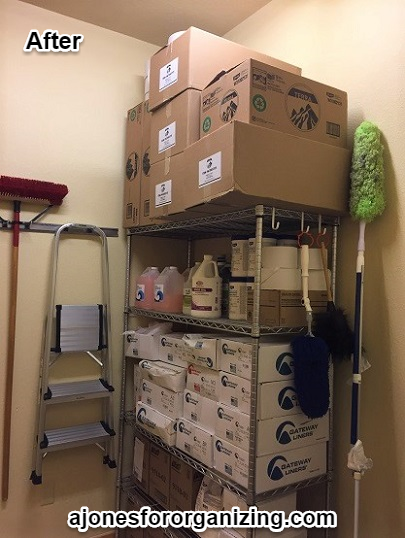 PROBLEM: "Ow! What did I just hit my head on?"
See below, that unfortunately placed shelf? That shelf is going to bonk you on the head every time you get out of that side of the car. In a typical narrow garage, shelves set at head height on the side walls are no good.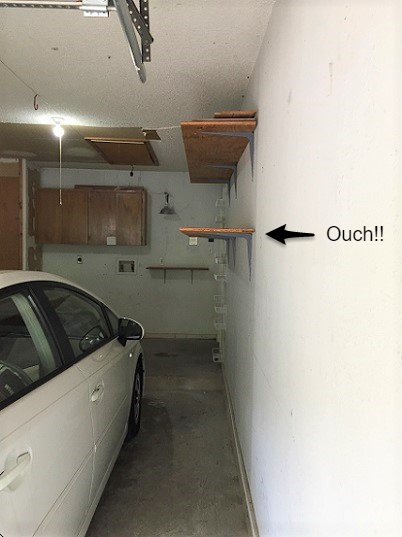 SOLUTION: Use space near the ceiling for storage
If your garage is narrow, look to the ceiling instead of the side walls, for storing things. If your ceilings are tall, you could possibly have overhead ceiling racks installed, like these from Garage Monkeyz.  Pro tip: When possible, install shelves above head height, as shown below. Store things up there that you don't need to access often.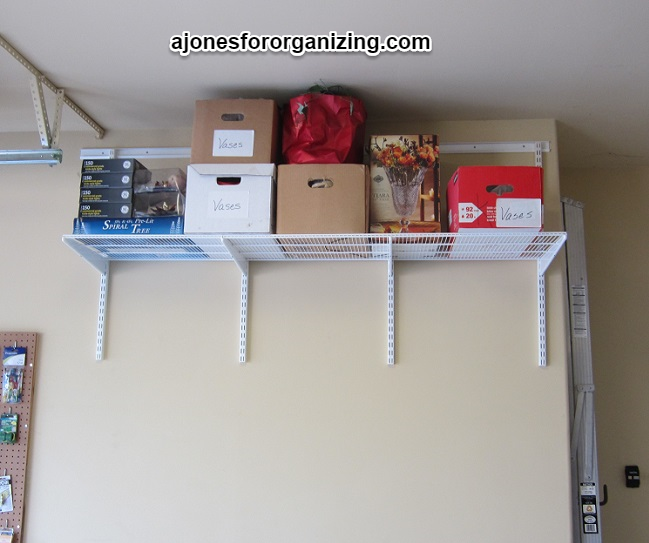 What my garage clients say
"Every time I drive in to the garage, I have a sense of great peace.  I feel like we found new space!"
"I was overwhelmed with the clutter in my garage, unable to tackle it alone … She was a joy to work with and by the end of the day my garage was neat, tidy, uncluttered and organized. I am so happy. I highly recommend her."
(For more testimonials from my wonderful, happy clients, see my Raves page.)
Can I help with your garage?
Having a clean, organized garage is a huge quality of life improvement in Austin and central Texas. Can I help you with yours? Contact Me for a consultation about how I can make your garage a soothing place for you to drive into at the end of the day.