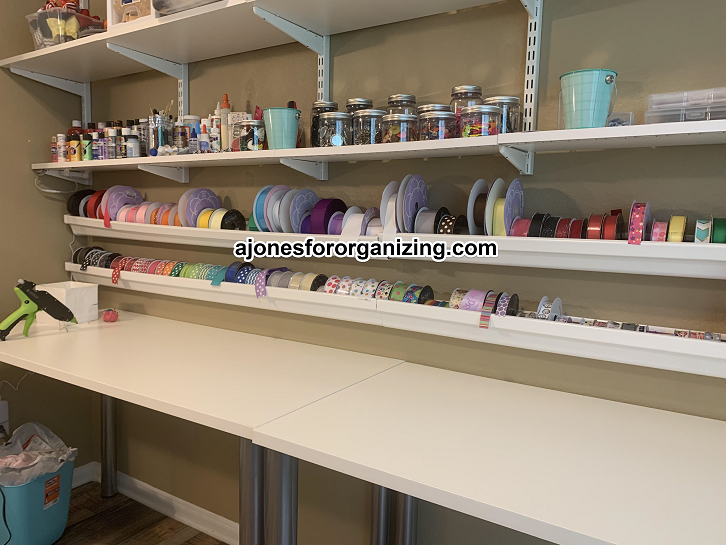 By A Jones For Organizing In Craft supplies organizing, Elfa adjustable shelving, General organizing
Here's an unusual idea for ribbon storage: vinyl gutters from a home improvement store. What?? Yes, gutters! It may sound odd, but this was a great organization solution for my client. See how all the ribbon rolls are easy to see, and access?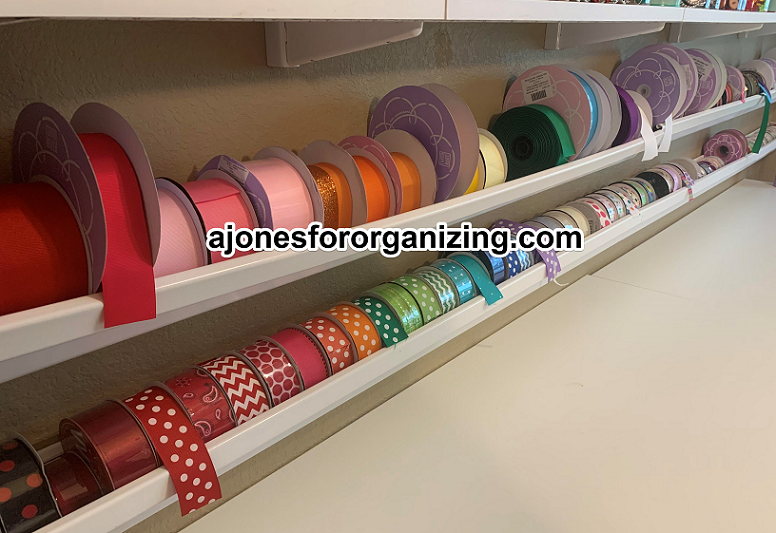 Elfa shelving and ribbon storage in a craft room
This was such a fun project! I also installed Elfa shelving, and task lighting, in this craft room. But I'll talk about the ribbon storage first.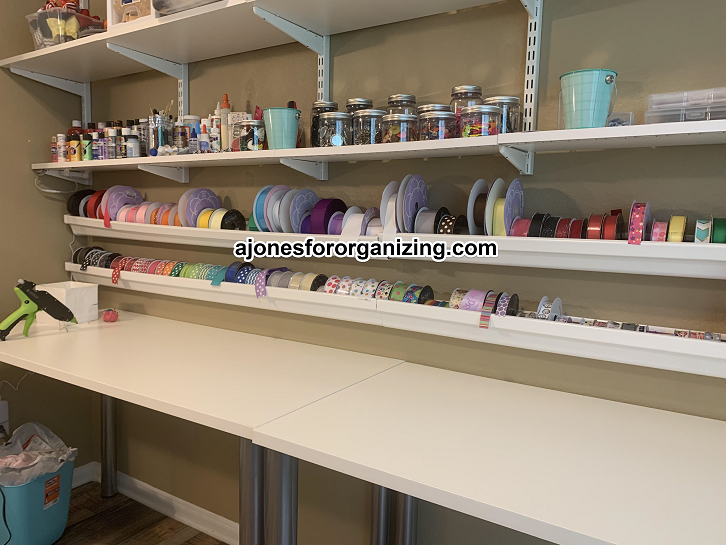 I love this storage solution!
Super easy to access, rearrange, and replace these ribbon rolls.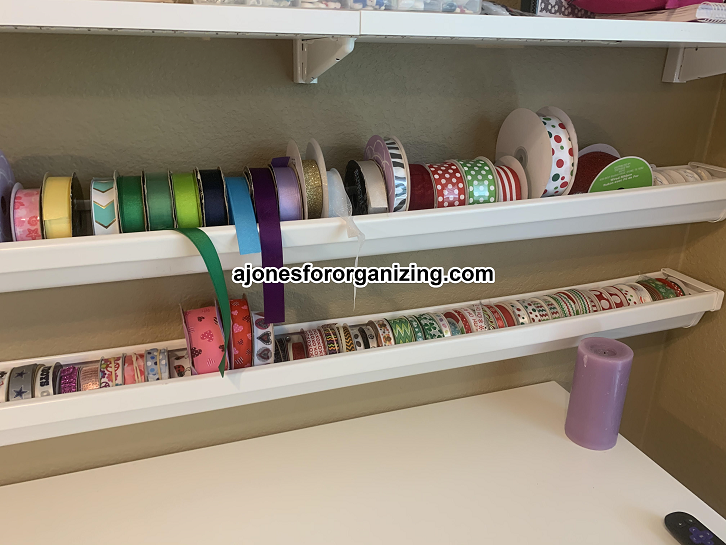 Ok, one more
I also love how, even when the ribbon is pulled out a bit, the ribbon rolls will stay put. They won't come unspooled, dribbling down onto the floor.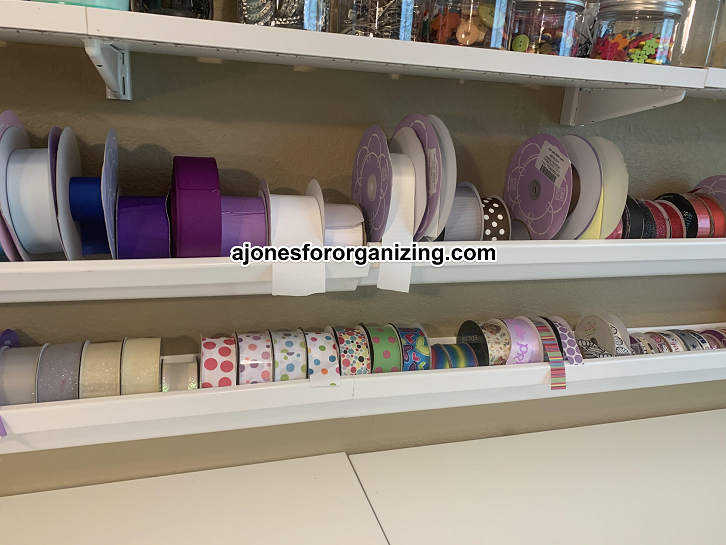 Her business is bows
My clients are SO talented. They can do all kinds of things I could NEVER do. This client makes beautiful, intricate bows for special events, holidays, and high school drill teams. How cool is that! As you can imagine, this involves lots of ribbon. Her business is called
A Little Bit Bows.
My superpower is solving space design and access problems
I don't have the talent for making crafts. My talent lies more in making work and hobby spaces more fun and easy to use. Here's the "Before" shot. In this case, she has a great craft room, with two problems for me to happily solve.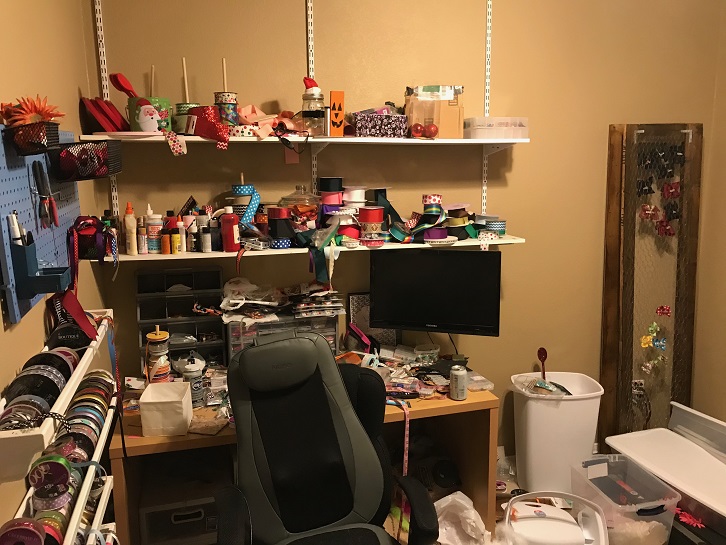 Problem #1: Hard-to-access craft supplies
When the ribbon rolls are stacked like this, it's a hassle to get to the ones on the bottom of the stack. You have to lift the top ones up, and put them somewhere else, while you get the ones you need. You shouldn't have to struggle with your craft supplies.
Problem #2: Not enough shelving and work space
She needed more shelving storage. Look at the available prime real estate on that wall! I knew we could use her vertical wall space more effectively.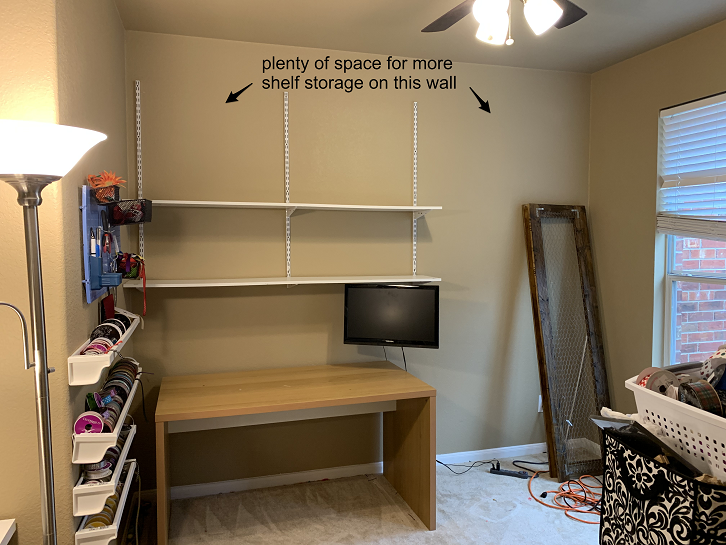 Hey, check out those gutters!
My clients sometimes come up with fabulous storage ideas of their own. I was intrigued by the gutters she was already using. Some ribbon organizers have dowels to slip the rolls onto, but you have to slip the other rolls off of the dowel to replace one roll, right? Too fussy. Here, each individual ribbon roll can be lifted out quickly and easily, without disturbing the others. Brilliant!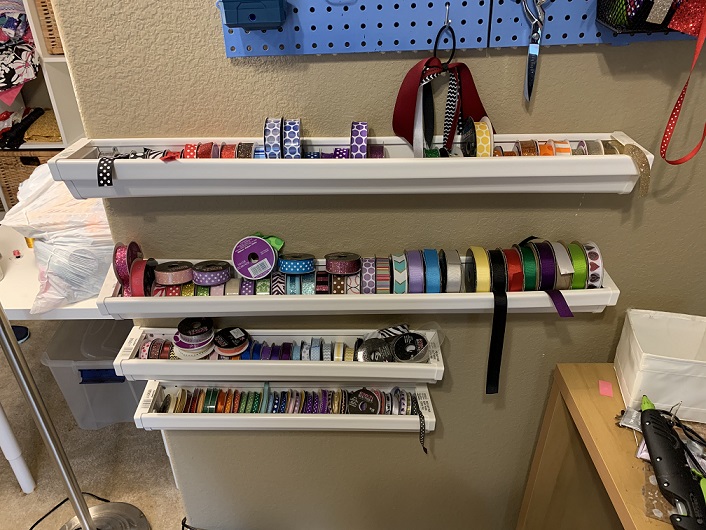 Gutters are a delightfully inexpensive solution for ribbon storage
So, the gutter system was already working well for my client. But she needed more. The wall was a little over 10′ wide, so I got these
10′ long white vinyl gutters from Lowe's
, about $5 each. I got two, for two rows. This was the most inexpensive organizing product I could ever hope to find, for a large quantity of ribbon. Score!

Elfa shelving for customizable storage
What about the lack of shelving on the wall? I love using
adjustable, customize-able Elfa shelving from the Container Store.
So I removed her existing shelving, and installed Elfa solid shelving. This allowed us to use the entire wall for storage, instead of only part of it. Two 54″ by 24″ Elfa desks doubled the work space. This is the wall in progress before I finished putting in all the shelves.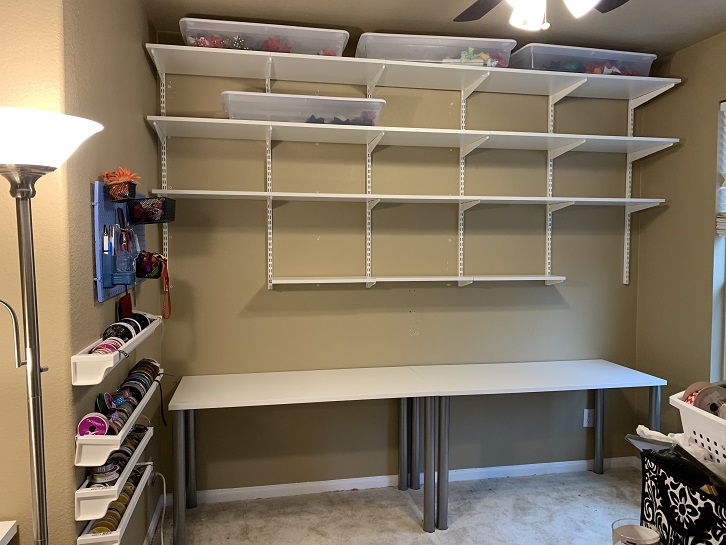 This part will only be interesting to you . . .
. . . if you're a space design geek like me. Here's the illustration of the different depths of Elfa shelves I used: 16″ deep shelves above for her large clear plastic bins, 12″ deep shelves in the middle, then 8″ deep shelves below for smaller items. I had the Container Store cut the vertical standards a bit for me, so that I would have enough room for two rows of gutters. I enjoy math calculations like this when solving a storage space puzzle.
Task lighting, the crucial final step
Task lighting for work spaces is so important. You don't need electrician skills to use
adhesive LED light tape like this.
 You just press it onto the underside of shelving, and plug it in. On this 10′ long wall I used a 96″ light strip. It's so much easier to see what you're doing with proper lighting! In this in-progress picture, I've put in one row of gutters so far.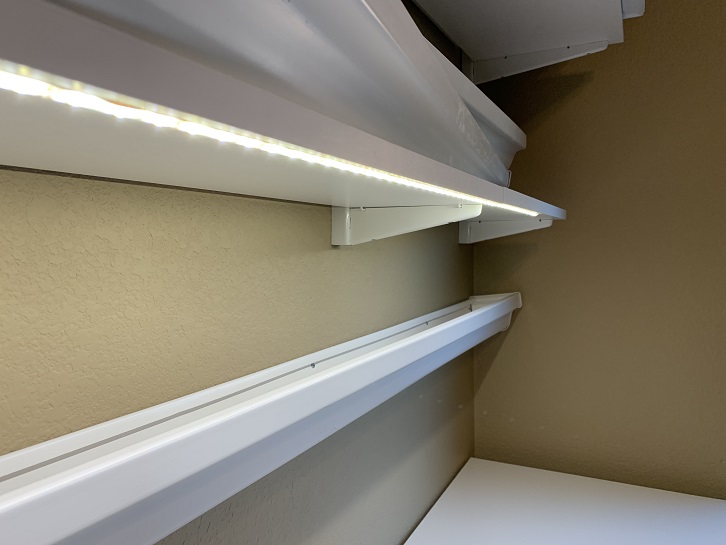 The final result, an organized craft room
My client sent me this picture after she set up her craft supplies. She can now access all of her ribbon and other items with no hassle. It's easy to find what she needs, AND (just as important) it's easy to put things back when she is done. She has a nice long work space where she can spread out her supplies, and let her creativity flow. Isn't it beautiful?