By A Jones For Organizing In Craft supplies organizing, General organizing
Do you need help with organizing your craft supplies?  Do you wish that everything was easy to find, and easy to access, in an organized manner?  Do you end up buying more items because you can't find the ones you already own?  Do you wish that your hobby work area made you smile every time you saw it?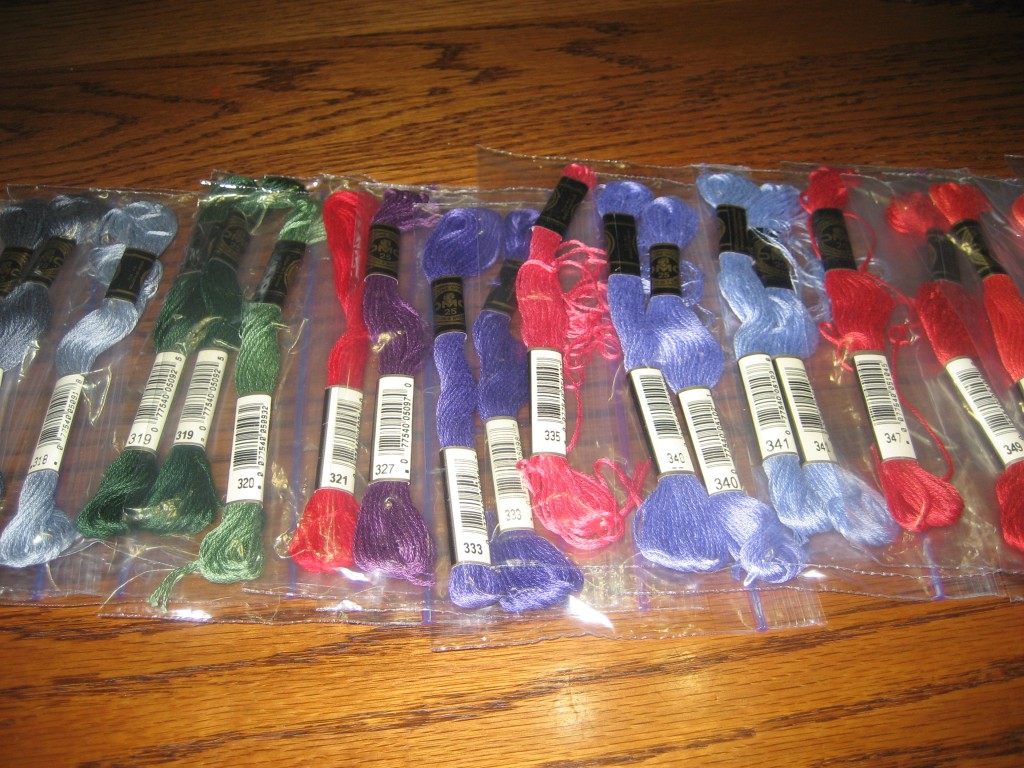 No matter what kind of hobby or craft project you do, I can come up with a vision of a new organizing system that is
customized for your needs
Contact me to see if I can help you with your craft supplies!
See below for how I came up with a customized solution for this client's embroidery materials. She makes exquisite, complicated works of art that involve dozens of colors of embroidery floss.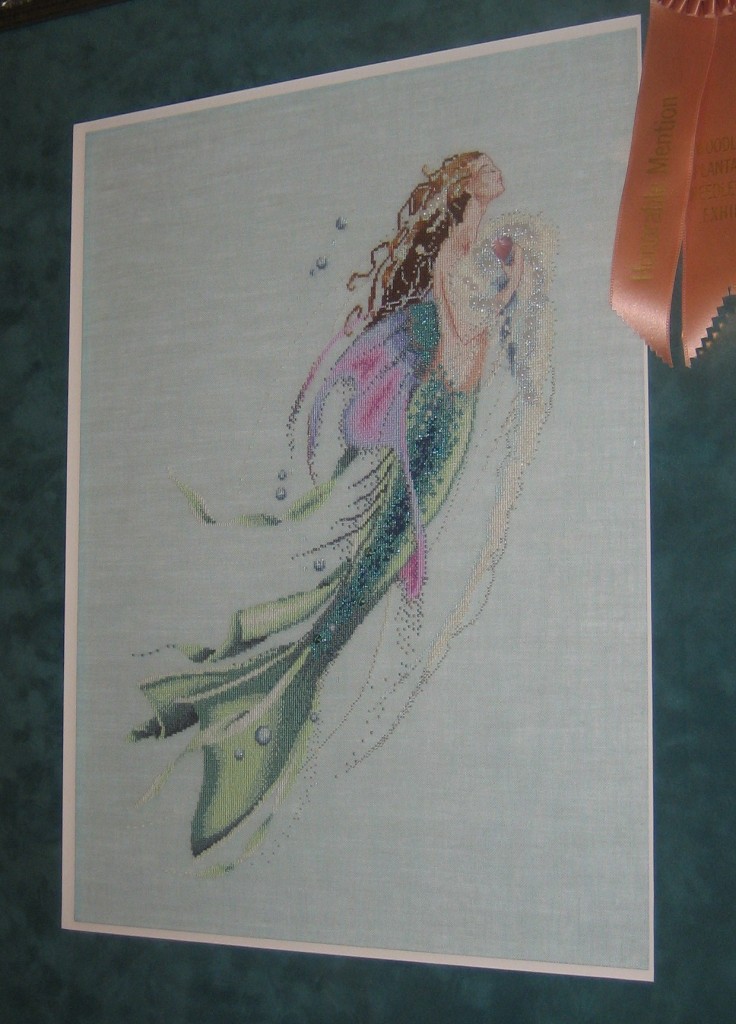 Isn't this gorgeous? I don't know if I could ever do this kind of painstaking, meticulous work. My talents run more toward figuring out the best way to store and organize all those craft supplies. I also organized her millions of tiny glass beads, which you can read about here, Bead Storage and Organization.
Before
Her embroidery supplies were piled haphazardly in several tote bags, and it was too time-consuming for her to paw through the bags to find specific colors she needed for a project. As a result, she would simply buy more embroidery floss, even if she already had plenty of a particular color.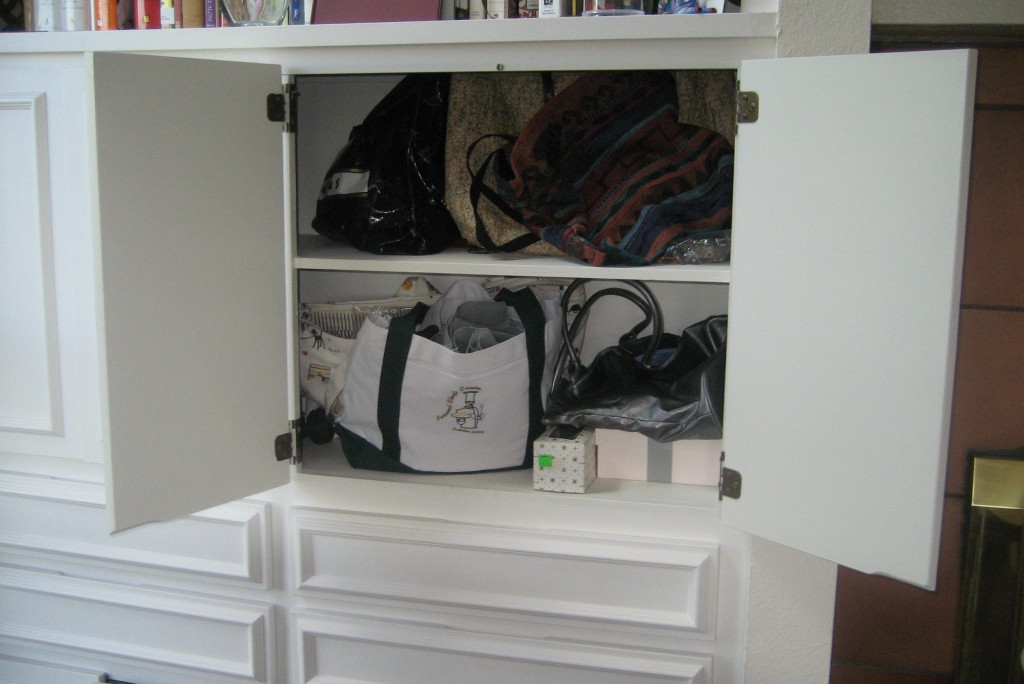 The Problem
When your craft supplies are jumbled together like this, you cannot easily find what you need. I needed to come up with a solution for her.
Mmmmm, looks like taffy, doesn't it? Even though I worked on this project around Halloween, I was a very good girl. I didn't put any of it in my mouth.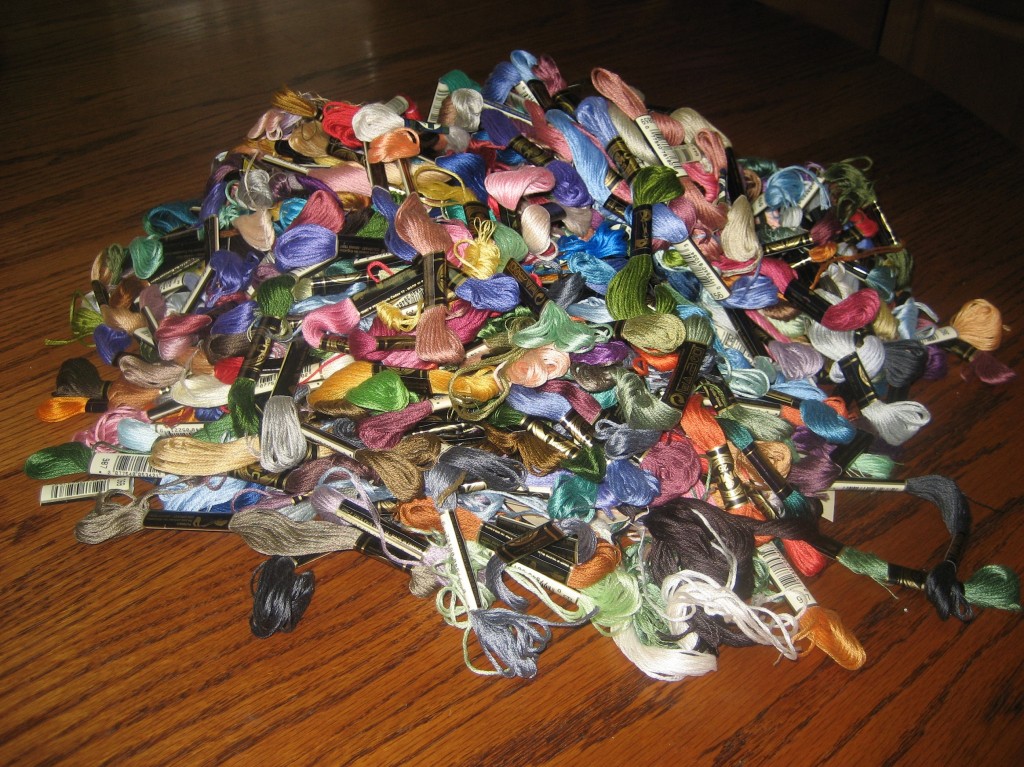 The Solution
I came up with a list of requirements for an organizing system that would work for her, and that would be easy to maintain:
each color of floss should be kept visible and separate so that they don't get tangled with each other
it should be easy to find the number of the color she needs (most of the floss has numbers instead of names)
it should be easy to add more colors to her collection, without having to completely dismantle and disrupt the organization system I set up for her
she should be able to take specific floss colors with her to work on her project in her comfy living room chair, without having to take the whole organization system with her
The Process
There were several hundred colors of embroidery floss to manage, so I put them in snack-size ziploc bags, and sorted them by number.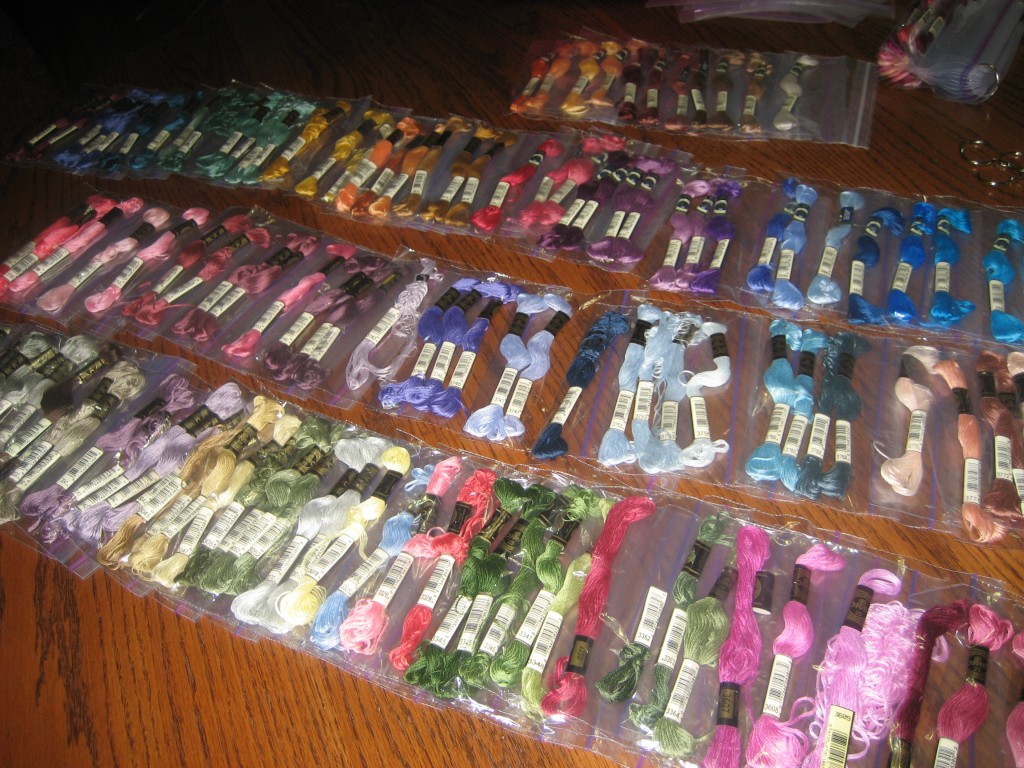 In Numerical Order
The embroidery patterns my client uses tell her which number she needs for the project, not which color. So the numbers needed to be easily visible. I would have thought that the sequential numbers would correspond to the same colors, but the colors actually change quite a bit along the numbers.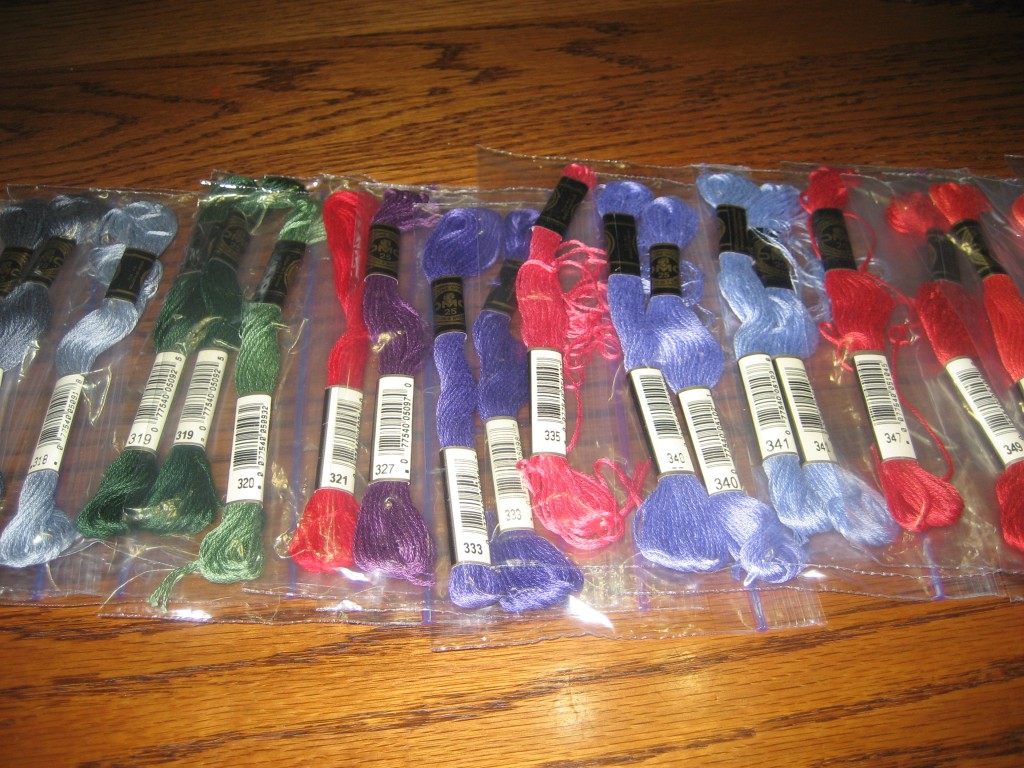 Then, I punched a hole in the corner of each bag, and connected about 10-15 bags at a time with metal binder rings. I didn't fill the binder rings with lots of bags, because I wanted the bags to lay flat in a shallow drawer.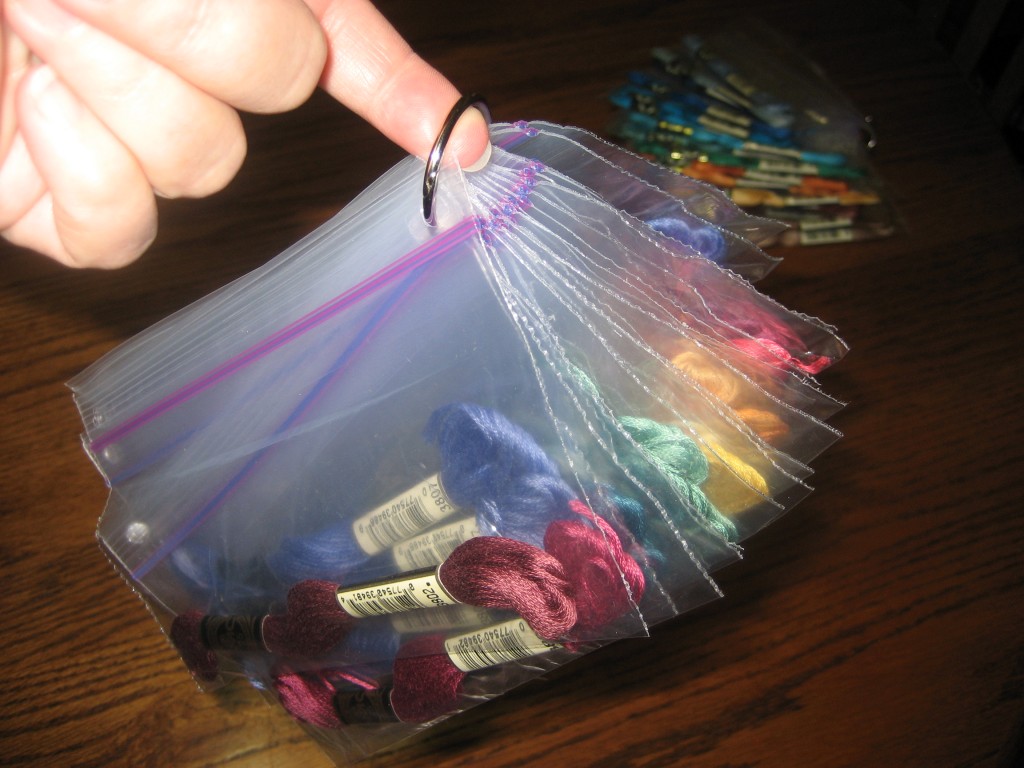 Why this solution works
she can see the numbers on the labels through the bag
they stay clean and don't get tangled up with each other
she can easily detach one bag at a time, to take it with her to her chair
she can add more bags as she buys new colors without disrupting the whole system
So, this system was flexible, easy to use, and easy to maintain.
Drawers
With a project like this, shallow drawers are the best solution for seeing all your craft supplies. Since there were about 500 different colors of floss, I used a tall drawer unit with lots of shallow drawers, available at The Container Store. This unit comes with casters that attach to the bottom, so that the unit can be rolled around easily. This rolling drawer system is great for office supplies and papers, too.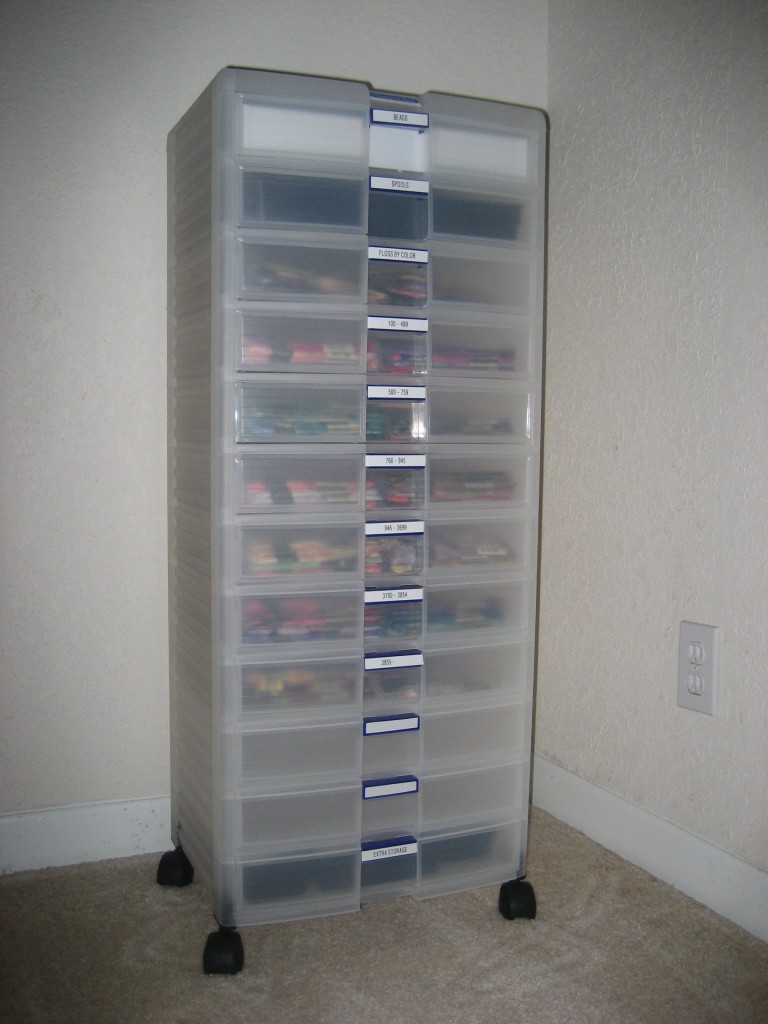 I put 6 sets of floss bags in each drawer, so there are about 80 colors of floss in every drawer. It was a great solution for keeping the floss organized, and easy to access. And, two rows of bags fit perfectly in the drawer! I love it when a plan comes together so well.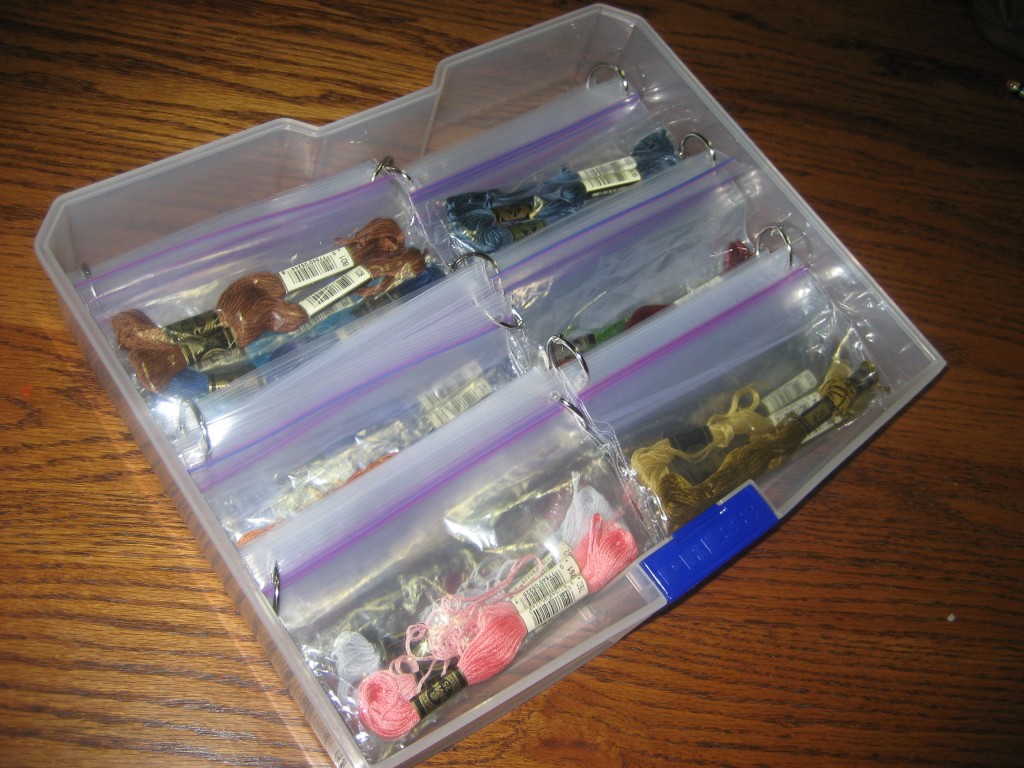 The client also had spools of thread, that I was able to put in one drawer. Now she can see all of her spools at once, and they stay put and don't roll around all over the place. I love how the thread colors look so vivid against those black drawer dividers!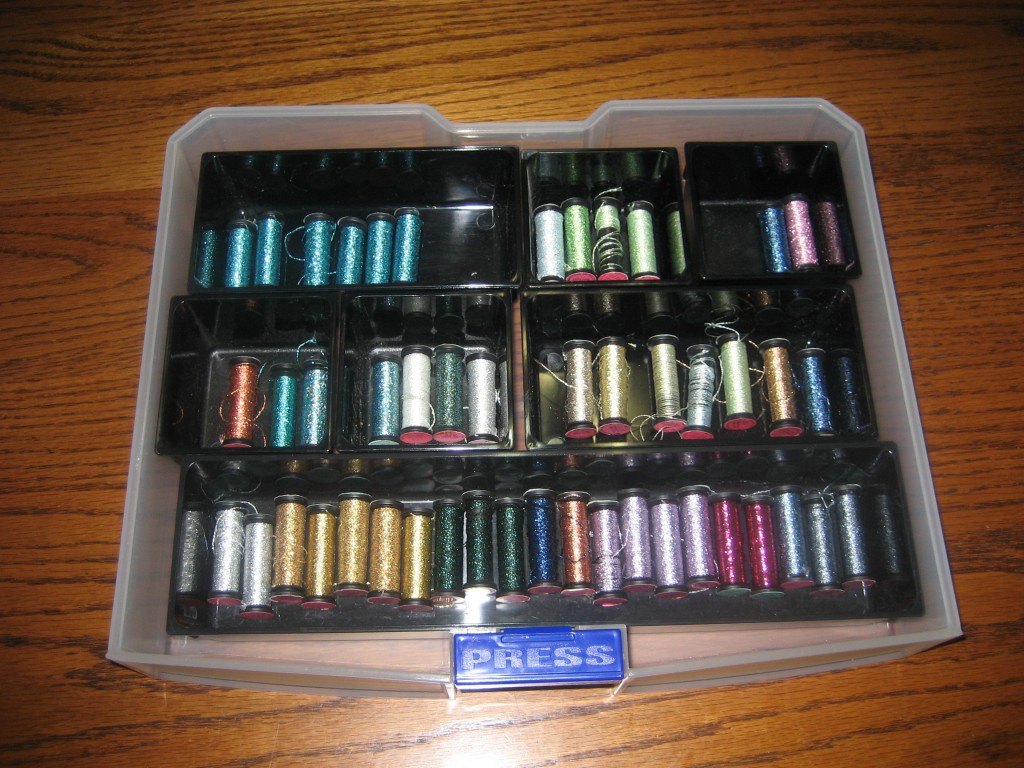 And finally, I left one drawer for additional storage supplies. She has plenty of empty ziploc bags with the holes punched in them already, for future purchases. The one true thing about craft supplies is that they will multiply over time. An organization system is only as good as its flexibility, after all.
Happy embroidering!