By A Jones For Organizing In Closet organizing
Nothing Is Permanent
Did you know that if your closet has built-in wooden shelves and cubbies, that you don't have to struggle with them forever? If you have shelves that are too far apart with wasted space between them, don't despair. Your closet can be transformed like this one. Read on to see how a little demolition and installation of adjustable Elfa shelving can make an exasperating closet into a customized one.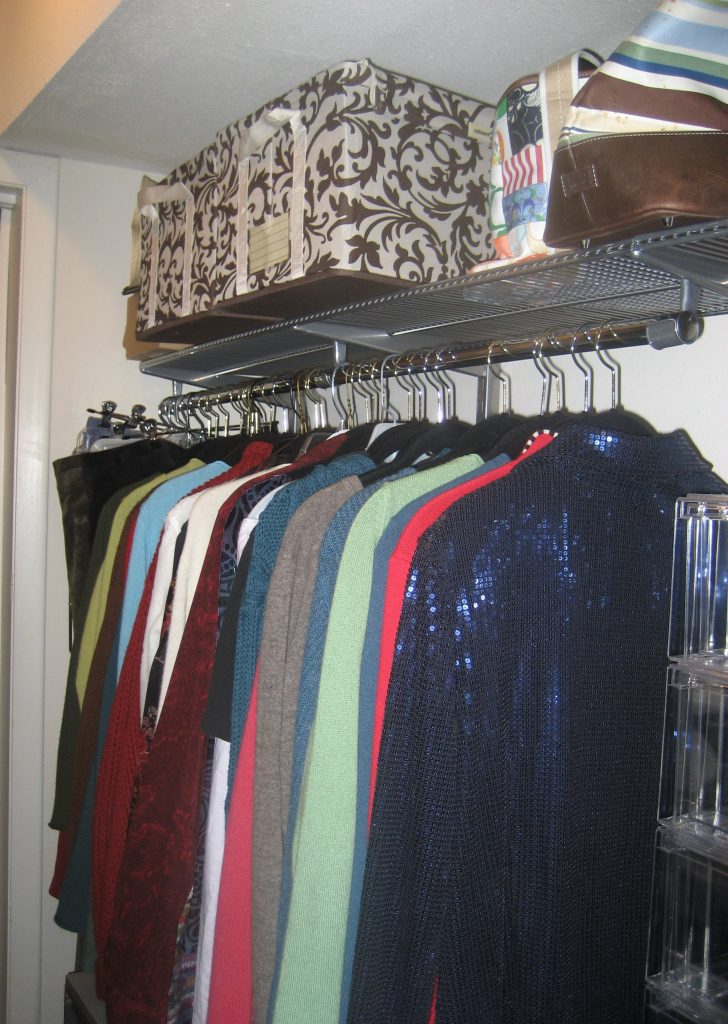 Built-In Shelves
This closet originally came with oversized built-in wood cubbies  and shelves, shown below. See how ridiculously tall each cubby is? Builders make them huge because it supposedly gives you more flexibility in what you can store in them. But the real reason is that it's inexpensive for them.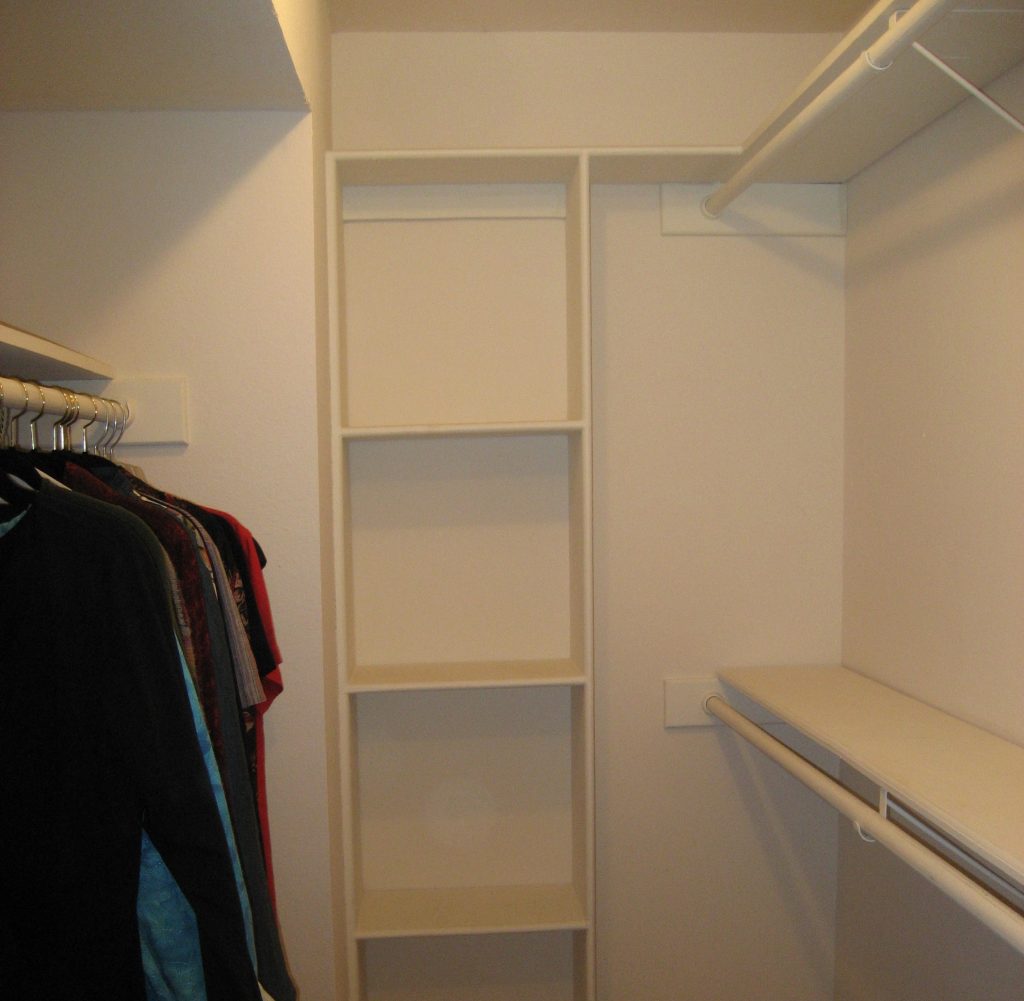 Cowboy Closet?
Now, to be fair, this closet is in Austin, Texas. Maybe the builder intended these built-in cubbies to be used for storing a bunch of cowboy boots? If so, the height of them would be just about perfect.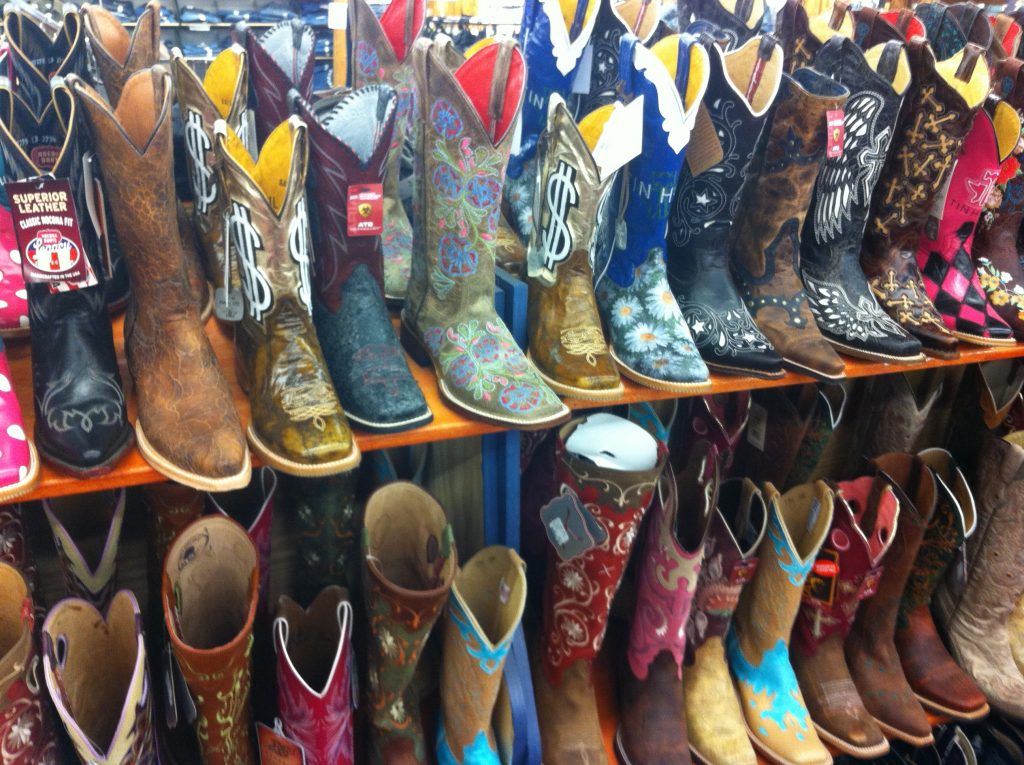 They Call Me Too-Tall
Tall cubbies aren't useful for folded clothes. When you pull a shirt out of the bottom of a tall pile of shirts, the rest of the pile will collapse.
But then, if you keep the stacks of clothes shorter, then you have too much unused, wasted space in those tall cubbies.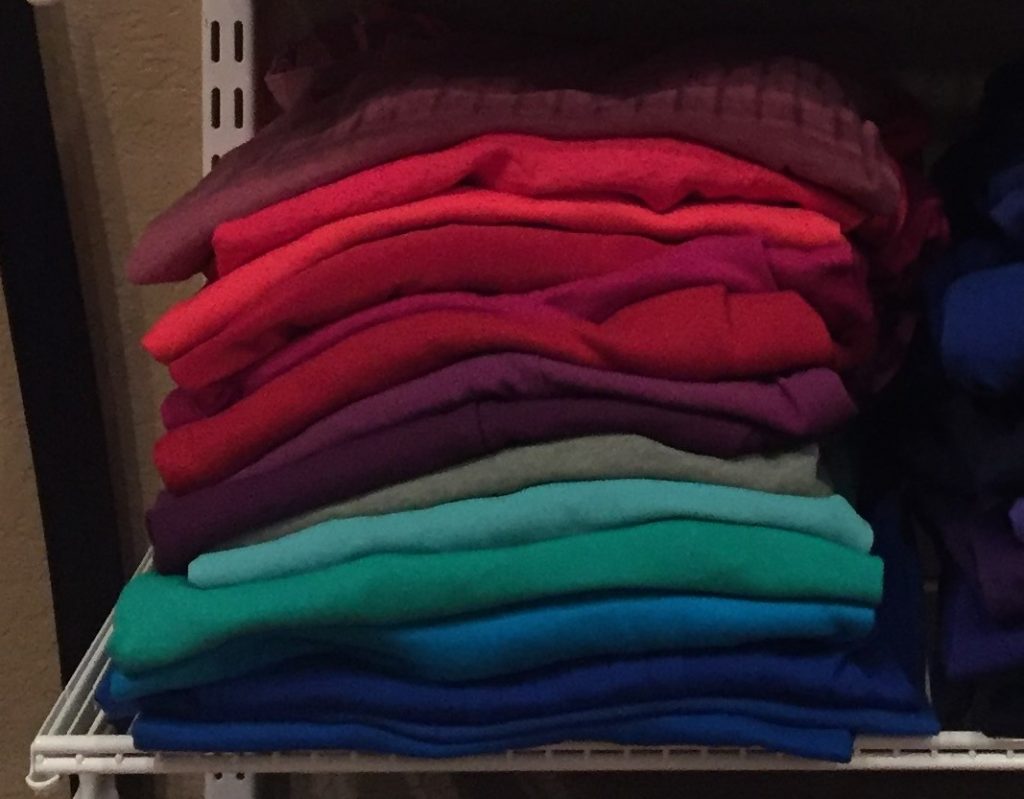 I Have A Sledgehammer, And I Like To Use It
When I see absurdly tall built-in shelves like this, my demolition instincts kick in. Yes, I have a sledgehammer, and I like to use it for exactly this purpose. Let's take those cubbies out! There's simply no reason to try to fit your clothes and your daily routine into someone else's idea of built-in shelves.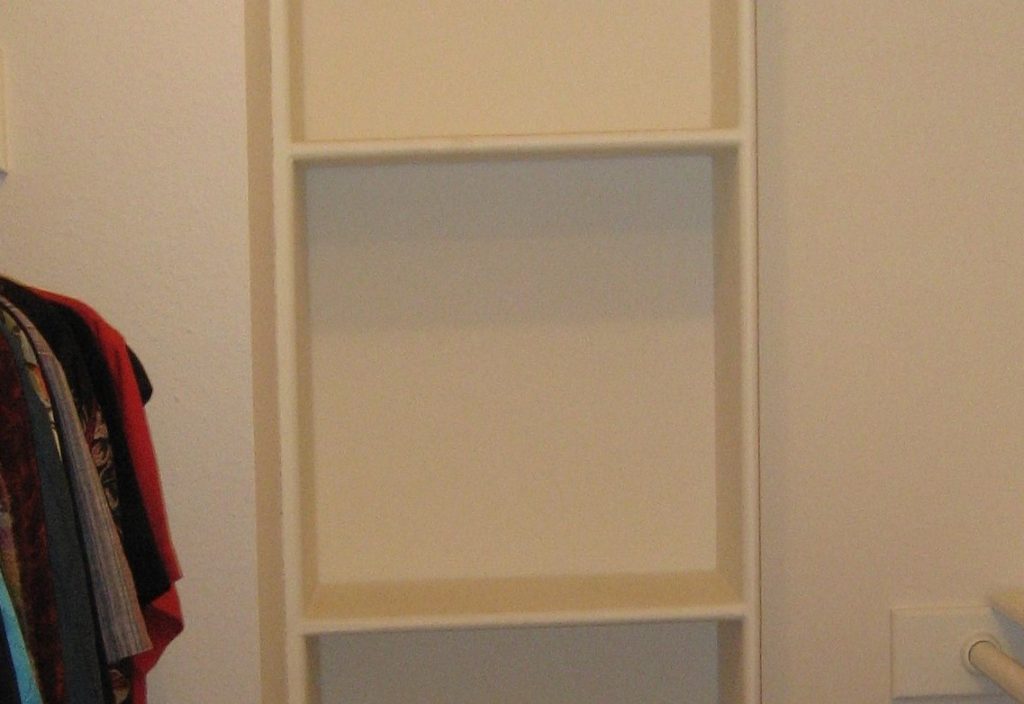 Also, Why Is That Clothing Rod There?
See below, for another head-scratching decision that the builders made in this closet. How are you supposed to hang clothes on a clothing rod set in front of cubbies? Was this a hilarious piece of closet installation art? Or, was it just that the people who got paid for drawing up this amusingly bad closet design and installing it, gave absolutely no thought about how they use their OWN closets?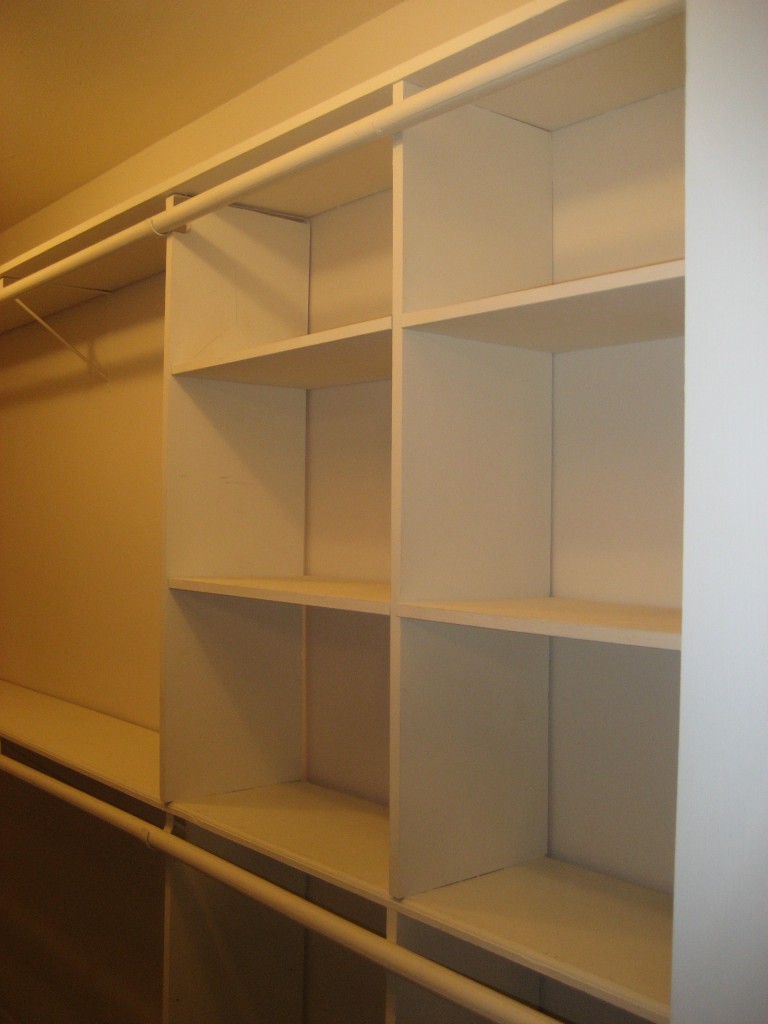 Long Hanging Space for a Gajillion Dresses, or Several Surfboards
On the other side of this long walk-in closet, there was only one clothing rod that ran across the entire wall. The rod was up high, which would work well for long-hanging clothes, like dresses.  Or, for storing a surfboard collection.
Builders like to put in these single clothing rods in, because it's cheaper construction for them. But for most people with lots of separates, hanging shirts and blouses on this high rod means lots of wasted space below. The problem was that my client did not have a lot of dresses, or surfboards.  She simply did not need this much long-hanging space.
 
 It Doesn't Have to Be This Way
I knew that the whole closet space could be much more efficient.  It wasn't the client's fault that she couldn't manage her clothes well in there. She had to struggle with the generic, unusable closet configuration that had been built into it.
Elfa
For big closet configuration problems like this, I turn to Elfa shelving, which is the adjustable shelving and drawer system from The Container Store. I love using Elfa, because it is easy to install and easy to change as your needs change. Elfa is a component system that lets you customize every aspect of the closet.
It is not a pre-fabricated kit. Pre-fab closet kits can cause you some trouble if the kit doesn't quite fit the measurements of your closet, or if you have more stuff than the kit gives you space for. What if you have more shoes than the pre-fab kit allows? What then?
Elfa lets you have your Dream Closet, where every inch of space is used, and every detail is set up just the way you want it. The store will cut the shelves for free, so you can customize it to any size of closet.
Demolition!
First, I tore out all of the cubbies and built-in shelves, with my trusty sledgehammer. I have been demolishing my own built-in closet shelves for over 20 years, and I have good insurance. So, please don't try this yourself without a lot of experience. A good handyman or handywoman can do this type of work for you. Or if you buy Elfa shelves at the Container Store, they have installers who can remove your built-in shelving for you and touch up the painted walls.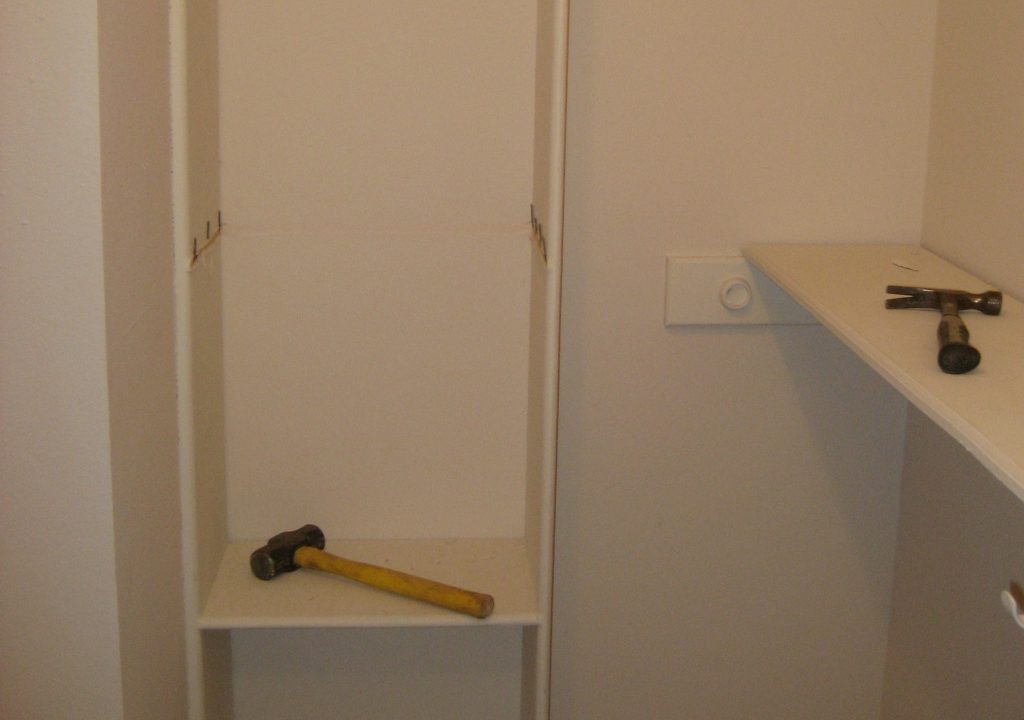 Installation!
Then, I installed the Elfa shelving along both sides of the closet. See below for the result! The shelving is all adjustable, so I can put the top clothing rods at a reachable height for my client, and customize it in many ways. On the back wall, where those built-in cubbies had been, I put a stacked combination of Elfa drawers. Those drawers come in different depths, shallow 1-runner, medium 2-runner, and deep 3-runner. This client needed to store extra bedding in hers, so most of the drawers are 3-runners.  Elfa shelving comes in white or platinum, and the wood decor pieces shown here are in walnut.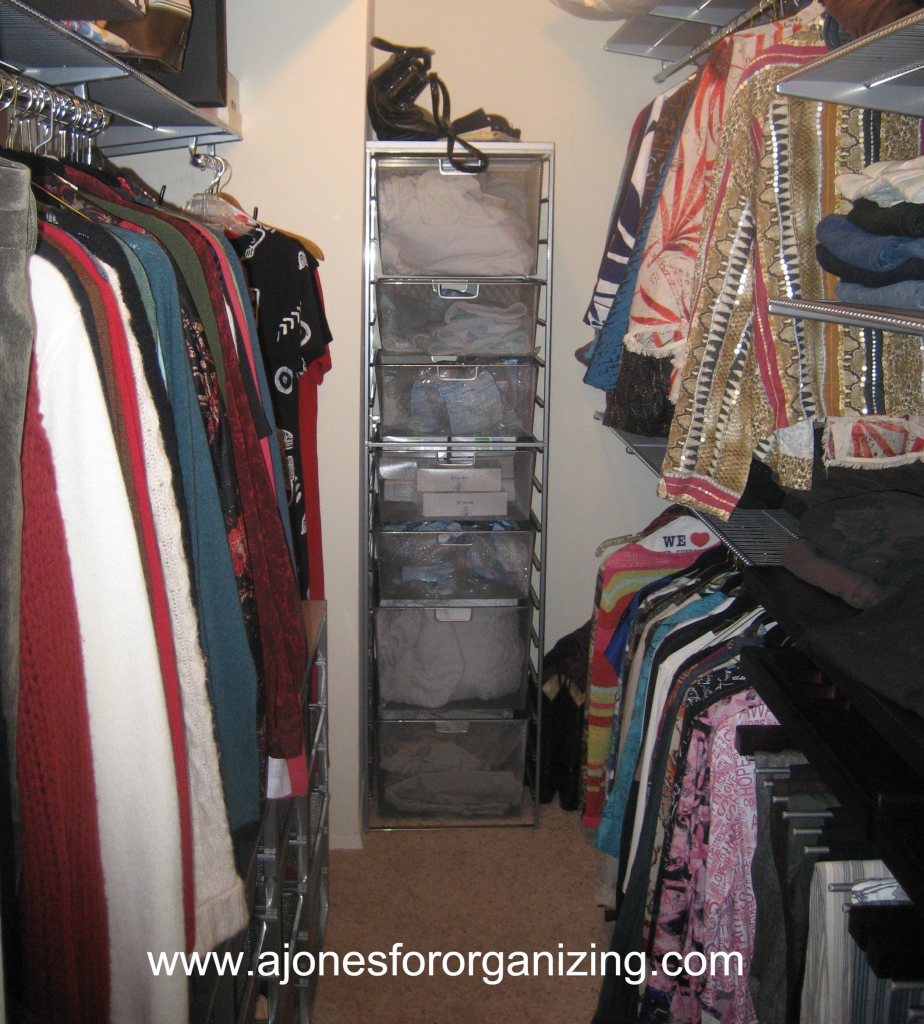 Details – Pull-out Pants Racks
Now, let's look at the details. Everyone has different preferences about how to store their slacks. Some people like to fold them on shelves or in drawers, and some people like to hang them up. My client likes to hang her slacks, and she loved these Elfa pull-out pants racks.  They pull out very smoothly, and they hold up to ten pairs of slacks each.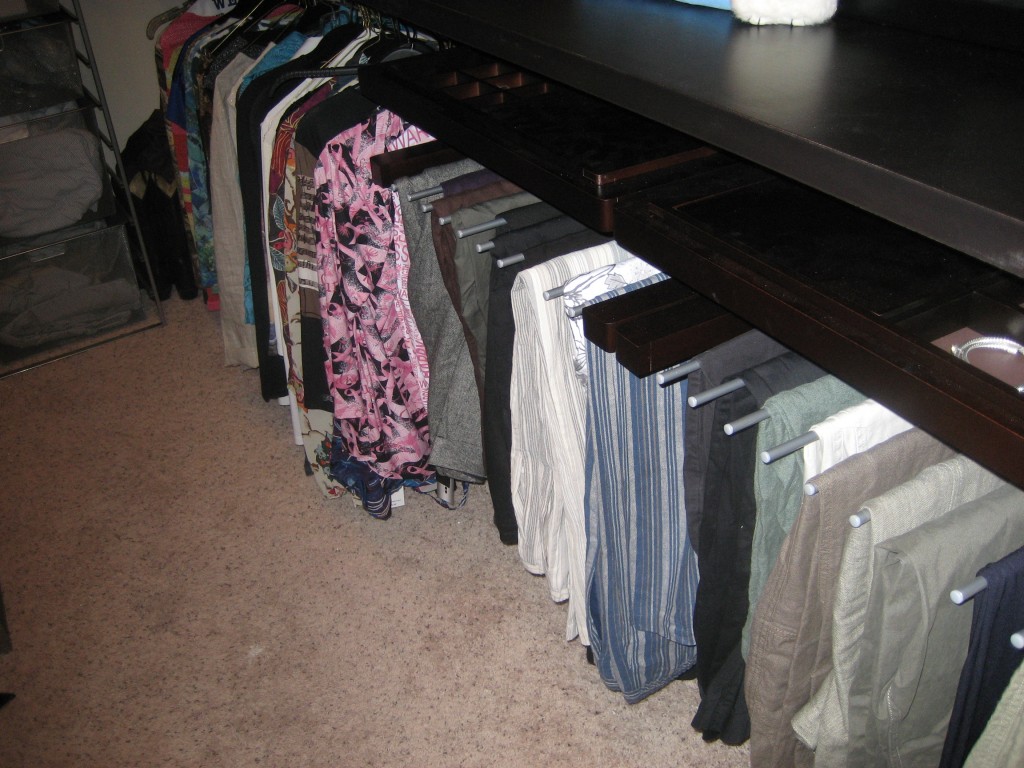 Here, I installed two of them side by side. You can also install them one above the other (vertically), if that works better in your particular closet.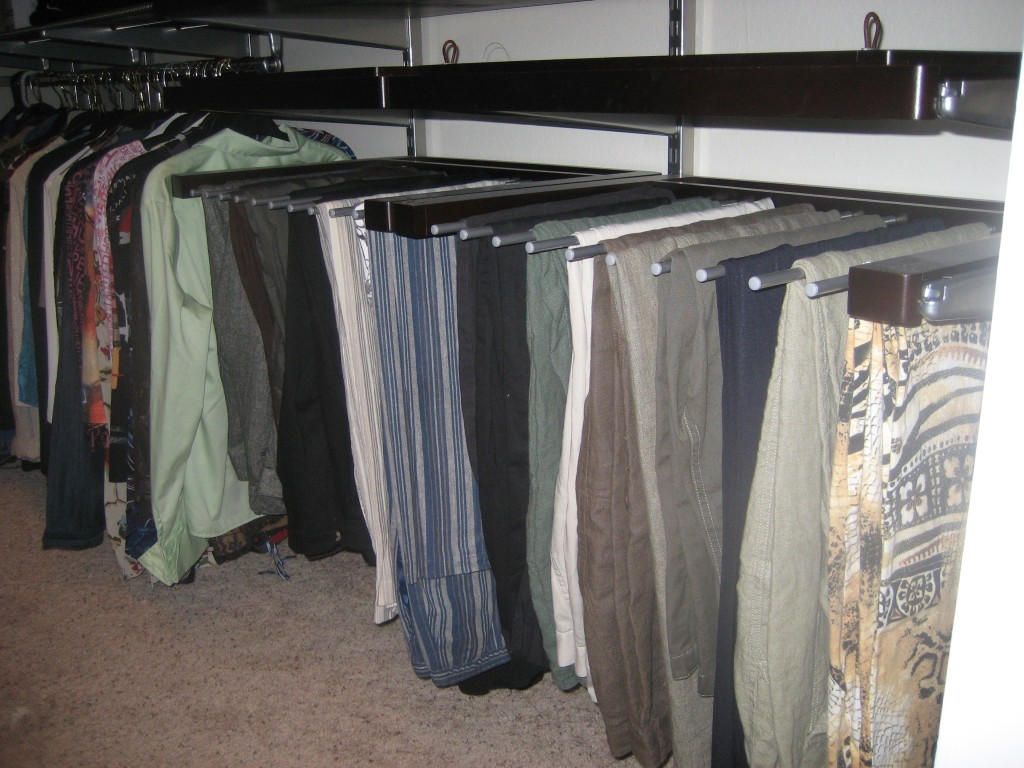 Details – Drawers
Remember the wasted space underneath the hanging clothes on the other wall? This was a perfect spot for Elfa drawer units. They come in different widths and heights. The height shown here (called a 7-runner height) is perfect for using the space under short hang clothes like blouses and shirts.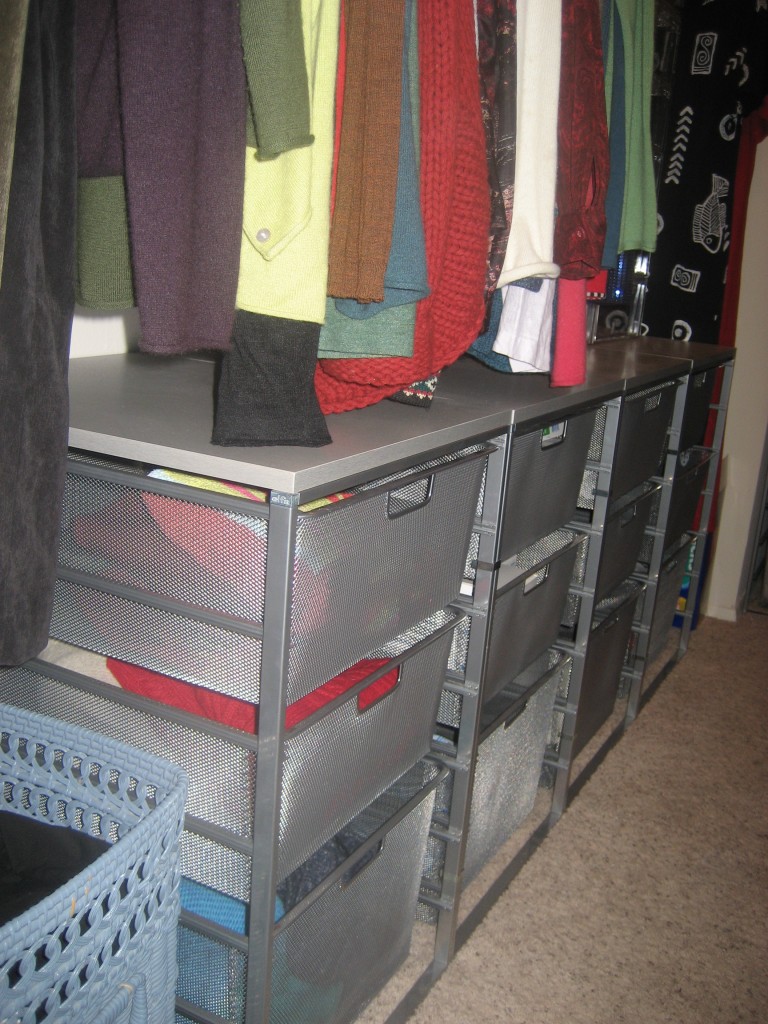 I like using these Elfa mesh drawers for my clients, because small things won't fall out.  The mesh is smooth, so you can store lingerie and stockings in them without snagging them.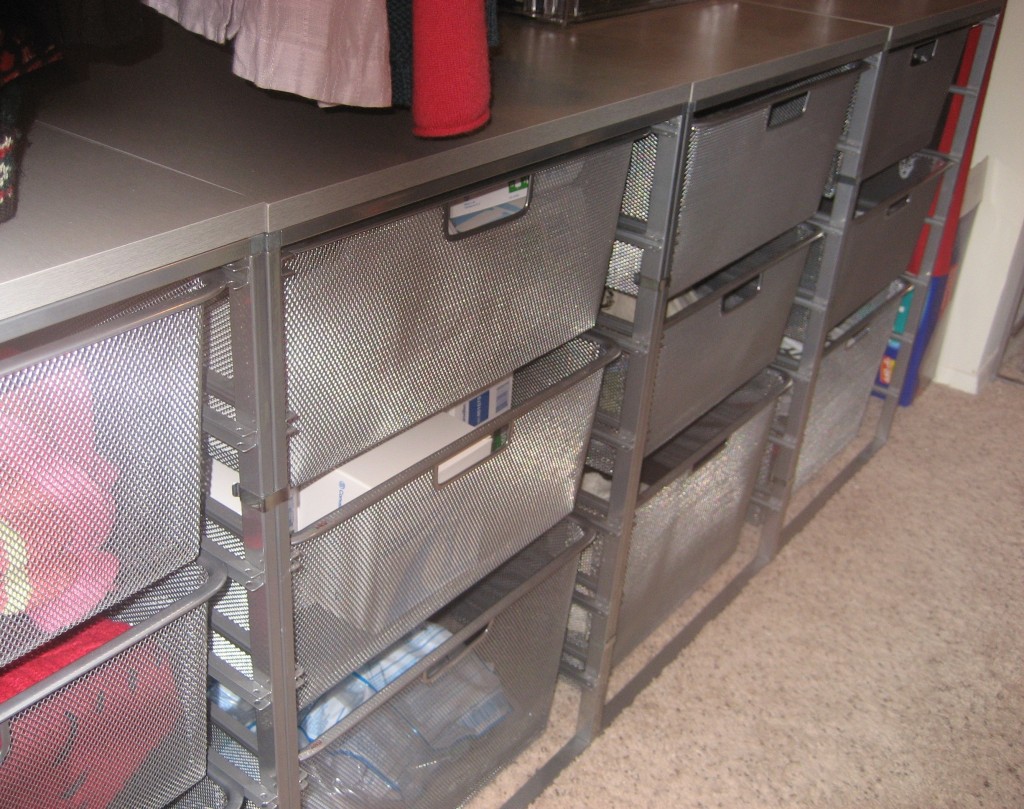 See below, how all of the space is used now, with Elfa mesh drawers on one side and gliding pant racks on the other?  That formerly wasted space is now well-managed clothing storage.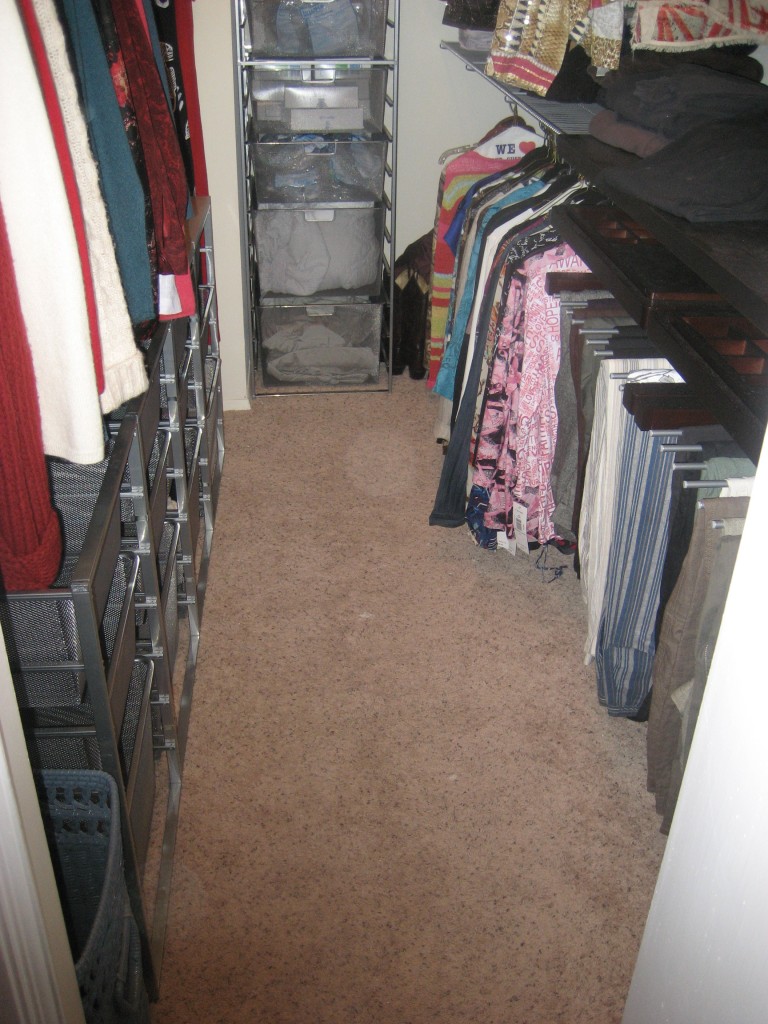 Details – Long Hanging Clothes
It was hard to get a good picture in the tight space, but see the black dress hanging near the back? Those are the client's dresses. She only had a few, so I designed that wall for just enough space for them. Elfa shelving can be cut for free at the Container Store, to fit any width.  So, I had that clothing rod cut to a mere 12" long, for her long-hanging dresses.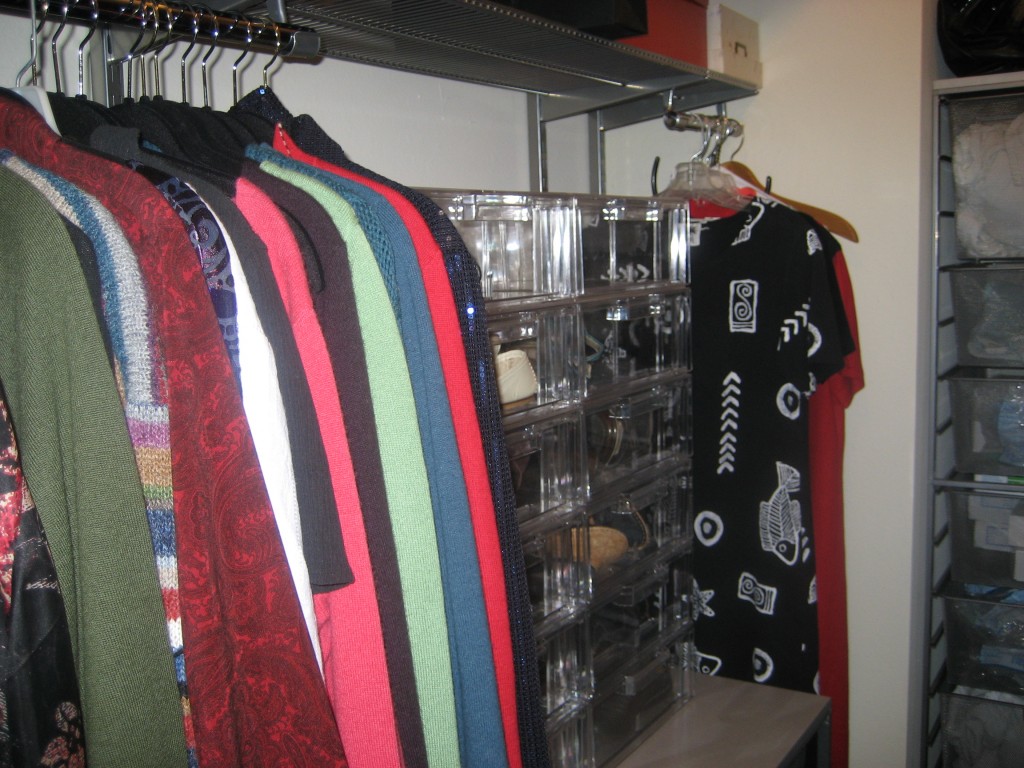 You can see the space I left for the dresses a little better in this photo. Everyone's clothing needs are different, so I love how customizable Elfa is.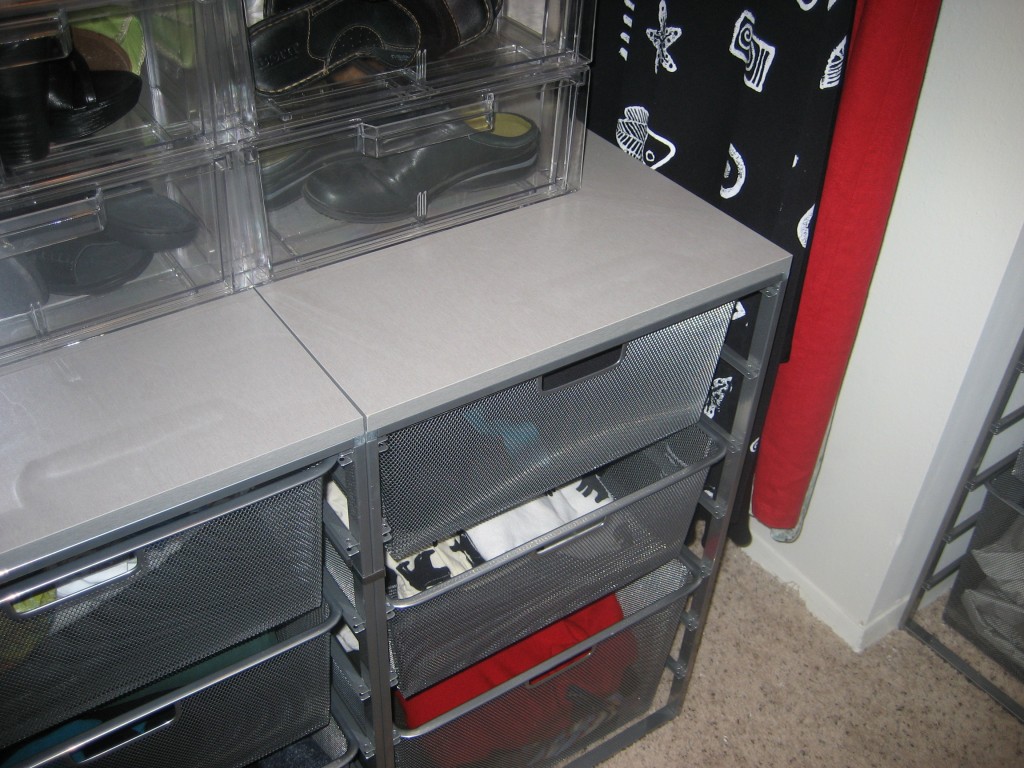 Can I make your exasperating problem closet become your Dream Closet?  Contact me!