By A Jones For Organizing In Paper organizing
Labelmakers!  One of my friends asked for label maker recommendations, which inspired me to talk about mine. My hardworking, much beloved, and beat-up labelmaker is a Brother P-Touch.  If you're wondering about the plastic case that it fits in so perfectly, that is called a small document case, from The Container Store. More about that further down.
I'm sure newer Brother P-Touch labelmakers have more bells and whistles, but mine works fine for my clients, and for me.  The one thing I wish it had, that it doesn't, is a back-lit screen. I have to be in good light to be able to see what I'm typing. So if back-lighting is important to you, spend more money for that feature.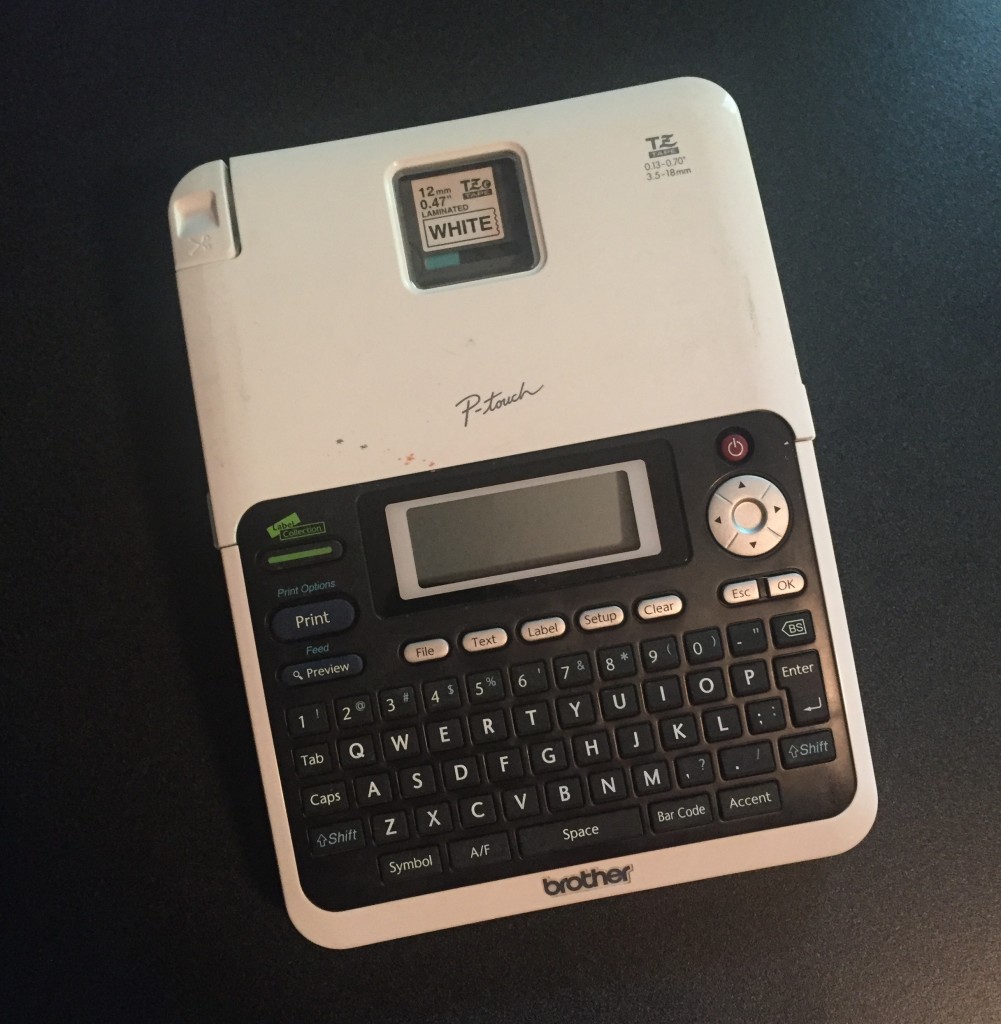 Want more ideas and tips for getting the most out of your labelmaker, and how to use label tape efficiently? Read on.
Tape in Colors and Clear
You can get different sizes and colors of label tape, even a clear background. Sometimes clear tape looks much nicer on certain materials. See below for the labels I made for my client's wood jewelry cubbies. White tape would have been kind of ugly against the pretty wood, don't you think?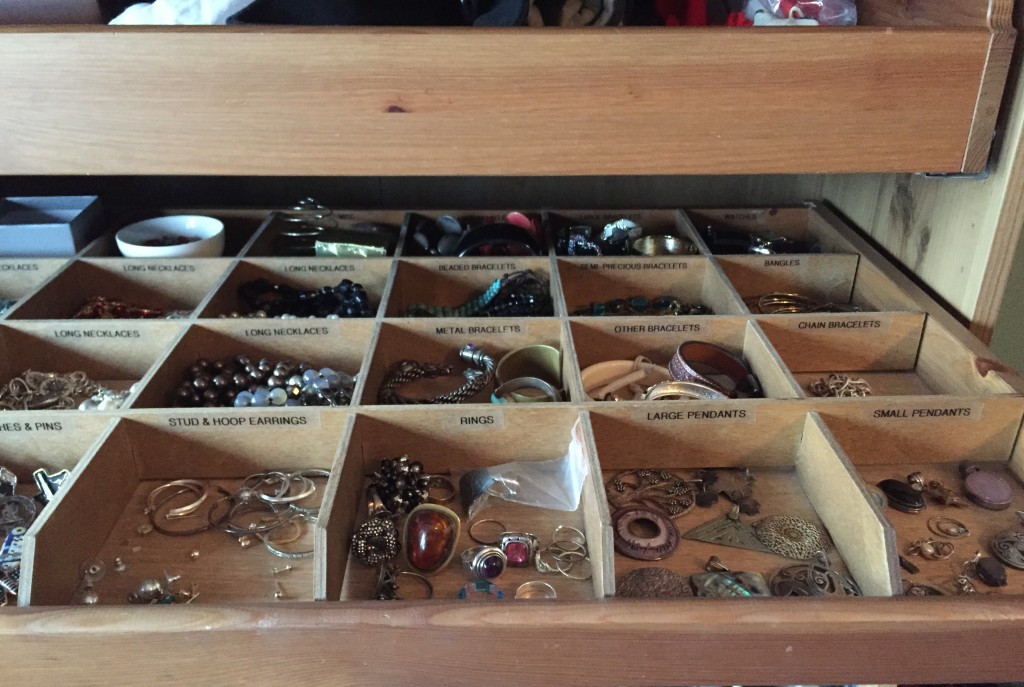 It was my client's idea to label her jewelry cubbies, and she requested the clear tape. Isn't that smart?  My clients often come up with great ideas that they know will work best for their belongings and their daily routine.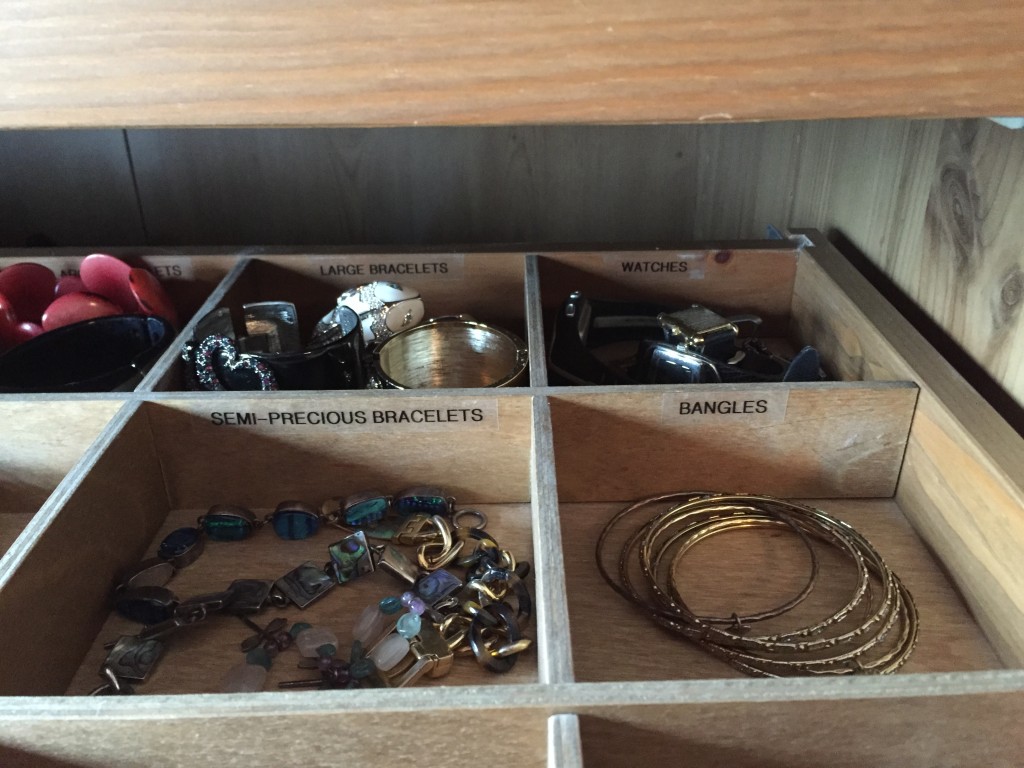 File Folder Labels
One of my clients wanted her file folder labels in black text on a bright yellow background for extra eye-catchiness. I usually stick with black on white for file folder labels.  With file labels, it's important to make them large and clear and easy to read. If they are too difficult to read, they will look confusing, and you won't be inclined to use them.
As we all know, Confusion and Lack of Time get together and party and make little baby paper piles on flat surfaces everywhere.  See more tips about file labels here.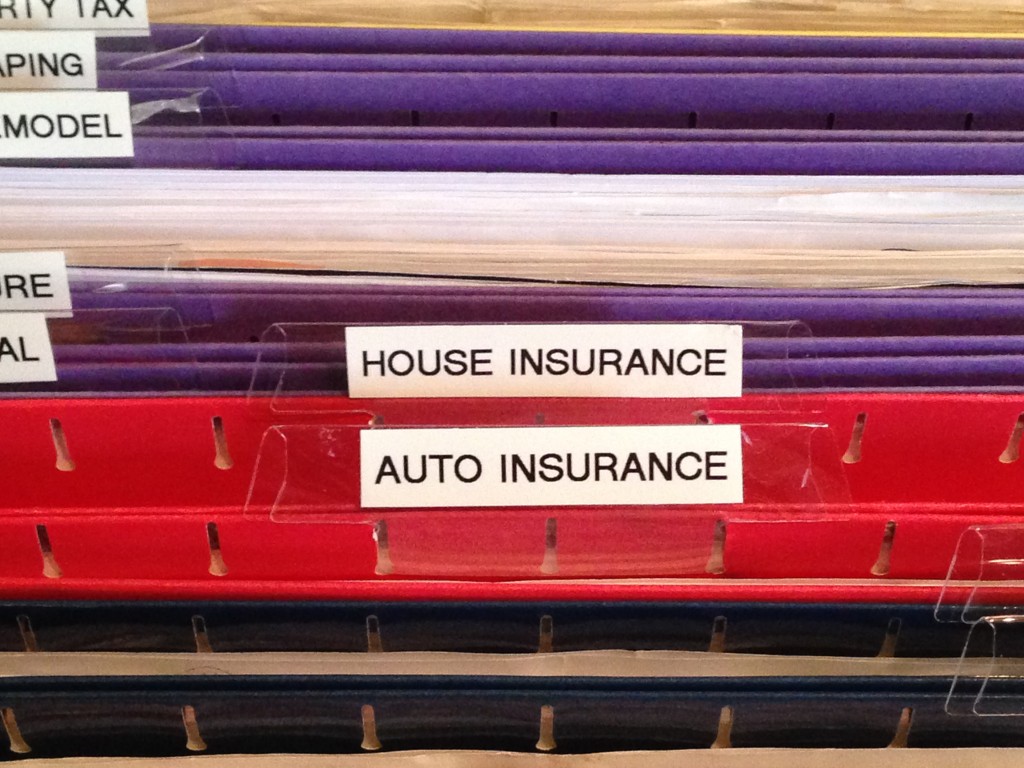 Labels For All Kinds Of Storage
I also like to use regular black on white labels for all kinds of garage storage.  The best way to store things like garden gloves or masking tape is to have a home for them.  Labels make it easy to put things back in their home.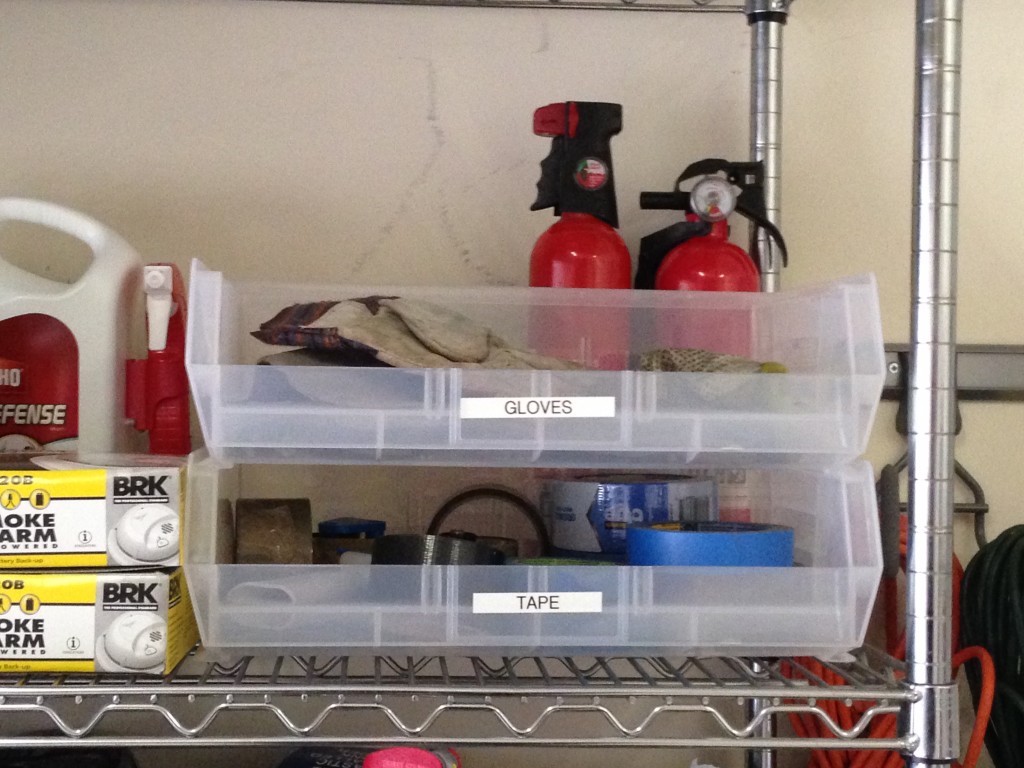 Label Your Light Switches!
I like to put labels in a small font size on those electrical plates of multiple light and fan switches.  You can memorize the switches after awhile, but in the meantime, it just makes life that much easier.  Which switch turns the outside light on? Which one is for the ceiling fan?  (Ceiling fans, for those of you who live in cooler climates, are essential household fixtures here in the hot Austin summers.)  One of my fellow organizers labels all of the multiple light switches like these, every time she moves to a new house. Smart, isn't it?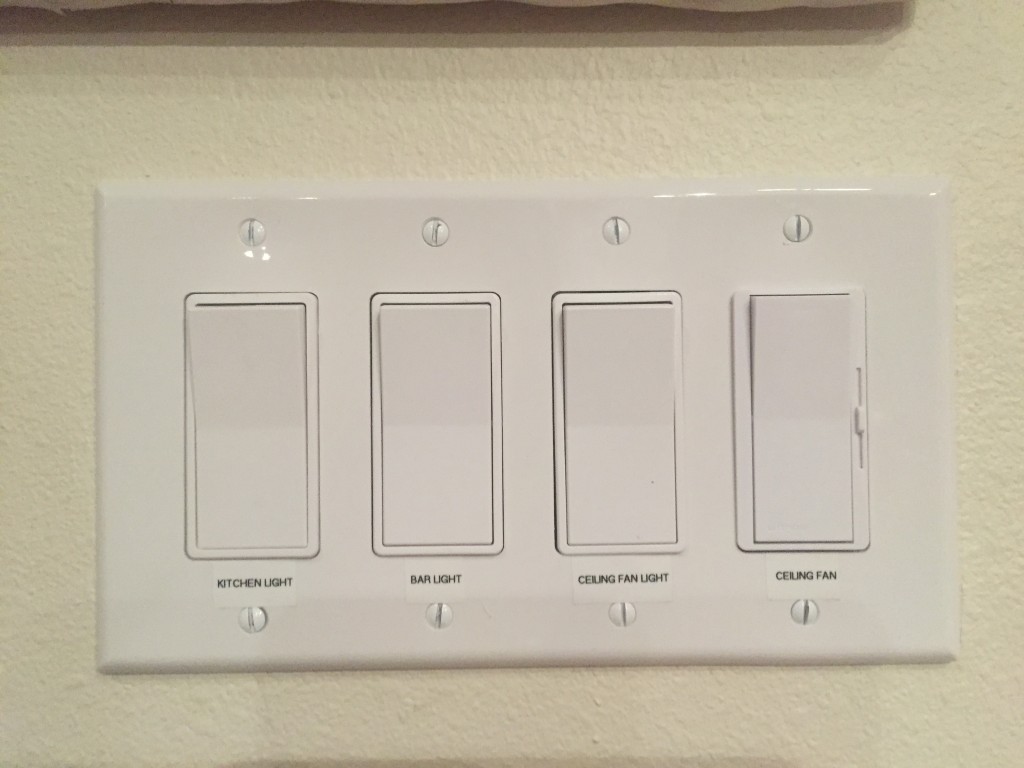 Easy To Remove Paper Strips On Back
Good labelmaker tape will have the paper strip on back split in two, so that it's easy to bend the tape and pull the paper off, like this.  If you ever had to struggle with trying to remove a single paper strip off of older versions of label tape from years ago, you will appreciate this.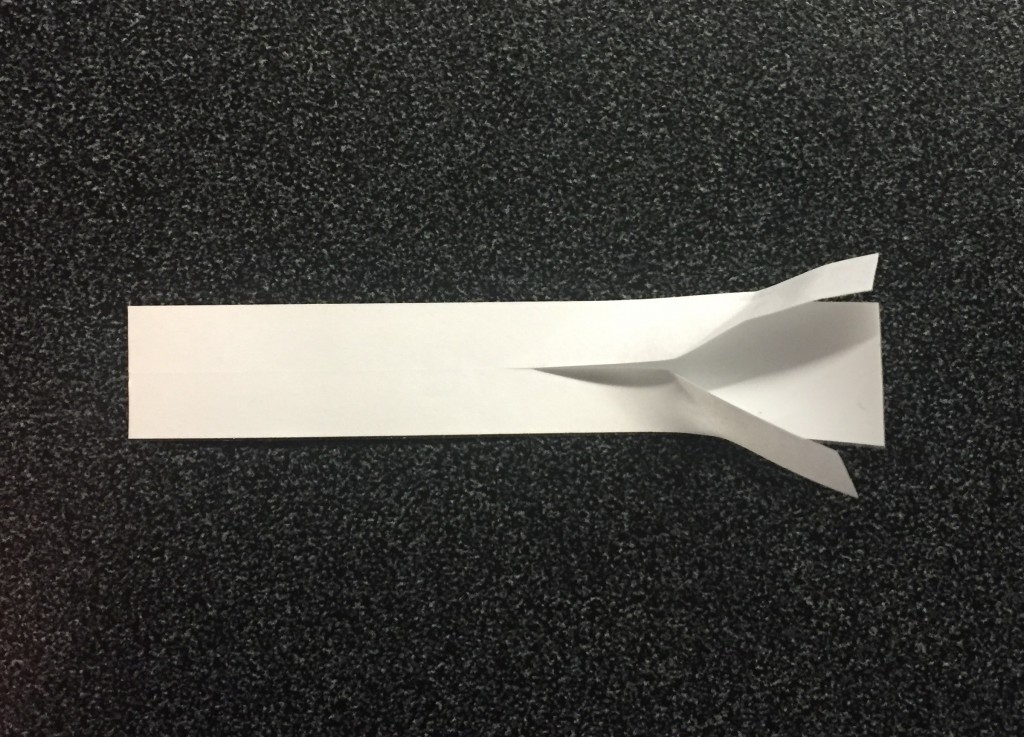 How To Avoid Wasting Label Tape
Most labelmakers will waste tape, unfortunately. See the label below, with the expanse of white space on both sides of the word "bank?" That is a full inch, on each side. This happens if you print out a single label at a time. On mine, at least, there does not seem to be any setting where I can change this.  It may not seem like a lot, on this one label.  But when you make as many labels for clients as I do, all of those unused inches of label real estate adds up to a lot of expensive wasted tape. Labelmaker tape is not cheap. So I have a tip for you.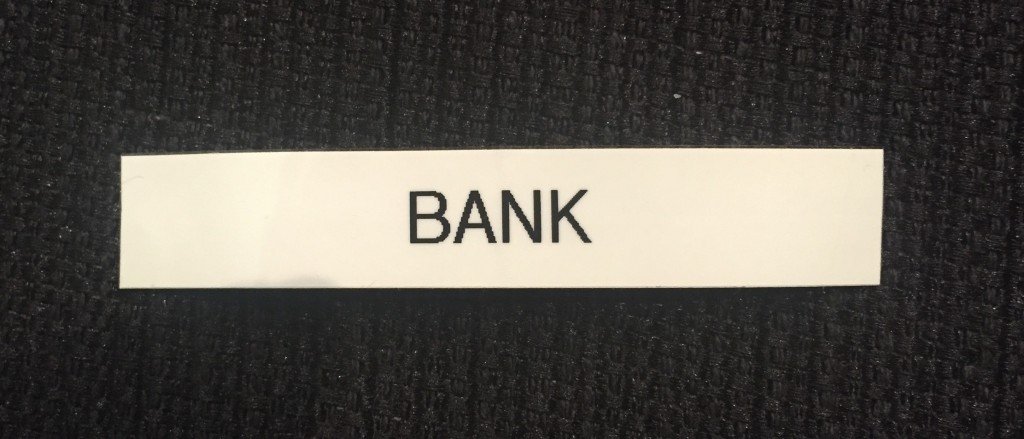 Pro Tip #1
Type in multiple labels at a time before you hit the Print button. See my example below. Between the names, hit the space bar about 5 times, just to give some breathing room between them when you cut them apart. Over the long term, you will get a lot more labels out of a single tape by doing this.

Pro Tip #2
On a long label, don't remove both strips of paper backing at once.  When you have to make a long label, such as "Bills I Have To Pay Right Now To Stay Out Of Jail," or "Grandma Anastasia's Russian Memorabilia," here's how to keep from getting very annoyed. Peel off one of the thin paper strips first, and then make sure to grab and put one end of the sticky strip on your finger or the table, as you start to peel off the second thin paper strip, so that you can hold the ends apart. If you don't keep the ends separated, the long label will curl up on you and it will look like the one below, and be un-pull-apart-able, and you will blame me for no discernible reason.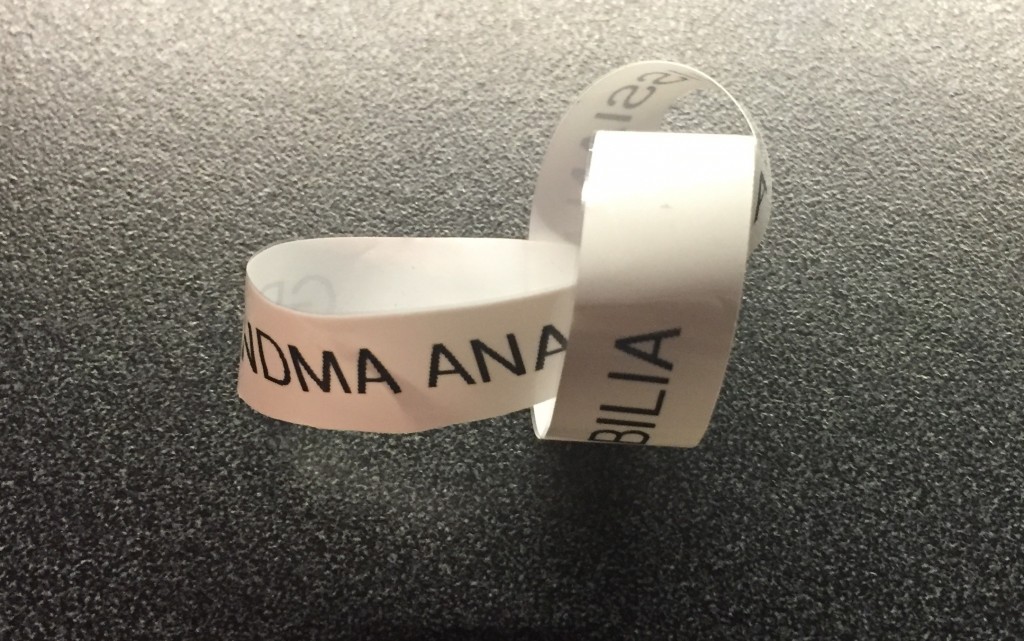 Have Labelmaker, Will Travel
Now I get to talk about my unexpectedly perfect case for my labelmaker!  I take my labelmaker with me to all client appointments.  So I needed a container for it. Hey, there's a store for that!  I love to wander around The Container Store and experiment with fitting random things together.  Few things make me as thrilled as when I accidentally discover unrelated products that seem to be deliberately designed for each other.  And this is one of them.  This is a "small document case" at The Container Store, sku# 10040597, for $6.99.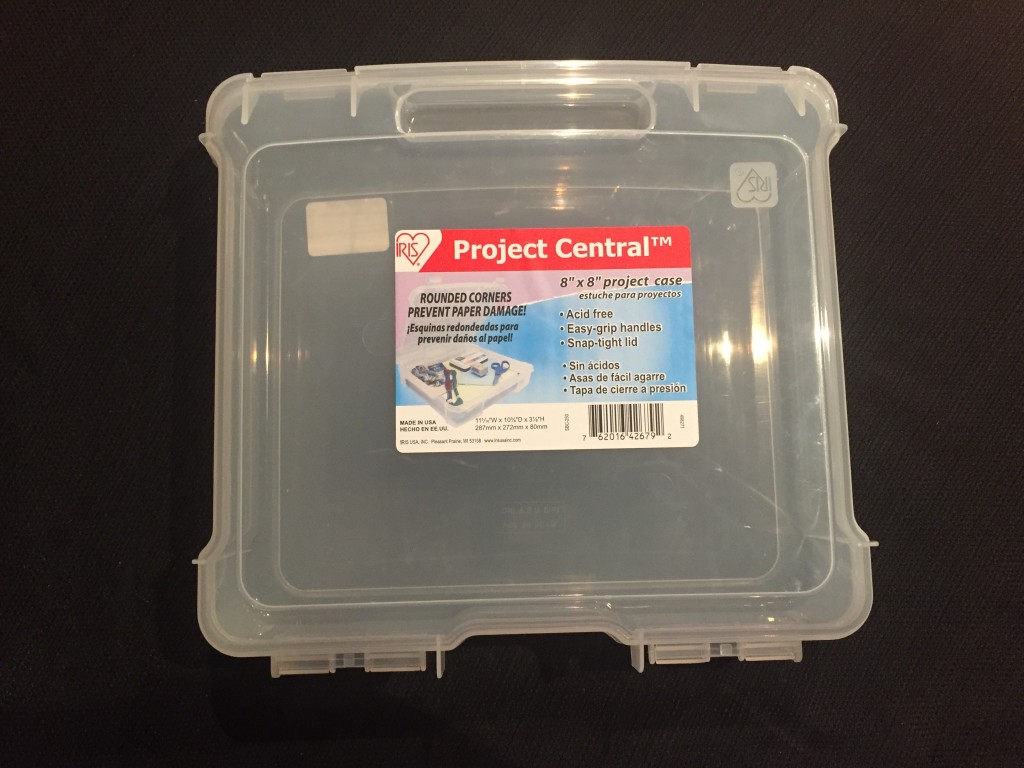 My labelmaker fits in this case perfectly!  With room on the side for extra label tape and an extra set of batteries nestled alongside.  See below, how it seems to be a perfect match, made for each other?  This is one of those organizer geek-out moments that I love.
I also love that there is room for extra tape and batteries in the case, so that I don't have to keep those somewhere else in my supplies. There have been many times at a client's house when my tape runs out or my batteries die on me. Having the extra supplies right there allows me to carry on smoothly and pretend nothing has gone wrong.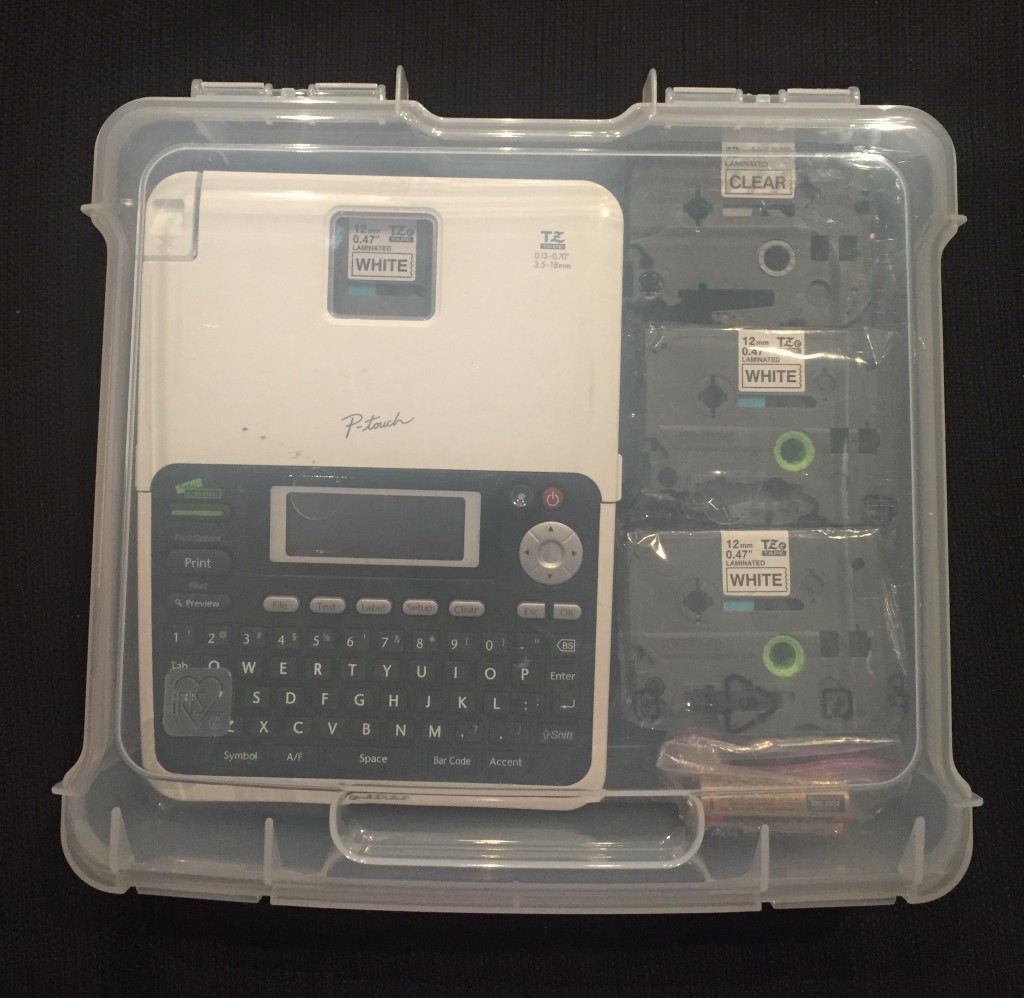 Actually, this one is brand new. My original labelmaker box is all scratched up and cracked from years of use, and it would look pretty sad if I showed it here. So I went out and got a new one for picture-taking purposes, and to make sure The Container Store still sells this particular plastic case.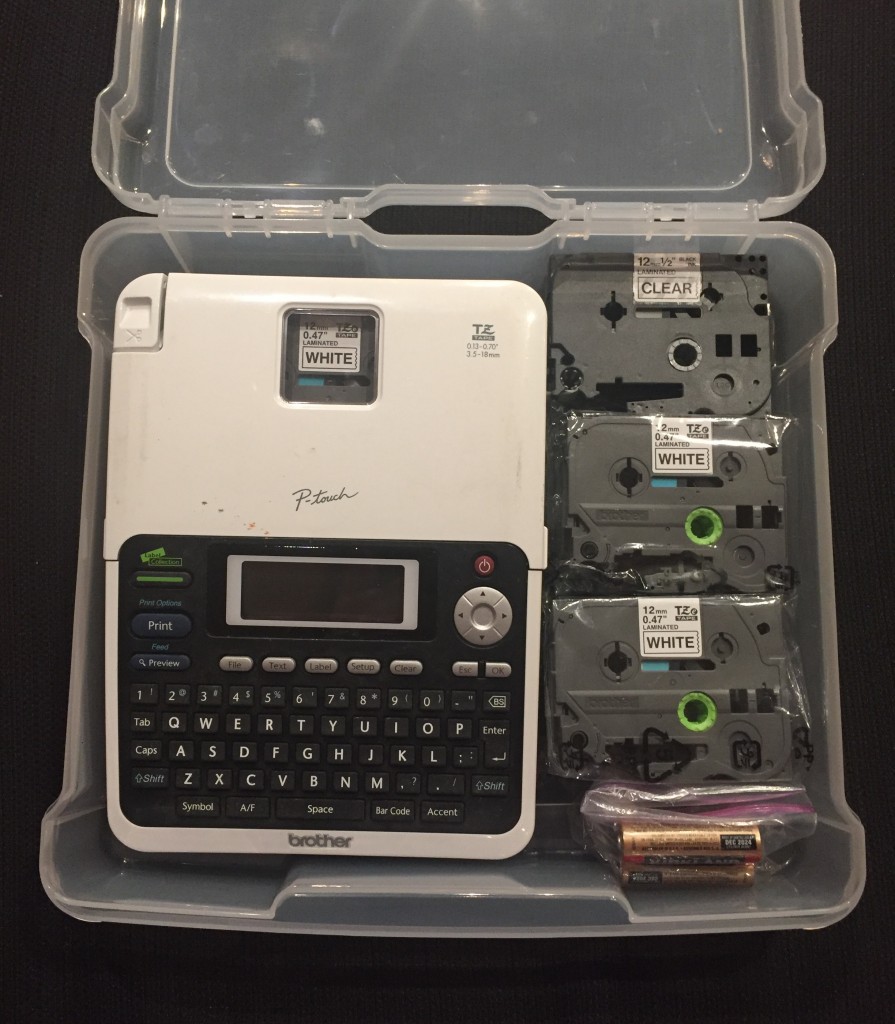 I have not, however, felt compelled to label the labelmaker box. Yet.
Can I help you with an organizing issue?  Contact me!