By A Jones For Organizing In Closet organizing
 I Hereby Grant You Permission
Need more permission to get rid of clothes that you no longer wear, but that you paid good money for?  I'm going to say something that you might not believe right away. Get your coffee, sit down right here, and give me a chance to persuade you. Here it is:
There is NO SHAME in getting rid of perfectly good clothes and shoes that you simply don't wear. In fact, donating them means that someone else will LOVE to have them. You will have made that person's day.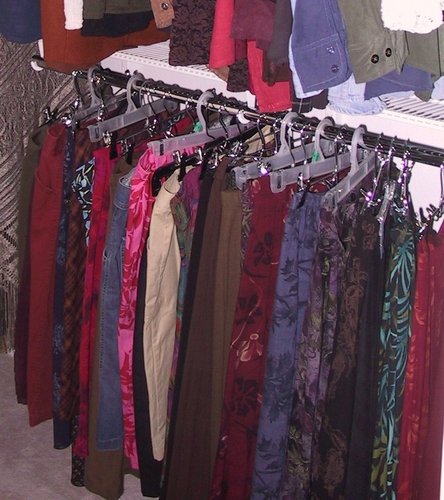 See all those cute skirts? Those used to be mine. I stopped wearing them so much, because they seemed to have shrunk (what? hush).  Do you have clothes and shoes that you are not wearing?  We all do.  Sometimes you try them on, and then you decide not to wear them. Maybe they don't fit quite right. Or the color kind of makes you look ill. Or they make you look [fill in the blank] and you don't like looking [fill in the blank].
But . . .
I hear what you're saying.  It's true that you spent good money on them.  You bought them for a reason, and either they were expensive, or you got them at a killer sale price, right?  Money was invested.  (Ever notice how reproachful George Washington looks on that dollar bill? It's only a dollar, George. Chill.)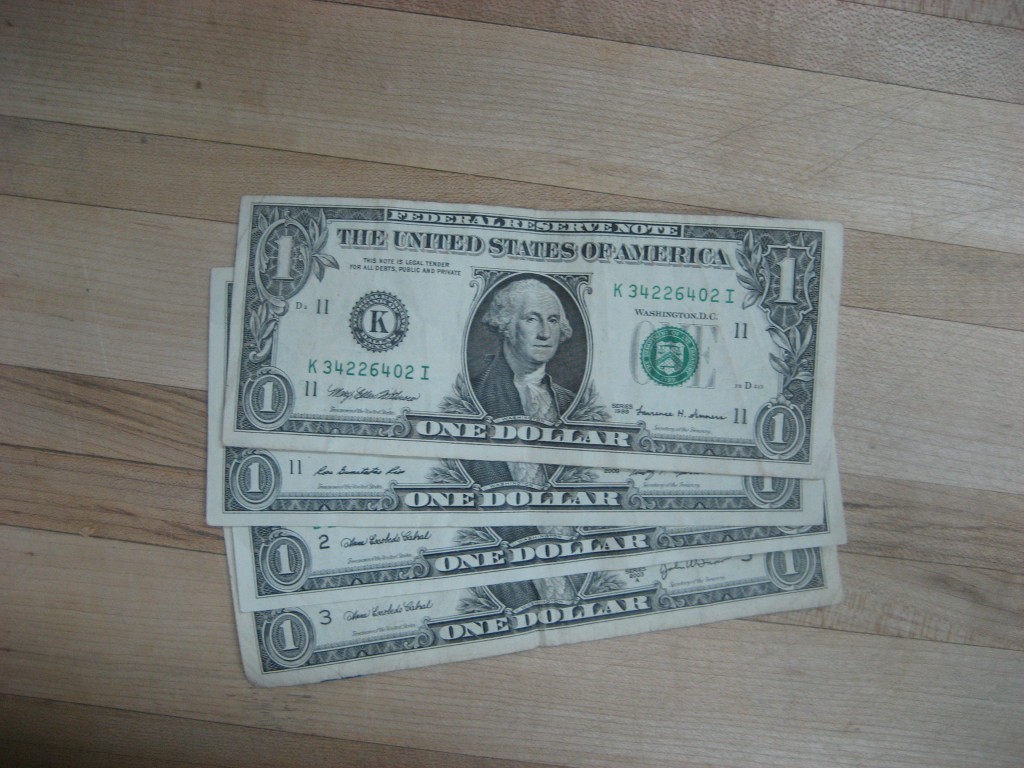 But I want you to think about it a different way.  That money that you spent?  The money is gone.
And here's the thing.  That money is gone, no matter whether the clothes stay in your closet or not.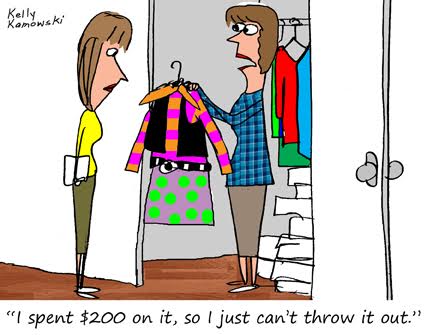 Keeping those clothes, when you will never wear them, doesn't do anything to bring that money back.  Think about this:  will you save any of that money you spent, if you keep those clothes that you don't wear? Will you save any money if you keep them one more year?  What if you hang onto them for five more years? Will you feel like you got your money's worth then?
No.
Instead, those clothes make you keep on paying a cost.  You pay with drawers that are too packed full.  You pay with a closet that is overstuffed.  You pay with frustration and wasted time in the morning trying to find something to wear.  The truth is that you keep paying for those clothes, over and over again.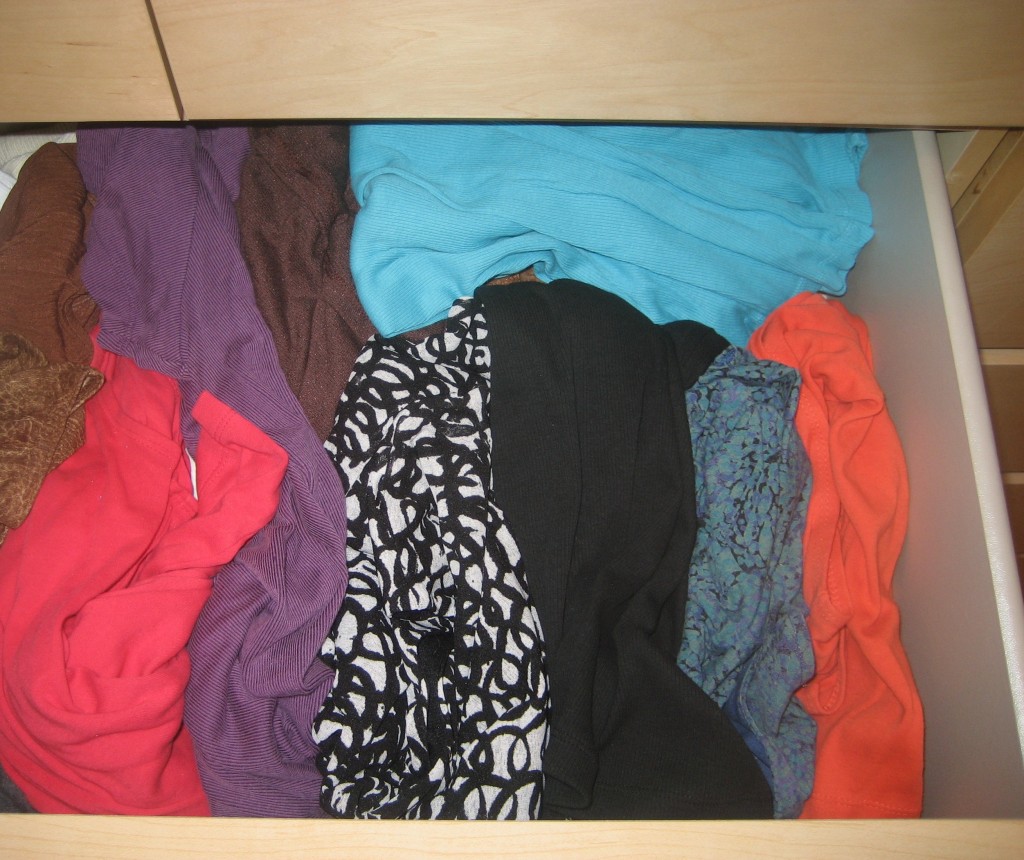 Light bulb moment:
And, here's another thing to think about. If you keep those clothes and shoes, then not only are YOU not wearing them, but NOBODY ELSE can, either.
Everyone Loves a Good Bullet List
Clothes never worn – what happens when you keep them
your money has already been spent on them
you have a crowded, cluttered, frustrating closet
you waste too much time in the morning trying to find the things you CAN wear
and, nobody, you or anyone else, is wearing and enjoying those clothes
Clothes never worn – what happens when they are donated
your money has already been spent on them
you now have more space in your closet for the clothes you love
you save time in the morning getting dressed and ready to go
and now, other people can happily wear them
The only consequence that remains the same with the two scenarios is the money.  All of the other consequences are quite different.  Something to think about, the next time you struggle with getting dressed in the morning.
Can I help you get your closet cleaned out? Contact me!
I have updated this post to include great local places to donate your clothing:
Sell or Donate?
My clients ask me if it is worth the time and effort to try to sell their unwanted clothing, instead of donating it.  Almost always, the answer is no.   People will usually only pay pennies on the dollar for most of your clothing. It takes a lot of time and energy to create and manage a garage sale. It also takes a lot of time to create and manage online posts, and then to ship packages. Are you sure that you will make enough money to make all that time and energy worth it?
What about resale or consignment shops? They can often be super picky about what they can accept. After all, they have limited space for storing clothes, just like you do! Even with classic, designer clothes, they often will turn away items that are more than a year old.
Donating is easy, clean, and FAST! It makes you feel good about helping others. Make it easy on yourself by keeping a basket in your closet (and in your kid's closet!), to toss in that donate-able clothing.
Here are some ideas of deserving places for your unwanted clothing and accessories:
Local to Austin:

Dress For Success  will happily accept your professional business clothing and accessories.  They help women thrive by providing professional attire and career development tools.
SafeAustin.org helps survivors of domestic violence and child abuse. They always need adult and children's clothing, baby supplies, and other items for the women and children they shelter.  Here is their Safe Austin Wish List for things they need right now, with directions to their donation warehouse.
The Settlement Home for Children  provides a safe and healing environment on-campus for individuals with histories of trauma, abuse, and neglect.  They raise money for the kids under their care by holding an Annual Charity Garage & Estate Sale  where they sell your donations of gently used clothing, furniture, art, books, and household items.  Here is their Settlement Home Wish List.