By A Jones For Organizing In Kitchen organizing
Do you use your herbs and spices on a regular basis? Or are they sitting forlornly in a cabinet or drawer somewhere?  Spices are often the abandoned toys of the kitchen, overlooked and forgotten. Their flavor and potency doesn't last long, which is why it's important to be able to use them regularly.
If your spices and herbs are easy to see and access, you might be motivated to use them more often, while they're still fragrant and robust. Right? You'll probably even get compliments on your cooking. Right? Well, I can't promise that last part.
Lots Of Spices, Not Enough Counter Space
Does this look like a familiar snarl of spices? My client is an enthusiastic gourmet cook, and has a large collection. Here, there are plenty of spice racks, but no consistent system for storing them. It was too difficult to see them all. And most importantly, the various racks were taking up too much work space on the limited counter top.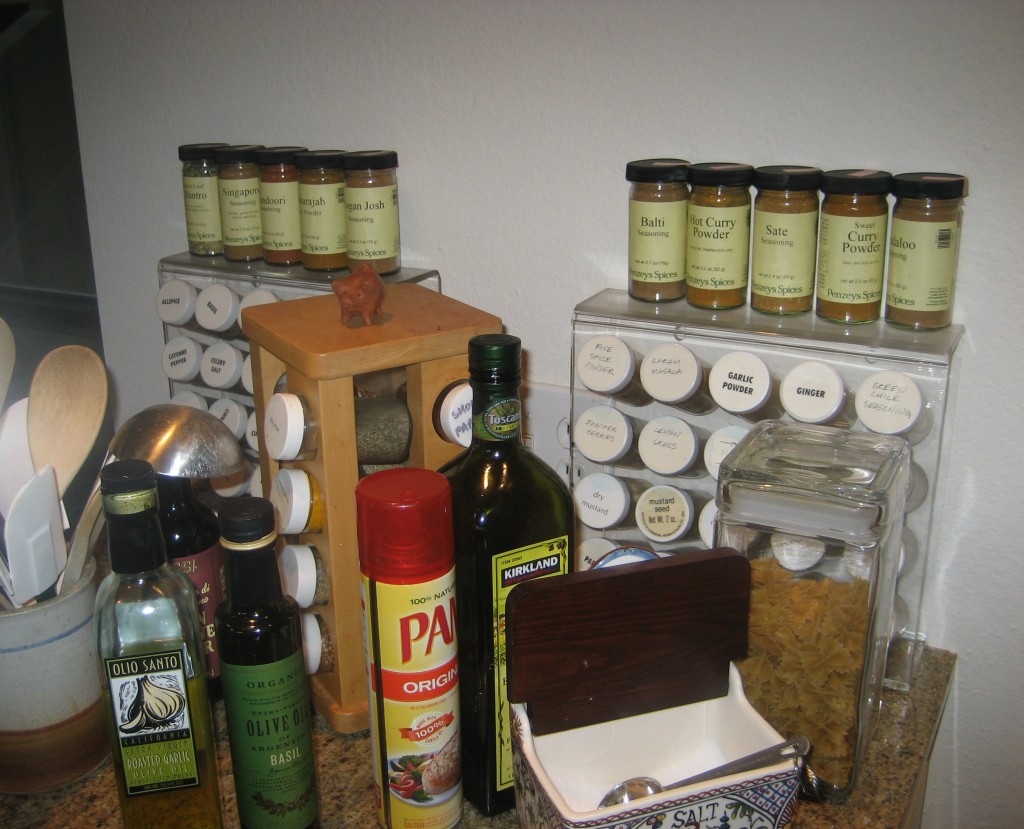 Why, Hello There, Empty Wall Space!
Scroll down and look at that nice big empty wall that isn't being used, below. Keep scrolling. That is some Prime Real Estate for storage purposes, right there. I knew instantly that this empty desert of a wall could become the Las Vegas showstopper focal point of this kitchen.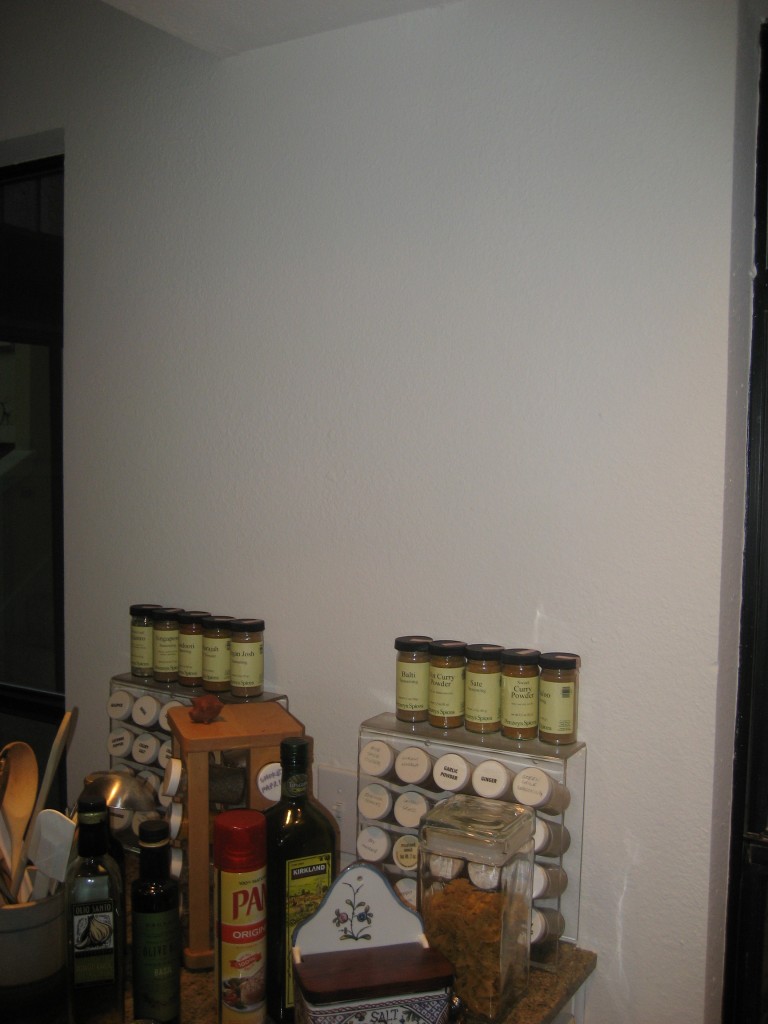 Think Vertical!  
Any time I see some unused wall space in a kitchen or office or garage, I get very excited. Why? Because I know that I will be able to solve my client's storage problem. If you only have limited space on your desk or kitchen counter (and who doesn't?), then
going
vertical
will
rock
your
world.
So the wall was the solution. Now, most wall-mounted spice racks, like the ones she was already using on her counter, hold the bottles upright. For a smaller collection of spices, this would be fine. But she had a large collection (about 70 or so, and she really uses them all), so that would have eaten up that vertical space very quickly.
The best choice for maximizing space, and packing lots of spices into a small area, would be spice racks that hold bottles on their sides, instead of upright.  She liked the look of these Polder glass and chrome racks, so we bought four of them to hold up to 72 spices.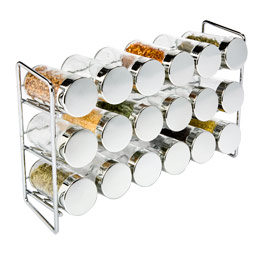 Image courtesy of www.containerstore.com
Needed: Safe, Sturdy Storage
The next problem was how to attach them onto the wall and make them as level and built-in and secure as possible.  Shelves were the easy answer. I could install shelves on this wall, and place the spice racks on those.  But what kind of shelves? Even shallow bookshelves that are 7"-8" deep would stick out too far into the cooking area. It was important to let this cook have as much elbow room as possible.
Profile Shelves To The Rescue!
I decided on Profile Shelves for this solution. These shelves are sleek and pretty, and have a nice beveled edge along the front. They are quite shallow, only 5 3/4" deep, so the 3" deep spice racks would fit nicely on them. They come in three lengths (2', 3', and 4' wide).  The wall was 43" wide between the two windows, so I did the 3 foot long (36") shelves.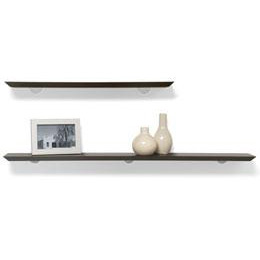 Image courtesy of www.containerstore.com
I love using profile shelves because their brackets are unobtrusive and the shelf appears to float on the wall, which is just coolness.
Success!
By raising the spice racks up off of the counter and onto shelves, the light switch down below was now easy to access. The shelves also gave her a little room for other small things on the ends of the shelves, getting even more items off of the counter.
You Only Need to Reach The Bottom of a Tall Bottle
I was even more excited when I realized that I could get her flavored oils and vinegars up off of the kitchen counter as well, and onto the top shelf.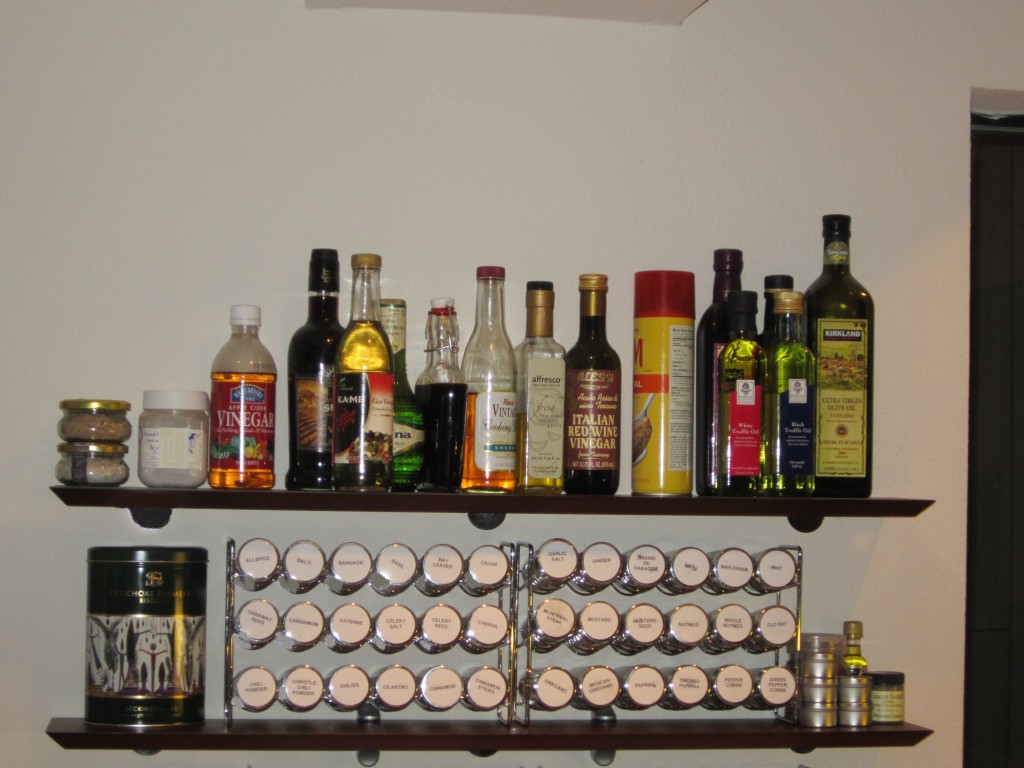 The great thing about tall bottles is that you don't HAVE to be able to reach the very top of them. All you need to reach is the bottom. Besides, it really looks gorgeous having her bottles lined up on that top shelf. Her kitchen now truly looks like the kitchen of a gourmet cook.
Did I Really Just Shake Cumin All Over My Oatmeal? 
As for the last little important detail, I used an online label company for the labels on the spice bottles. You alphabetize your spices, don't you? It may seem like a lot of work to set them up that way, but you only have to do it once, and you save gobs of time forevermore.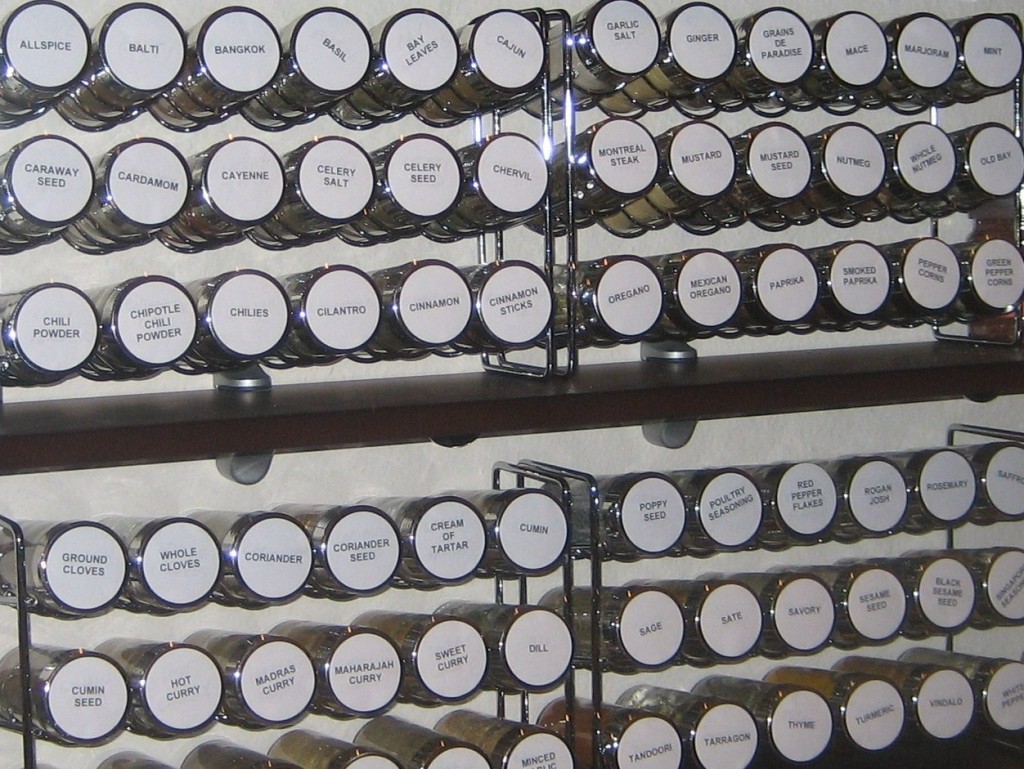 Online label programs give you lots of options. You could use alternating fonts or colors to differentiate between sweet and savory spices (so that you won't mix up your cumin with the cinnamon).  After using them for awhile, your brain starts to remember which font or color is the celery seed versus the celery salt. Your brain likes it when you do things like this.
I Love Organizing Kitchens And Pantries!  
Can I solve a kitchen storage challenge for you? No matter how big or small, all kitchens have one thing in common. They are full of small things that can get lost easily, in cabinets or drawers. I would love to to come up with strategies to help you organize them. Contact me to see if I can help.