By A Jones For Organizing In Kitchen organizing
Do your kitchen cabinets need a "Caution" sign?  Cookie sheets, baking pans, and serving trays can be a challenge to store and organize in your kitchen. If you lay them down on a shelf, other things get plopped down on top of them.  If you try to lay them down on top of other things, they may set off a small kitchen avalanche.
I have a great strategy for organizing all of these flat kitchen items.
Augh!  It's Gonna Fall!
See below. Does this look like a familiar problem? This lovely serving tray had no permanent home. After being used, there was no place to put it, so it was set down on top of other things. This was a precarious situation, because the tray (and other things around it!) could easily fall or get scratched.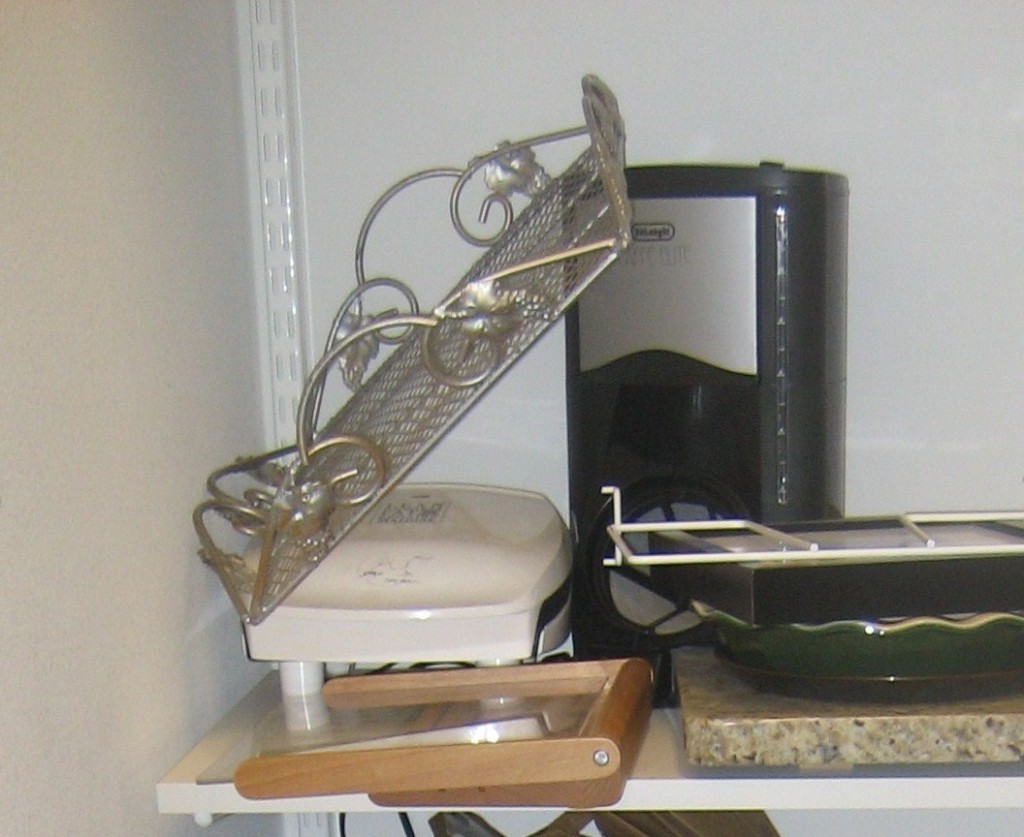 Here's another pretty serving tray below, with no permanent home.  Random plastic bags had been set down on it, so if the client wanted to use it, she had to clear it off first.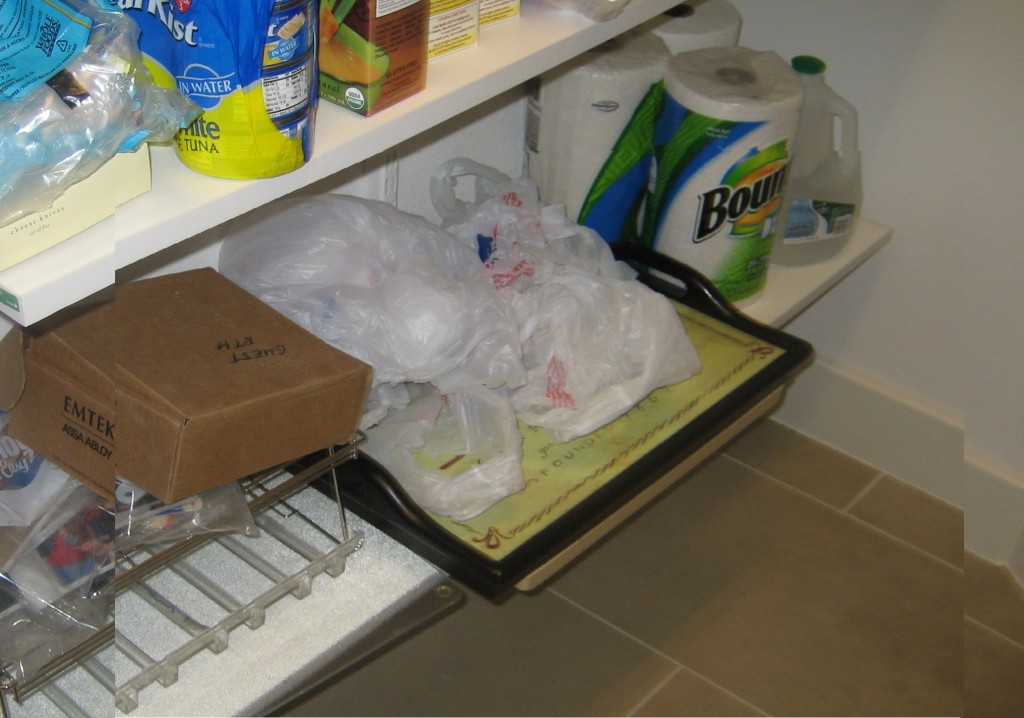 Ahhh!  Easy Access!
This particular pantry had Elfa ventilated shelving in it, so I was able to use Elfa shelf dividers that clamp onto the shelving. The great thing about these shelf dividers is that they can be set right side up, or upside down. Since some of the trays were tall, I also put in Elfa shelf dividers upside down, clamped onto the shelf directly above, to keep those tall items from leaning over too much. You can also use these to hold up large, floppy handbags in your closet, to keep them upright.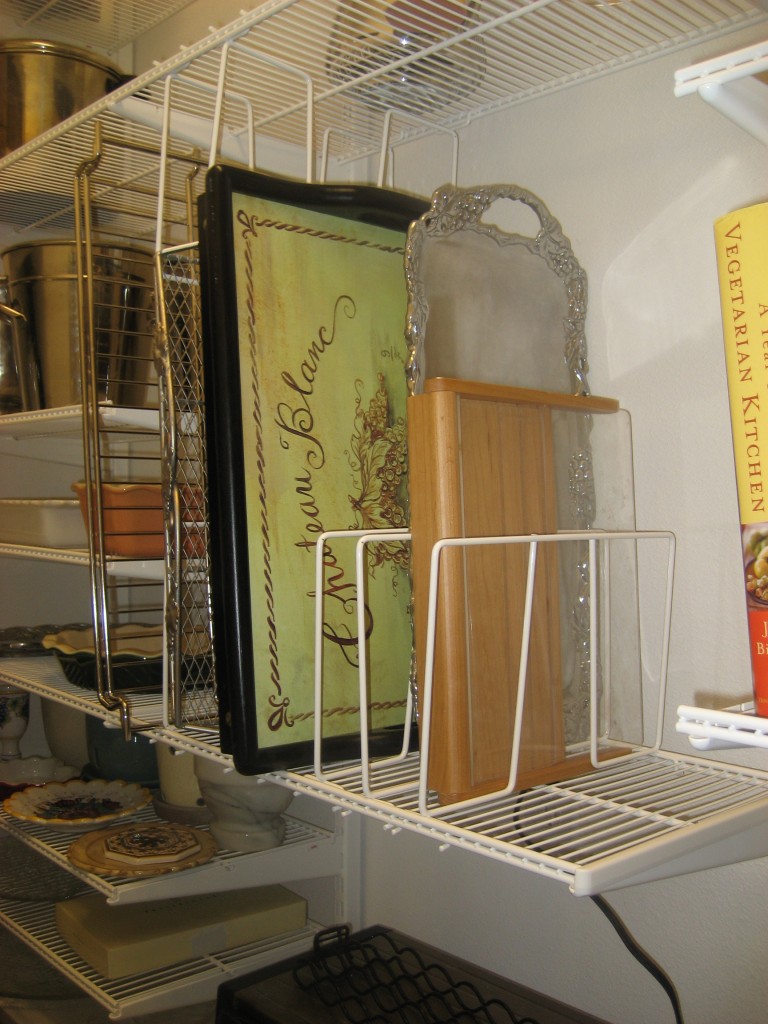 Now, she can see all of her nice serving trays together in one place, and retrieve one at a time as she needs it, without disrupting the rest of them. I bet that lovely silver serving tray will get used more often, now.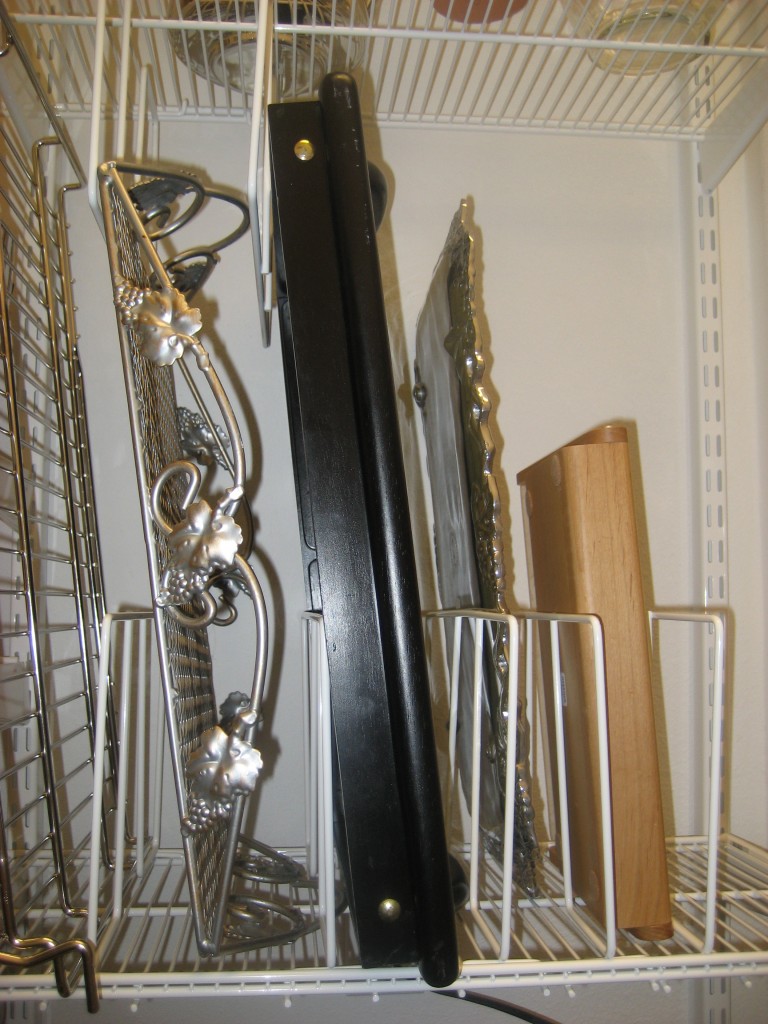 What if you don't have Elfa shelves already in your kitchen pantry? No problem! I have a solution for you.
Before
In this pantry, the wood shelves were fixed in place, and this client did not want to change them out for adjustable Elfa shelves.   The top shelf in this kind of pantry is a good candidate for storing things vertically.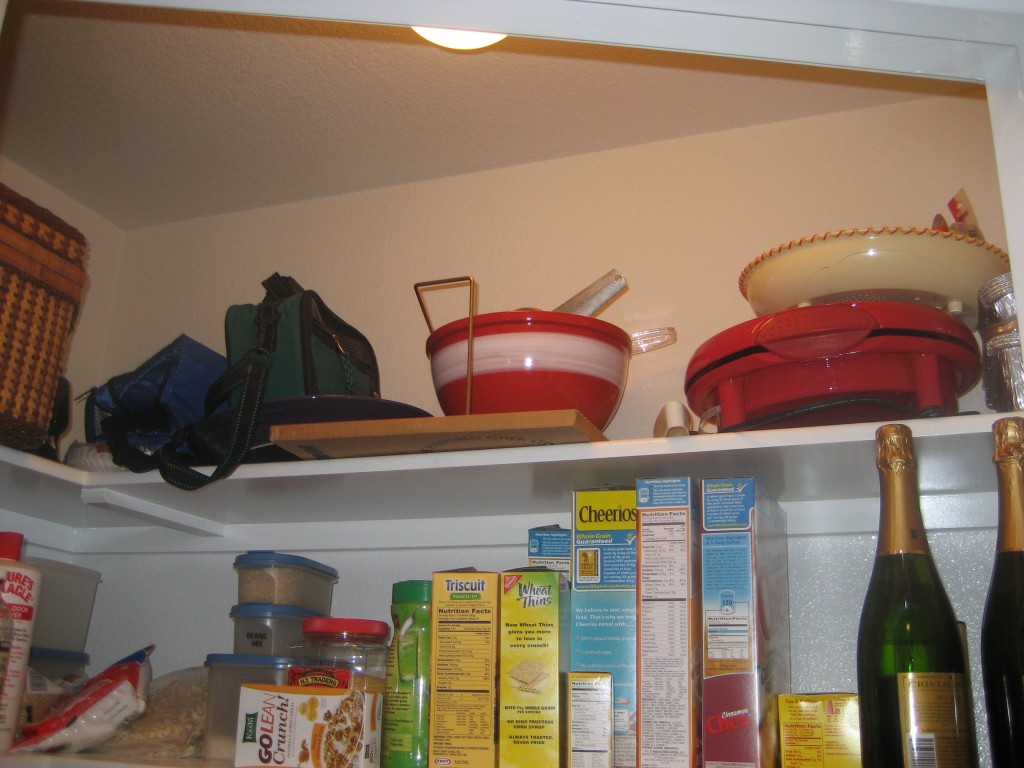 After
After I put vertical 4-Sort dividers on that top shelf, I was able to organize the client's baking pans, serving dishes, and cooling racks, so that each one is easy to see, and access.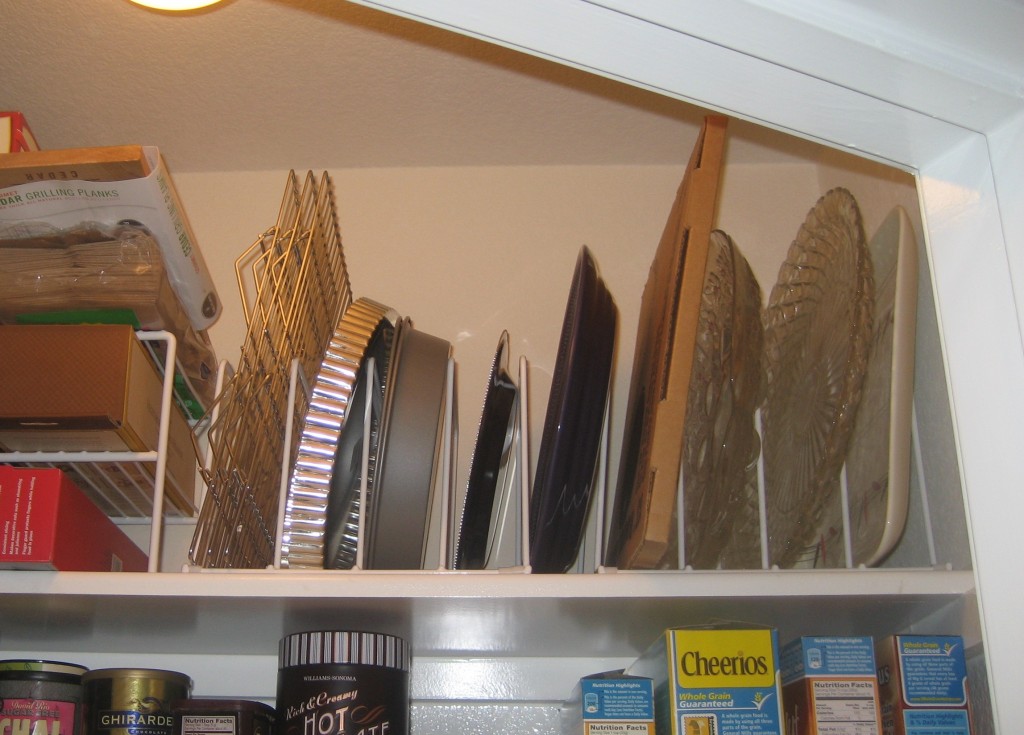 For this solution, I used 4-sort dividers from The Container Store, that set down on a shelf or inside a cabinet. The next time you browse around in the Container Store, you might notice that the store uses these for displaying a lot of their products. In this pantry, I used two of them, side by side.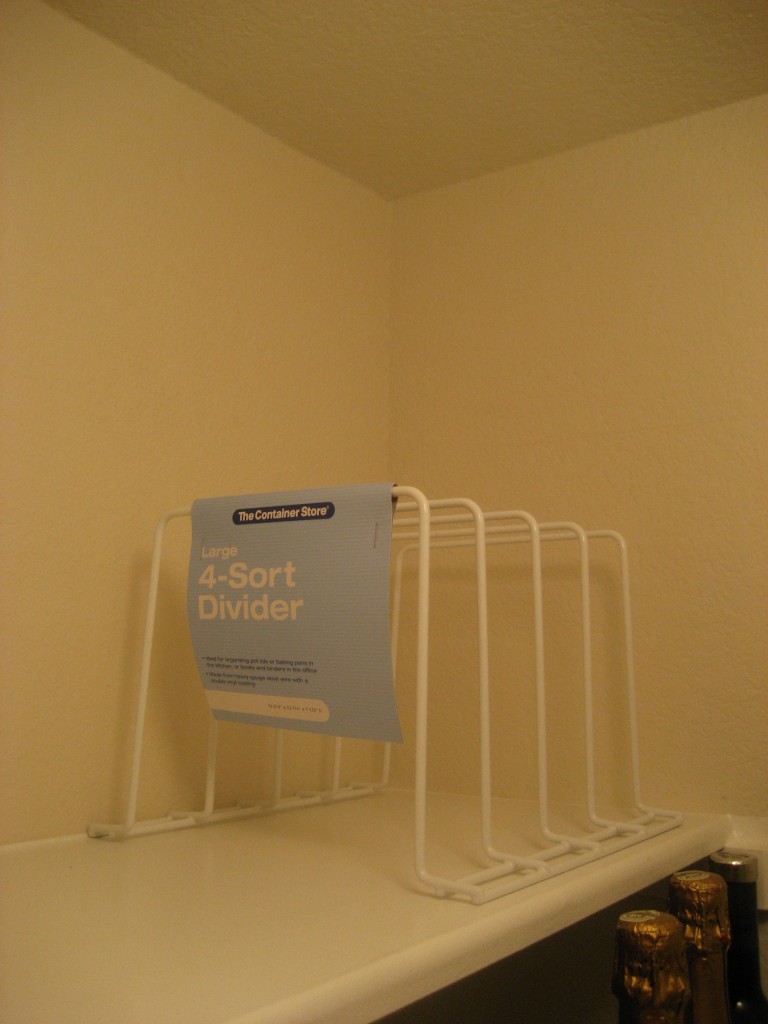 These 4-sort dividers sometimes will shift around as you pull out items. To prevent that, I fasten them down with clips and screws so that they stay put. These clips fit around the wire perfectly. You can find these clips at the Container Store and at most hardware stores. Sometimes they are called wire clips, or cord or cable clips.
You only need one clip on each side. You can put them in diagonal corners for even better stability.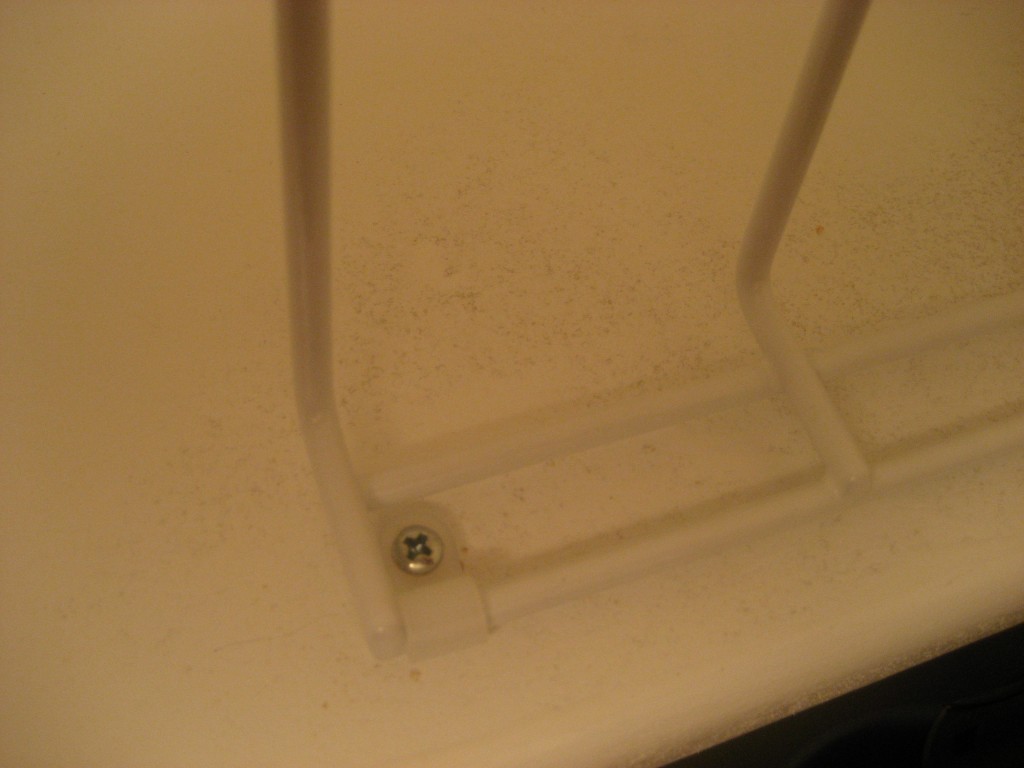 If you don't have a pantry, these 4-sort dividers can be used in cabinets, as well.
Before
This may look familiar, too. These baking pans were in a bottom cabinet, with no structure to hold them in place. To retrieve a pan, my client had to use both hands to try to hold the other pans upright and keep everything from falling down.

After
After I put in taller 4-Sorts, the pans are held upright and kept separate, so that each pan is easy to retrieve without causing an avalanche. The cabinet is a little wider than the 4-sort divider, so I fastened the 4-sort divider in the center, giving the client space on each side for other racks and pans.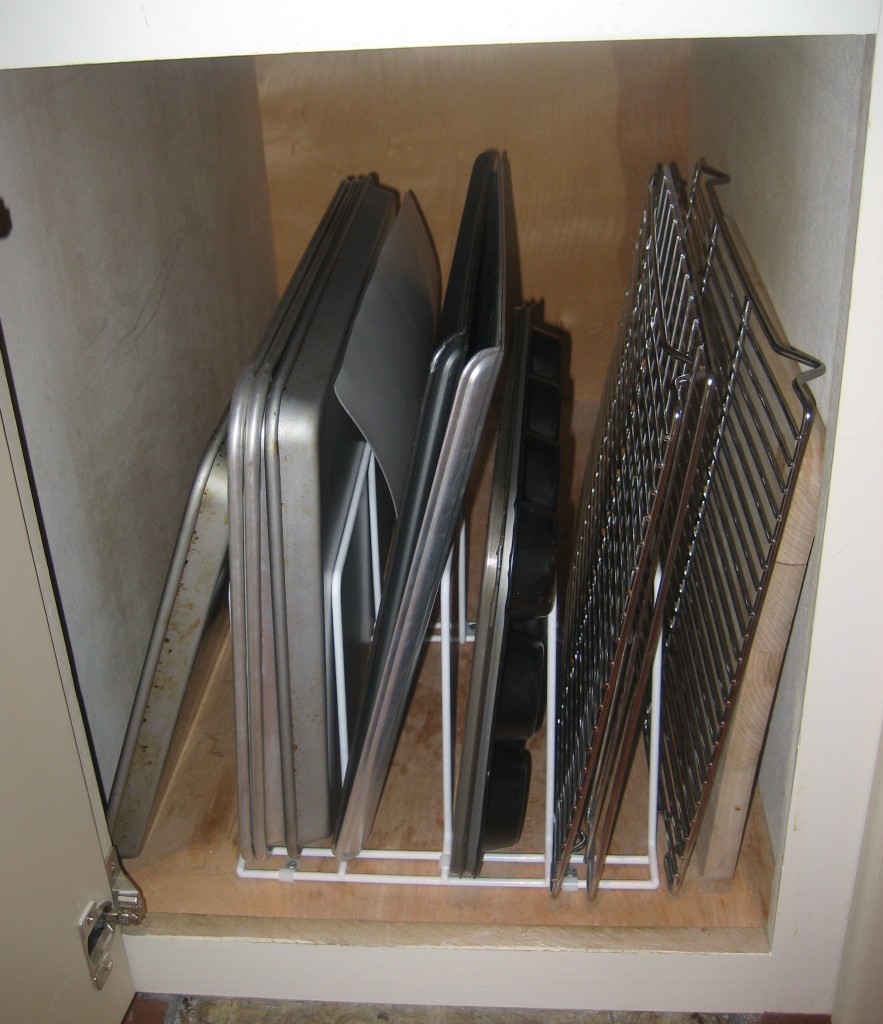 Here's another example from my own (newly remodeled) kitchen. I have a base cabinet for my taller cookie sheets and baking pans. See how they would be an unwieldy pile of pans without some vertical storage?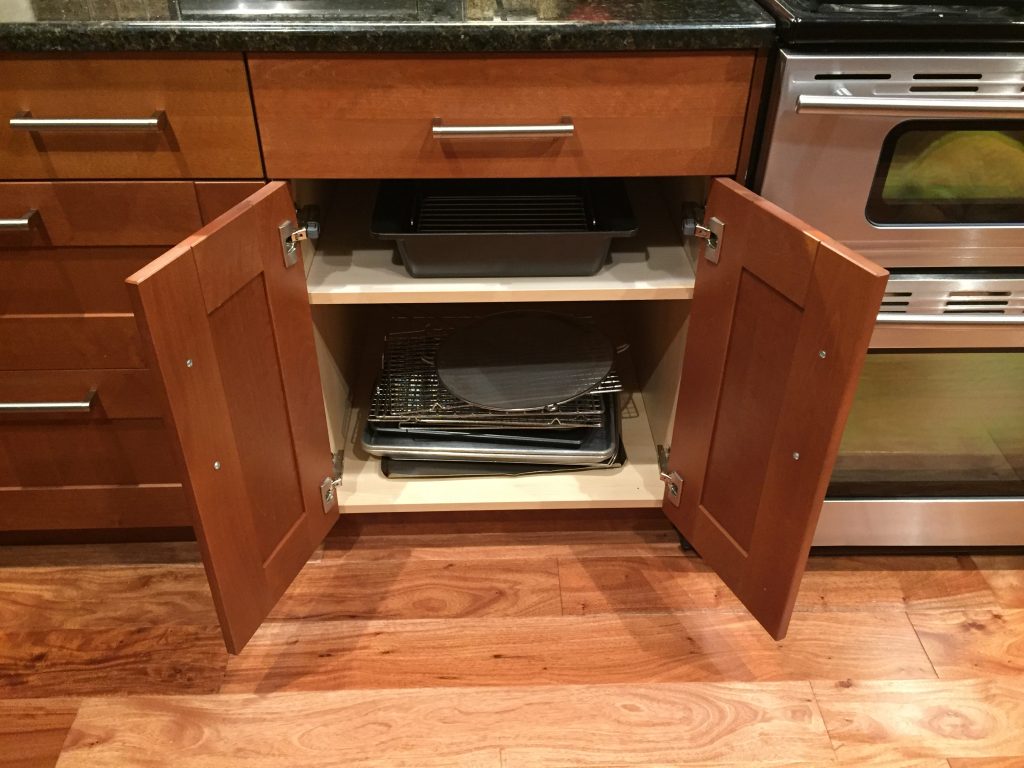 Tall 4-Sorts to the rescue! I clamped them down with wire clips and screws so that they won't shift around. You can see what the wire clips look like, below.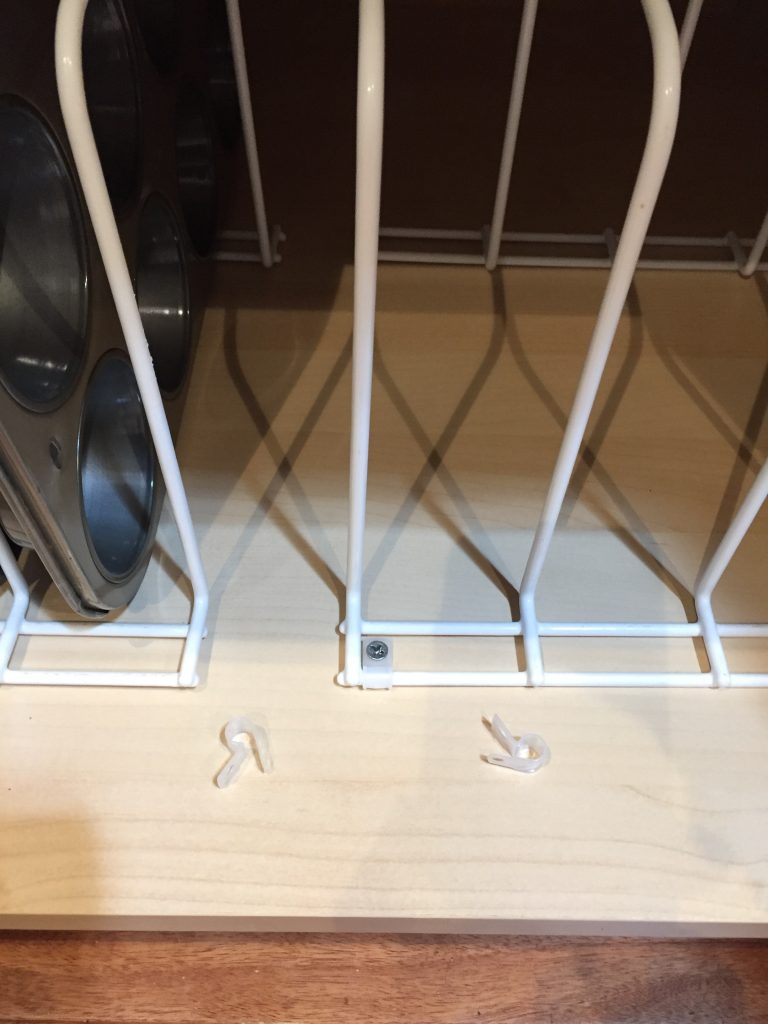 With the 4-sorts in place, I can now pull out individual pans without disrupting the rest.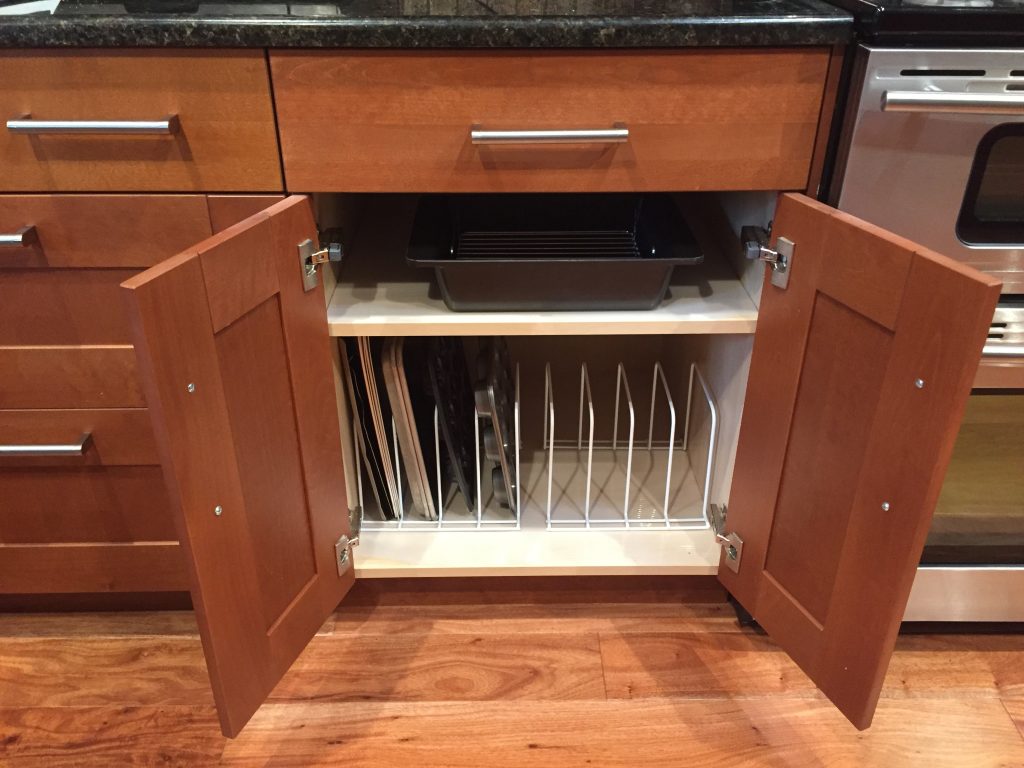 I have a lot of strategies for improving your access to your kitchen items, whether they are small, large, or oddly shaped. Can I help you with your kitchen storage?