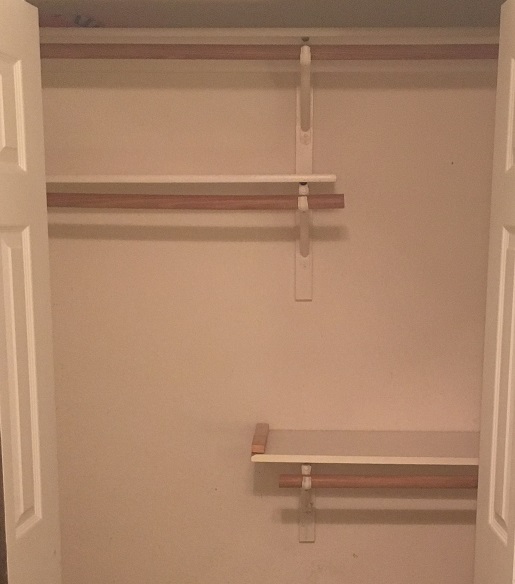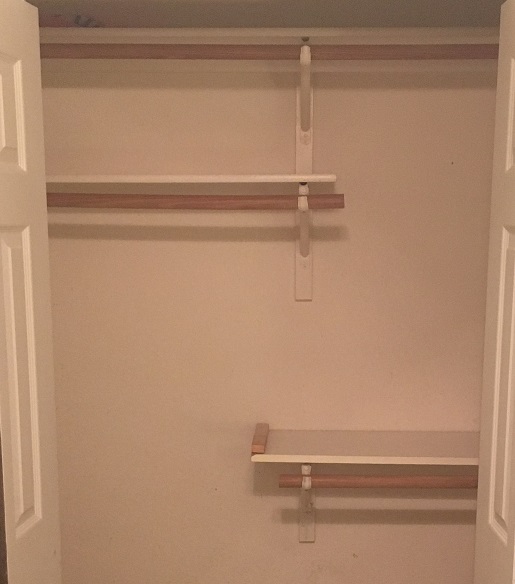 By A Jones For Organizing In Closet organizing, Elfa adjustable shelving, General organizing, Usability Problem
Do you have a typical reach-in closet like this, with shelves and clothing rods attached to the wall? Fixed shelving like this can be frustrating. Without adjustable shelving, you can't move the shelves and clothing rods around to fit your family's specific needs. This closet was not functional for my client's young daughter. So we improved it, with Elfa shelving!  Closet design is my favorite thing.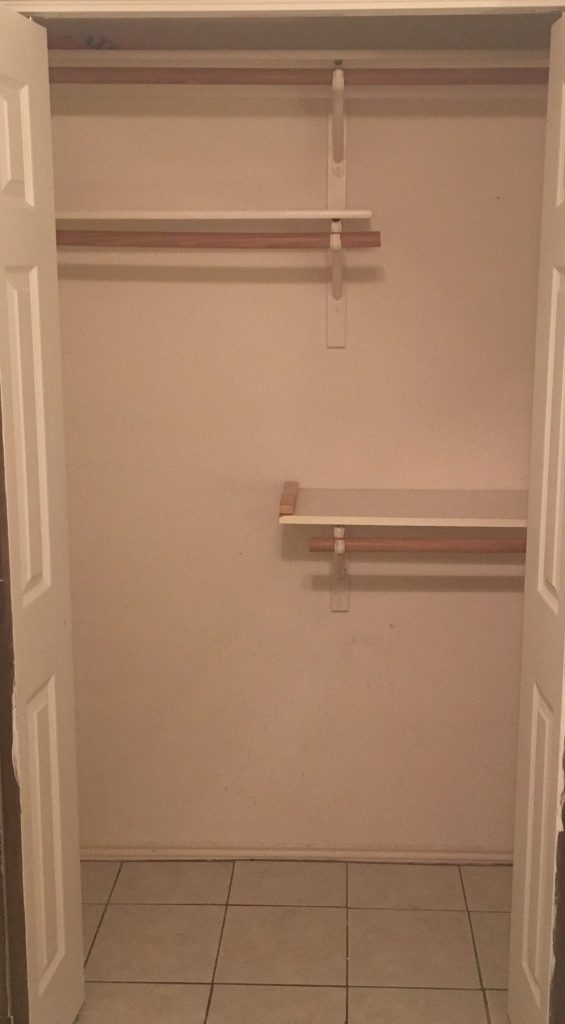 Wait. What about those two top clothing rods?
Well, I said "typical." But actually, this closet is a bit unusual. See the close-up below, where the two top clothing rods are set so-close-together? What's up with THAT?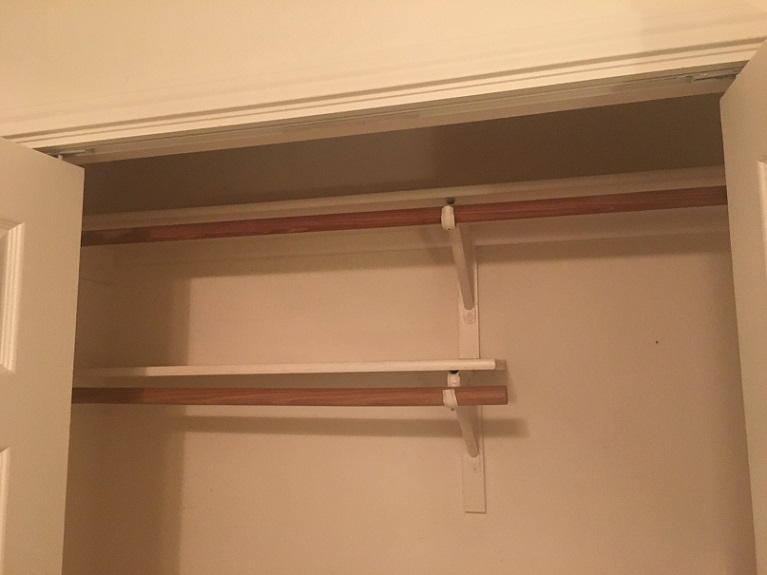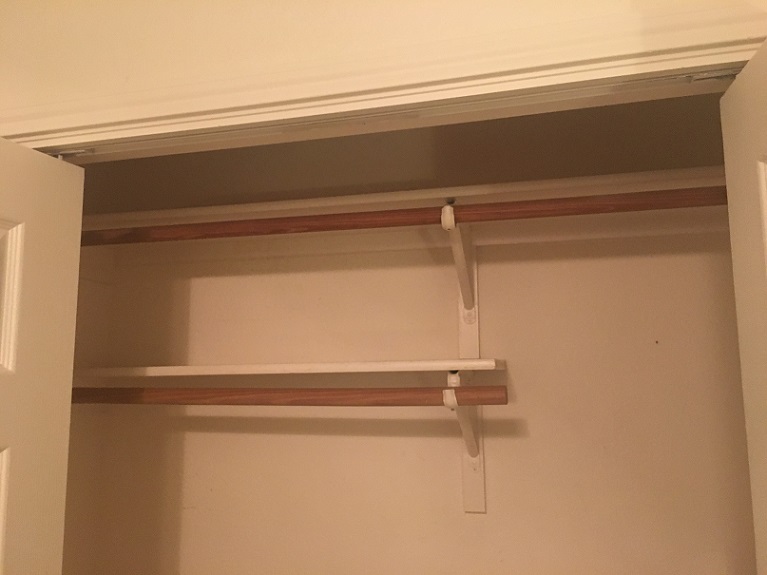 Weird, right? This is definitely a Usability Problem that the closet builder apparently didn't think about. There isn't even enough height on that top clothing rod to hang baby clothes there. I suppose you could use it to stash your extra unused clothes hangers. Some of my friends on Facebook suggested using that top rod for storing dog sweaters! Or knitted cowls!  At any rate, those two clothing rods were useless for this client. And, more importantly for this family, the bottom rod is set too high for the girl to access her own clothes.
(As a side note, I love collecting examples of funny, oddly designed closets like this! I teach classes on closet design, and I have a fun article here if you want to learn more about bad, and good, closet design.  Closet Design: Top 5 Tips For Space Planning)
Elfa adjustable shelving to the rescue!
I love installing and using Elfa, the shelving and drawer system from The Container Store. With Elfa, the only piece that attaches to the wall is the horizontal top track. (When installed properly, that top track is very strong.) Everything else, like the vertical standards, brackets, shelves and drawers hangs from that top track. So what does that mean? That means that all of the shelves, clothing rods, and drawers, can be easily moved around. You can customize your closet exactly the way you want it.
Installed!
See below for the closet after the Elfa system is installed. Now that the basic structure is in place, my client can easily add more shelves if she wants, and move things around to make better use of the space.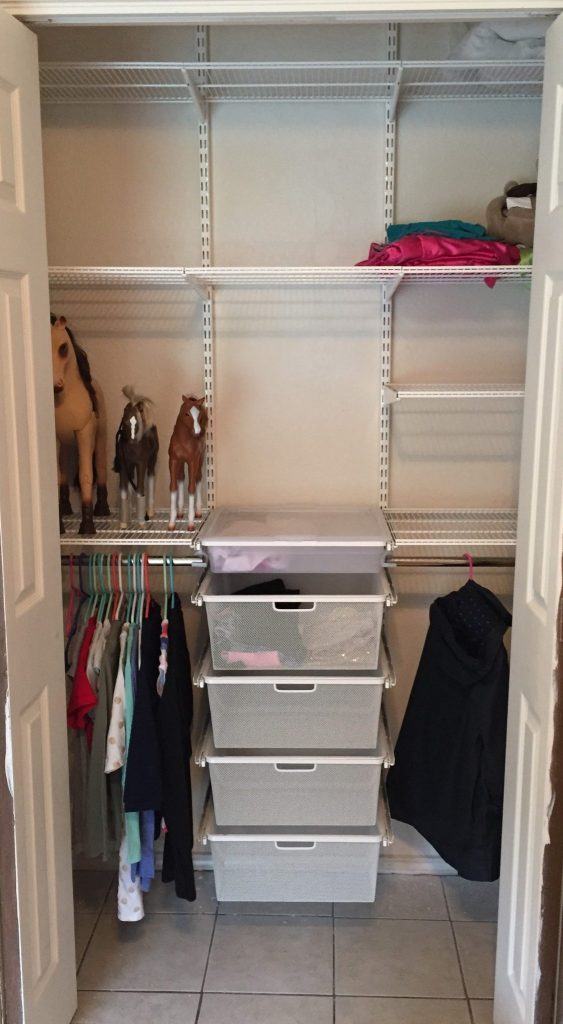 Now, there are pretty mesh drawers for her clothes in the closet. And the clothing rods are low enough so that the little girl can access all of her own clothes. And, she can hang up her own clothes herself! As she grows up and gets taller, the entire configuration can be changed as her needs change.
Horses now have a home!
Before the closet redesign, the girl's beloved toy horses didn't have a home. So I planned for them to have a place of honor on the shelves. That way, her horses can greet her when she comes to the closet to fetch them!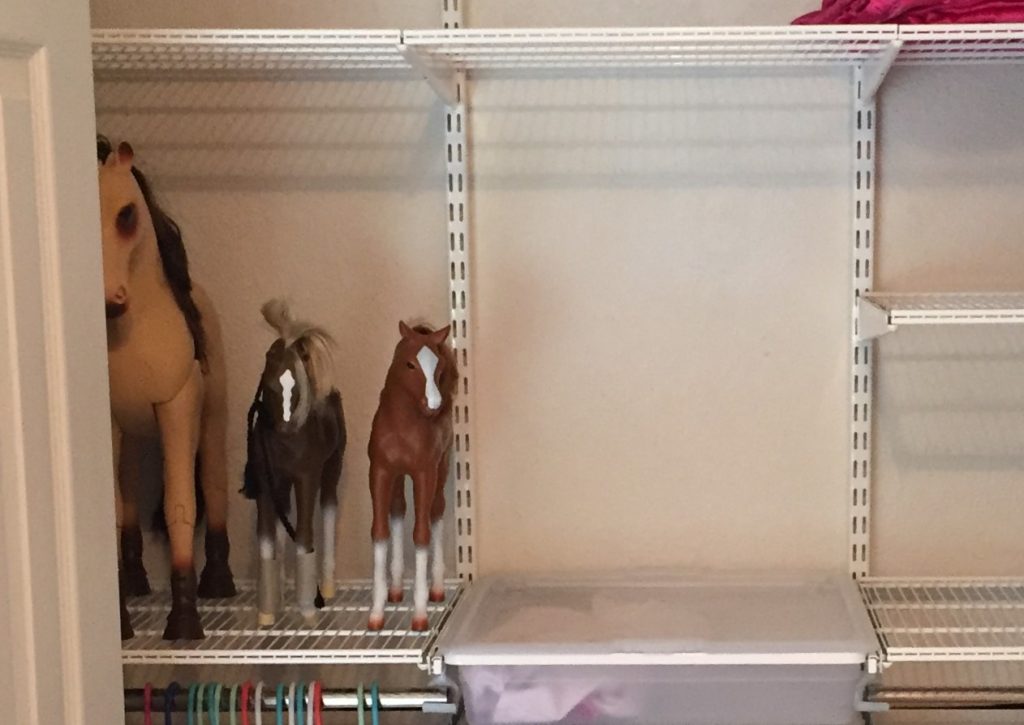 This was a fun, simple project, that enormously improved the usability of this closet. Adjustable shelving makes such a difference in using your space more effectively, and makes it easier to manage your belongings, every day. Can I help you with your closet? Contact me!
See more about my adventures with my sledgehammer here. 
If you would like to get hands-on practice with tools, and learn how to install and use Elfa shelving for yourself, check out my Real Women Use Tools class!